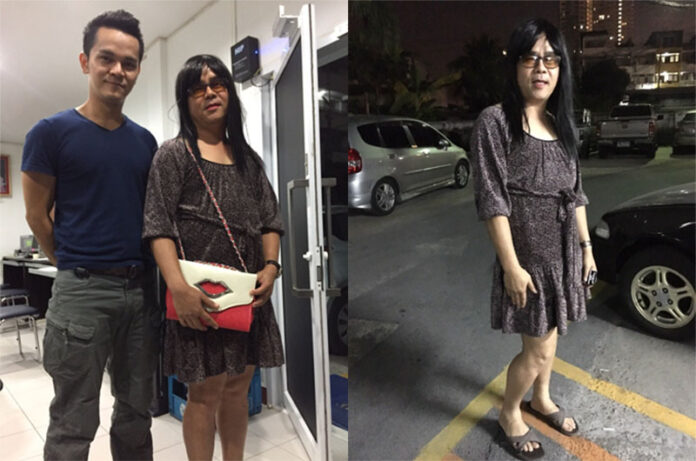 NONTHABURI — Police in northern metro Bangkok had a problem. A gang was mugging women in the area, and they just couldn't catch them.
The station chief didn't want to send out women officers late at night – it won't win him progressive points, but he thought they would be vulnerable – but he did dream up a creative solution.
"We decided to develop a plan, a method to capture the alleged offenders because there were four muggings in 24 hours," Col. Kittisak Tiangkamol of Rattanathibet police said Thursday.
His methodology, to Kittisak, was practical and simple: Dress Senior Sgt. Maj. Vivek Kamolvibul up as a woman and send him out to catch the bad guys.
"I chose Vivek because he's a clever officer. He's a master's graduate, too. And everyone was in agreement with choosing him because he has the whitest skin at the precinct, and he also is a man without leg hair."
Beginning Friday, Vivek donned a black wig, casual black sundress and a pink, chain strap purse.
He drove around the Rattanathibet area from 4am to 6am every morning and stood at various bus stops in an attempt to bait the muggers.
"Tuesday in the early morning, I spotted them about to commit another crime," Vivek said, but the suspects were driven off by an approaching taxi – but not before he noted their license plate.
He ran the plate and found an address. On Wednesday, police moved in and arrested the alleged offenders: Thanawat Krutsorn, 18, and a 17-year-old minor. Police said they would rob victims in Nonthaburi, usually along bus routes.
The string of muggings allegedly yielded the teens petty cash and a handful of junk from unsuspecting women this month, such as a laptop in front of Every Mall, a camera and 16 baht from Soi Rattanathibet 18, a mobile phone and 100 baht from in front of Central Plaza Rattanathibet. Saturday might have been their biggest payoff, when they made off with a stainless steel necklace, 600 baht, an ATM card and acoustic guitar from a victim in front of the Esplanade Rattanathibet shopping mall.
The are also accused of stabbing a woman Dec. 8 near the Nonthaburi City Pillar Shrine who had nothing they could steal.
Vivek said he had the right qualities for the job.
"Well, the chief chose me because I'm really the only guy who can pass off as a woman," he said. "I've got light skin, no leg hair, and slim legs."
And he's not ashamed if it helps him do the job.
"I'm always getting teased at the precinct," he said, laughing. "But if another case comes up where I have to dress as a woman, I'll probably do it. I'm still a man."