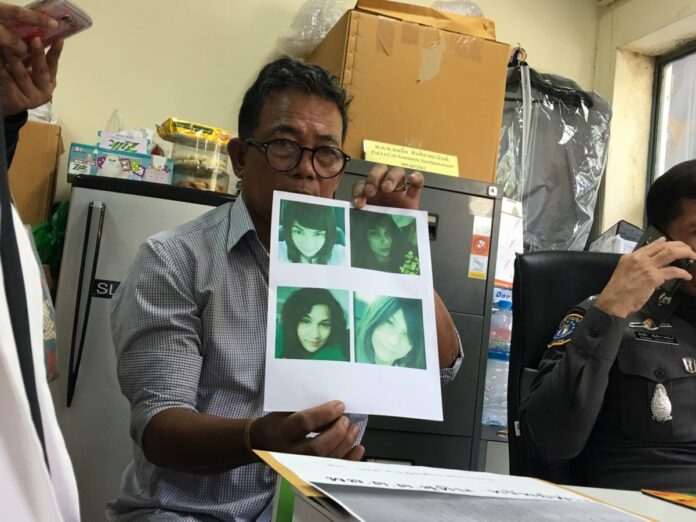 BANGKOK — The distressed parents of a woman missing for two years asked police Friday to search a laptop they believe might hold the clues to their daughter's disappearance.
Anant Saengurai, 63, and Napha Timyen, 56, returned to Bang Bua Thong police in northern metro Bangkok this morning almost a year after they filed a missing persons report for their daughter, Nantiya Saengurai.
Nantiya was last seen in 2015, when she was arrested in Nong Khai province for allegedly transporting drugs across the border with Laos. She had been living with Yaakov Shimon Sakira Bitton, an Israeli man.
Ronnarong Kaewpetch, Anant's lawyer, told police to look for possible leads on the laptop that belonged to Bitton and his son. The minor said his laptop contained CCTV footage of the house, which Nantiya's parents hope holds the key to finding her.
Read: More Bodies in Israeli Murder Suspect's Past
"I believe Shimon killed her. I asked him many times where she is. He told me in 2015 she was jailed in Laos, then he told me she died of cancer," Anant said. "A medium told me her body is near water, so I went digging for her body but couldn't find it. I looked for her in jails across Laos and every province in Thailand. I want to find my daughter, no matter what condition she is in."
The laptop had previously been seized by Bang Bua Thong police nearly a year ago when Bitton was accused of dismembering a business associate. It has been submitted to the Nonthaburi Court, but police said they needed assistance from the Israeli embassy since the laptop's contents are in Hebrew. Ronnarong said police have not yet searched the laptop's contents.
Nantiya had been missing for a year in November 2016 when police traced Eliyahu Cohen, who had just been reported missing, to Bitton and eventually his rented home in Nonthaburi province. There they found found Cohen's sawed-up body under a slab of fresh concrete and arrested Bitton and his 17-year-old son.
Bitton was accused of murdering Cohen over debts and disposing of his body with the aid of the boy, who he had fathered with Nantiya.
The teen is currently in a juvenile detention center. He has offered to unlock the laptop for authorities in exchange for his freedom. Police said Bitton remains jailed until his murder trial is concluded. The two Israelis have no family in Thailand to post bail for them.
According to Anant, the 17-year-old son said Bitton forced Nantiya shave her head "in accordance with Jewish religious custom."
Related stories:
More Bodies in Israeli Murder Suspect's Past