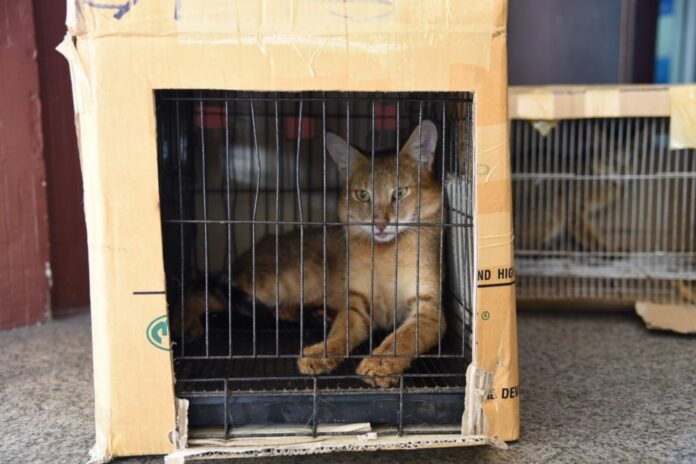 BANGKOK — Two rare wild cats were seized Wednesday from a Bangkok residence.
A sting operation led officials to a home in Soi Vibhavadi Rangsit 17 on Wednesday afternoon where they seized two swamp cats which were being sold online via Facebook for 40,000 baht each.
At the house, authorities arrested Sawong Duangfoo, who said he was hired to deliver the wild cats.
After questioning Sawong, officials on the same day raided a home in Uttaradit province where they arrested Weerachat Wiriyawong, the Facebook user advertising the cats, and his wife Samran Wiriyawong. Nine protected bird species worth over 34,000 baht were found inside the house. They included a black-shouldered kite, eight blossom-headed parakeets, four quails, a white-breasted water hen and 14 teals.
The couple was charged with possessing protected wildlife without a license. The crime is punishable by up to four years in prison and a 40,000 baht fine.
The wildlife was handed given over to the national parks department.
Last year two swamp cats – one male and one female – were discovered in the northern Omkoi Wildlife Sanctuary after they were believed to be extinct from Thailand for more than 40 years.
Swamp cats are registered to be a protected animal under the Convention on International Trade in Endangered Species of Wild Fauna and Flora (CITES) convention. Although they are not classified as an endangered species, they are mostly in South Asia and have become "extremely scarce" in Southeast Asia, according to the IUCN red list.
Related stories:
Swamp Cat! Back From the Dead, Rediscovered in Chiang Mai Jungle