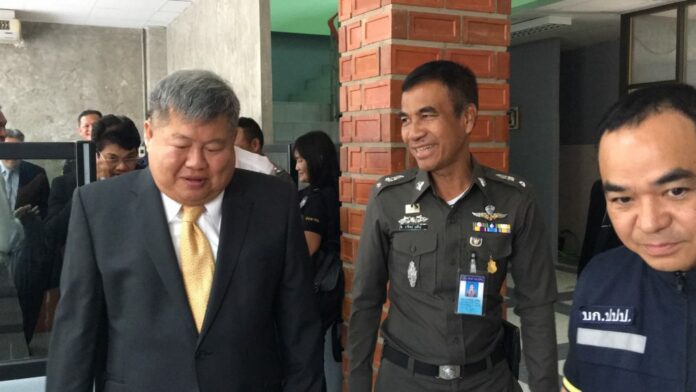 BANGKOK — Nearly half of the charges filed against a powerful mogul accused of poaching protected wildlife in a sanctuary were dropped Wednesday.
Regional prosecutors dropped five of 11 charges including animal cruelty filed against Italian-Thai Development President Premchai Karnasuta, but will seek to prosecute him on the other six counts.
Premchai now faces prosecution for hunting in a wildlife sanctuary, hunting protected wildlife and other charges related to accusations he and four others killed a wild black panther and other protected species earlier this year in the Thungyai Naresuan Wildlife Sanctuary in Kanchanaburi province.
They decided not to pursue charges that he entered the sanctuary without permission with guns and ammunition and committed animal cruelty.
The case is being returned to regional police to sign off on, according to Somsri Wattanapaisarn, who heads the Region 7 public prosecution office.
The outcome elicited little surprise from netizens skeptical that Premchai will face justice.
"Let's drop every charge. End it. I'm embarrassed. Wait until karma comes, that one won't drop anything," Facebook user Niwat Thekop Thekop said.
Premchai and his hunting party were arrested Feb. 5 in the Thungyai Naresuan Wildlife Sanctuary in Kanchanaburi province. They were equipped with hunting gear, firearms and several animal carcasses.
Evidence that Premchai cooked and ate part of a black panther was also recovered.
The incident has drawn widespread fury and a nationwide mural campaign calling for justice.
Related stories:
Premchai Gets Bail, Not Allowed to Leave Country
Premchai Puts Off Police Summons
Premchai Chewed Panther's Leg Then Tossed It: Investigators
Ex-Official Wanted For Helping Premchai Linked to Italian-Thai
Forest Ranger: Poacher Premchai Offered Bribe
Hero Worship: Thailand Lionizes Humble Defender of the Wild
Rangers: Premchai Ate the Leopard in a Soup