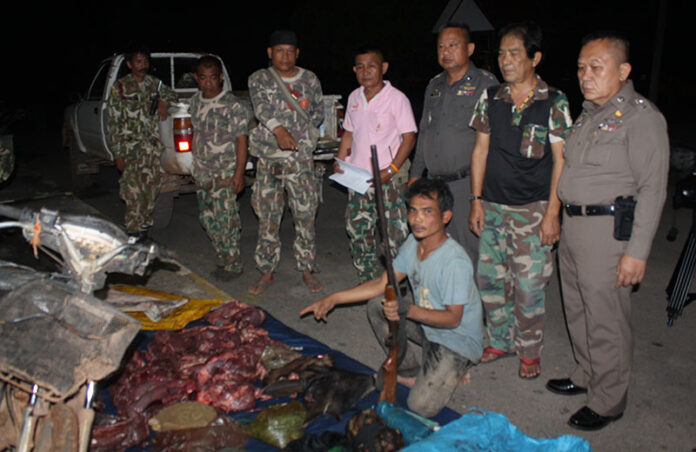 PHETCHABUN — She was murdered and filetted. Her fetus taken. Hours later, one man had confessed to the grisly deed while another escaped into the forest.
Police were still looking Wednesday for the hunter who helped kill a kind of goat-antelope one day after another confessed to poaching in the protected forest area in the central province's Wang Pong district.
"Ko shot first, then I shot it more," Boonchan said, referring to the other hunter who ran away. "Then we skinned it for the meat and left the pelt and bones in the forest."
Boonchan has been charged weapons possession as well as hunting or attempting to hunt a protected species, a crime which carries a maximum penalty of four years in jail and a 40,000 baht fine. He's also charged with hunting in protected area, for which he faces up to seven years in jail and a fine of 100,000 baht.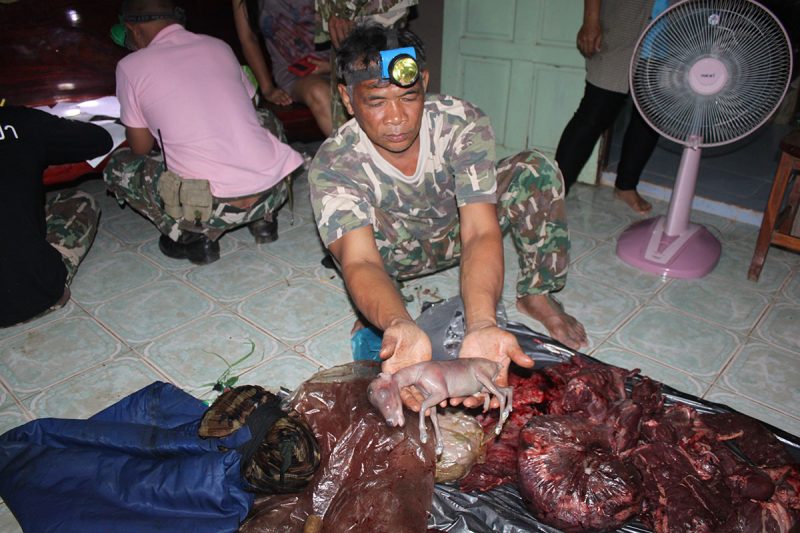 "He is just a chaobaan [villager] around here who wanted to eat it," Col. Theerapong Phonlanak of Wang Pong police said by phone Wednesday. "Serows are probably very few around here now."
Police had gotten a tip from local environmentalists to search the mountainous area for poachers in the protected forest near Pha Pung mountain. They caught Boonchan and the other man carrying a sack in the Wang Pong-Chon Daen Non-Hunting Area. They apprehended Boonchan while the other hunter fled.
Boonchan was carrying a rifle and the carcass of the pregnant Sumatran serow, including its head, flesh, legs, intestines and a several-month-old fetus.
"Hunting animals like these shouldn't happen in this day and age," one policeman said on the scene while looking at the carcass.
In a highly publicized case of poaching from February, Italian-Thai construction mogul CEO Premchai Karnasuta has had several charges dropped against him for killing a black panther as he continues to plead innocence.