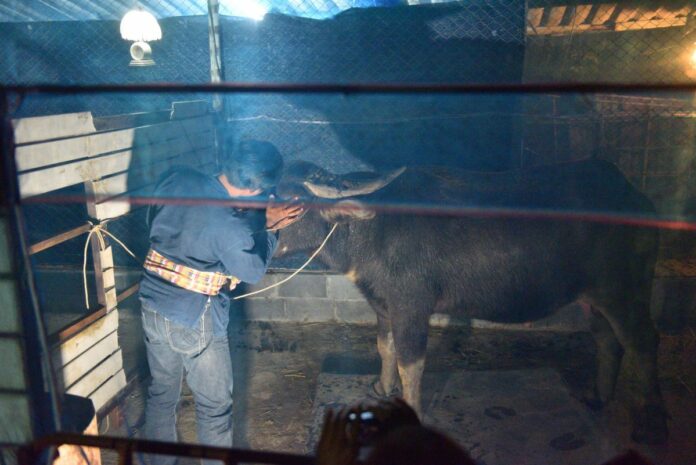 BANGKOK — A farmer accused of serious crimes for crowdfunding a buffalo has denied all charges and says the animal is suffering in police lock-up.
Surat Phaeoket, whose heartwarming photos bonding with Tongkum the buffalo drew the donations needed to buy the animal, denied committing fraud, laundering money and spreading false information online one day after they were filed by police. Most of all, he says he's worried the animal is suffering physically and emotionally locked up behind a police station.
"He's depressed and lonely from being all alone. He also has wounds from the metal fence. Flies could lay eggs in the wounds and there could be pus. I asked the police to get mud to cover him, and they said they would," Surat said.
Tongkum was removed from the fields of Chai Nat province and impounded behind a Bangkok police station since Tuesday.
Station chief Col. Singh Singhdet said Surat's Thursday testimony was helpful to the case and could leading to some charges being withdrawn. Singh said Tongkum could be released on a bond into the care of Surat or the former owner who complained after learning of the animal's online fame and donors.
Tongkum is beind held in a corral behind the Khan Na Yao police station.
Read: Summoned by Police, Farmer Briefly Reunites with Smiling Buffalo
Singh said Surat would not be held because he promised not to tamper with evidence and promised not to talk to the press about details of the investigation.
Boonlert Kanpakdee – Tongkum's former owner and a small functionary in Chai Nat province – slammed Surat as a beggar Monday after learning he'd raised 100,000 baht to buy Surat. That was after the sale and transfer of the buffalo, or kwai, was completed last week.
"Boonlert isn't holding any grudges because he took the 100,000 baht and intended to sell to Surat. Boonlert was afraid the money wasn't obtained legally so he gave it to the police. He wasn't trying to get the kwai back." Singh said. "From talking with Surat, we found out that he really does love the kwai and wants to care for it, but there are discrepancies in his intentions for getting the money to buy the kwai."
Singh said that Surat's online appeals could possibly be construed as misleading and therefore make him liable for fraud.
Police said they would investigate and gather witnesses and give an update Monday.
"I want to reaffirm that I love kwais and want to create smiles for my friends. My intention was to preserve kwai, promote Chai Nat and make people happy," Surat said. "I miss being with him a lot. His eyes have lost their shine."
"I had so many dreams about building a farm, growing salad greens and having kids come play with the buffaloes. But everything is ended now. The mayor pointed at my face and told me I took thieves' money to pay for Tongkum."
Speaking perhaps for many, a deputy director in the attorney general's office called the entire issue a "non-case."
Poramet Intarachoomnoom said Surat is unlikely to be prosecuted for most of the alleged offenses. The legal expert said that he did not see how Surat violated the Computer Crime Act, since he did exactly what he said he would do with the money.
"Why did the original owner take the money, finish the transaction with Surat and then hand the money over to the police? This is a civil case. Why did the police impound the buffalo? If the kwai dies in their care, the police will be in hot water, because it would have died at the police station," Poramet said.
Poramet said he thinks Boonlert may have been afraid he'd committed a crime by accepting the crowdfunded money, and that actions by the police have been confusing.
"If you break the Computer Crime Act, police take your computer, not your buffalo," he said. "If Boonlert really didn't want to sell, he could have return the money and taken back the buffalo. I don't understand how the authorities viewed this as fraud."
Responding to the criticism, Singh defended his police work.
"That's just one opinion and criticism of the investigating officers. I'm an investigation officer, and I know how the process works," he said. "This case has a lot of public attention and we are ready to give justice to all sides."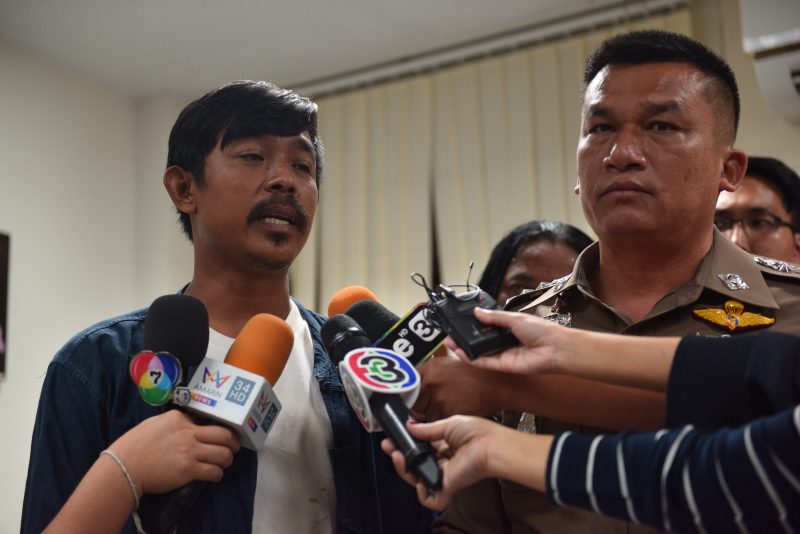 Related stories:
Summoned by Police, Farmer Briefly Reunites with Smiling Buffalo
Farmer Who Bought Smiling Buffalo Charged With Fraud, Money Laundering
Smiling Buffalo Seized by Police, Impounded as Evidence
Smiling Buffalo's Former Owner Mad as Hell About Crowdfunded Sale
Internet Saves Beautiful Man-Buffalo Friendship
With His 'Smiley Buffalo' to be Sold Off, Farmer Needs Internet's Help