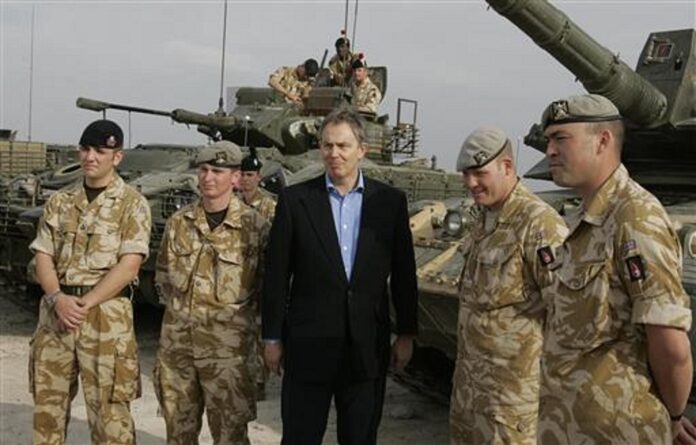 LONDON — Thirteen years after British troops marched into Iraq and seven years after they left a country that's still mired in violence, a mammoth official report is about to address the lingering question: What went wrong?
On Wednesday, retired civil servant John Chilcot will publish his long-delayed, 2.6 million-word report on the divisive war and its chaotic aftermath. The U.S.-led conflict killed 179 British troops and some 4,500 American personnel. It also helped trigger violence that killed hundreds of thousands of Iraqis and still rocks the Middle East.
And it overshadows the legacy of former Prime Minister Tony Blair.
"Despite all the many other things he did — and many people would argue lots of positive achievements — he will always be remembered for this fateful decision in 2003," said Malcolm Chalmers, deputy director-general of defense think tank the Royal United Services Institute.
Opponents of the war hope Chilcot will find that Blair agreed to support President George W. Bush's invasion and then used deception to persuade Parliament and the public to back it.
Such a stark finding is unlikely. But senior politicians, diplomats, intelligence officials and military officers are bracing for criticism over the flawed arguments that led to the invasion, and the lack of planning for the occupation that followed.
"I think it will probably shy away from saying, 'This is what happened and this is who is to blame and this is what we should then do to them,'" said Gareth Stansfield, professor of Middle East politics at the University of Exeter.
"I think it will address key lessons in how intelligence was generated and then used and manipulated in the political system."
Chilcot's inquiry held public hearings between 2009 and 2011, taking evidence from more than 150 witnesses — including Blair, who has served as an international business consultant and Mideast peace envoy since he stepped down in 2007.
The inquiry has analyzed 150,000 documents and cost more than 10 million pounds (around 40 million baht), but its report has been repeatedly delayed, in part by wrangling over the inclusion of classified material — including conversations between Blair and Bush. Some of Blair's pre-war letters to the president are expected to be published by Chilcot.
Chilcot said in an interview broadcast Tuesday that it took far longer than expected to "get to the bottom of what happened over a nine-year period with all the legal, military, diplomatic and intelligence aspects."
He said the goal was to produce "a really reliable account" and that meant negotiating agreement with the government over publishing details of Cabinet meetings, discussions with heads of state and other sensitive issues.
He said the report would be critical.
"I made very clear right at the start of the inquiry that if we came across decisions or behavior which deserved criticism then we wouldn't shy away from making it," Chilcot said. "And indeed, there have been more than a few instances where we are bound to do that."
Opponents of the war claim Blair's government exaggerated evidence that Iraqi leader Saddam Hussein had weapons of mass destruction that threatened the West — the foundation of the case for war. No chemical, biological or nuclear weapons were found in Iraq.
A U.S. Senate Intelligence Committee investigation found pre-war intelligence failings and concluded that politicians had overstated the evidence for weapons of mass destructions and ignored warnings about the violence that could follow an invasion.
Previous, more limited, British inquiries largely absolved the government of blame. A 2004 report by former civil service chief Robin Butler concluded that British intelligence was flawed, unreliable and incomplete, but cleared the government of deliberately misusing it.
"No one lied, no one made up the intelligence," Blair said at the time, a stance he has stuck to ever since. Blair says he won't comment on the report until it is published.
Some senior officials, though, say the decision to go to war was made long before Parliament voted to approve it on March 18, 2003.
Alan West, who was head of the Royal Navy at the time, said "I think there had been a decision that we were going to invade Iraq, that that was going to happen, but they were looking for a reason to actually do it."
"They'd bloody decided, that's the reality," West told political magazine The House.
Anti-war activists hope Chilcot will find the conflict illegal, opening the way for Blair to be prosecuted for war crimes. They will probably be disappointed. Chilcot has stressed that his inquiry is not a court of law, and the International Criminal Court has said that the "decision by the U.K. to go to war in Iraq falls outside the court's jurisdiction."
Some British lawmakers hope to deploy an obscure statute last used 200 years ago to impeach Blair and put him on trial before the House of Lords — again, an unlikely outcome.
The inquiry's main achievement may be to make public historic decisions taken behind closed doors.
Stansfield said the families of British troops killed in Iraq deserve to learn "why Blair made the decisions that he did."
But he said the report's most important lessons would be about how the aftermath of the invasion went so disastrously wrong.
Iraq descended into sectarian strife after the occupiers dismantled Saddam's government and military apparatus, unleashing chaos that helped give rise to the Sunni extremist militants of the Islamic State group.
"In many ways the really important question is, how do we manage post-conflict environments more effectively?" Stansfield said. "We need to learn those lessons from Iraq desperately quickly."
For many relatives of dead British soldiers, the report is likely to provide little solace.
"People say this should bring closure, but it won't," said David Godfrey, whose 21-year-old grandson Daniel Coffey was killed in Iraq in 2007.
"It can't bring anybody back and won't stop us feeling what we feel. It's just another step forward on another long journey."
Story by: Jill Lawless