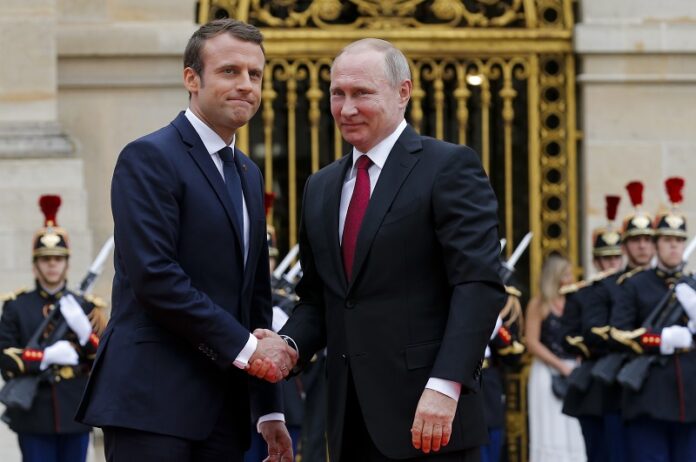 VERSAILLES, France — French President Emmanuel Macron hosted Russia's Vladimir Putin at the sumptuous royal palace in Versailles on Monday to talk about cooperating on fighting terror. The visit demonstrated Macron's prowess in global politics, as he secured that goal but pulled no punches in a blistering attack on Russian state media outlets.
The Russian president, hoping to mend ties with the West that have grown increasingly strained in recent months, refrained from picking up the fight over the Russian RT television and Sputnik news agency. Putin emphasized the need for Russia and France to develop closer cooperation and strongly rejected accusations of meddling in the recent French presidential vote.
The two leaders emerged from three-hour talks exchanging smiles and hailing historic ties between the two nations, but their comments at a news conference reflected deep divides on multiple issues.
Macron said he spoke to Putin about LGBT rights in Chechnya, and about the rights of embattled NGOs in Russia and vowed that he would be "constantly vigilant" on these issues.
Speaking with remarkable frankness, Macron also tore into two Russian media outlets — Sputnik and Russia Today — that he said had spread "serious untruths" during the French presidential campaign that he won on May 7.
"When press outlets spread defamatory untruths they are no longer journalists, they are organs of influence. Russia Today and Sputnik were organs of influence during this campaign which, on several occasions, produced untruths about me and my campaign," Macron said.
"I will not give an inch on this," he said. "Russia Today and Sputnik … behaved as organs of influence, of propaganda, of lying propaganda."
Macron showed himself firm on other issues, too.
He said any use of chemical weapons in Syria — where Russia is propping up the government of President Bashar Assad — is a "red line" for France and would be met by "reprisals" and an "immediate riposte" from France. He did not specify what form such reprisals could take, but France flies warplanes over Syria and Iraq, striking ISIS targets as part of an international coalition.
Macron portrayed the meeting — their first since Macron took power — as just a first step in resetting the country's relations with Russia.
"Big things are built over time," he said. "It was an exchange that was extremely frank, direct, with a lot of things that were said."
"We have disagreements, but at least we talked about them," he added.
The leaders' first handshakes — relatively brief and cordial — after Putin climbed out of his limousine at Versailles were far less macho than Macron's now famous who-will-blink-first handshake showdown with President Donald Trump when the two leaders met for the first time last week.
The Macron-Putin relationship got off to a less-than-ideal footing during Macron's presidential campaign.
Macron had strong words for Russia in his race for the presidency, saying France and Russia don't share the same values. Putin bet — wrongly — on Macron's far-right opponent Marine Le Pen, hosting her at the Kremlin in March, before Macron then handily beat her.
Putin said he and Macron agreed to discuss pursuing closer cooperation on anti-terror efforts, with a proposed exchange of experts to work toward that goal.
On Syria, Putin underlined the importance of securing the Syrian state, adding that it's essential for combatting terrorism.
Macron is the first Western leader to speak to Putin after the Group of Seven summit over the weekend, where relations with Russia were a key topic.
Macron's invitation for Putin was a surprise after his tough stance on Russia during the French election. Macron's aides also claimed that Russian groups launched hacking attacks on his presidential campaign.
Moscow strongly denied all allegations of election meddling, and Putin on Monday again poo-pooed the idea as unfounded press speculation.
Later Monday, Putin is to visit newly built Russian Orthodox Spiritual and Cultural Center near the Seine River that includes the Holy Trinity Cathedral. The site was sold to Russia under former President Nicolas Sarkozy amid criticism from human rights groups.
After their talks at Versailles, Putin and Macron will tour an exhibition there marking the 300th anniversary of Russian Czar Peter the Great's trip to Paris that was prepared by St. Petersburg's Hermitage Museum.
With Peter the Great widely seen as a ruler who modernized Russia and sought to open it up to the West, the exhibition offers a symbolic backdrop for both to talk about the importance of Russia-France ties.
Human rights activists protested Monday in Paris over the situation of gays in the Russian republic of Chechnya, holding a banner "Stop homophobia in Chechnya" near the Eiffel Tower.
Story: Vladimir Isachenkov, Sylvie Corbet, John Leicester