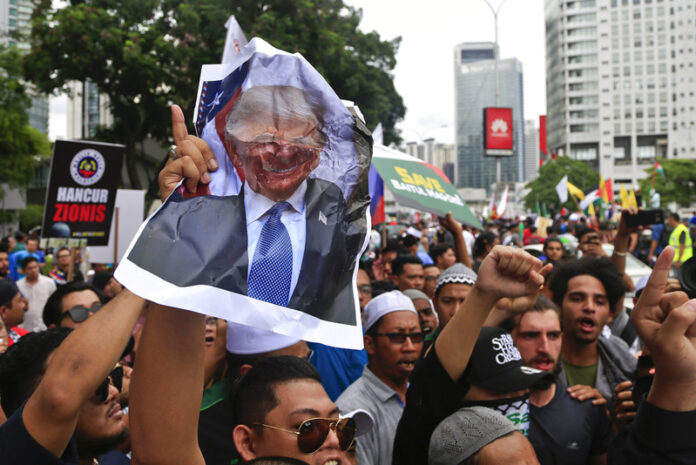 KUALA LUMPUR — Muslims in Indonesia and Malaysia protested outside the U.S. embassies Friday against President Donald Trump's decision to recognize Jerusalem as Israel's capital.
In Kuala Lumpur, more than 1,000 protesters led by Sports Minister Khairy Jamaluddin marched from a nearby mosque after Friday prayers to the U.S. Embassy, halting traffic as they chanted "Long live Islam" and "Destroy Zionists." Many carried banners, some of which said "Free Palestine" and "Jerusalem is the capital of Palestine."
Khairy addressed Trump in a speech after handing a protest note to an embassy official, saying "Mr President, this is an illegal announcement. Jerusalem is an occupied territory. You must not even set foot in Jerusalem. … The world will rise against the United States."
"Trump has to understand that Jerusalem is not his to give and the decision for whatever status of Jerusalem should not come from America," said Ulya Aqamah bin Husamudin, a leader of the political party BERSATU.
Nurul Hidayah Mesari, a student, compared Jerusalem to the holy Muslim cities of Mecca and Medina in Saudi Arabia, saying "it's as if those places were occupied as well, that's our feeling."
In Indonesia, the world's most populous Muslim nation, more than 300 protesters shouted "Go to hell Israel!" and called on Trump to stop "blind support" for the Jewish state. Neither Malaysia nor Indonesia has diplomatic ties with Israel and both are strong supporters of Palestinians.
The protesters marched from mosques to the heavily guarded U.S. Embassy in Jakarta, waving Palestinian and Indonesian flags. They burned tires near the embassy and photos of Trump and U.S. and Israeli flags in a similar rally in the cities of Banda Aceh and Makassar. Another protest was held in Surabaya, Indonesia's second largest city.
Hundreds of Muslim Kashmiris also marched at several places in the main city of Srinagar and other parts of Indian-controlled Kashmir, chanting slogans "Down with America" and "Down with Israel." They burned U.S. and Israeli flags, while authorities imposed a curfew in old parts of Srinagar and disallowed Friday prayers at the city's main mosque for fear protests could morph into violent anti-India rallies.
Kashmiri leaders have called Trump's move "anti-Muslim."