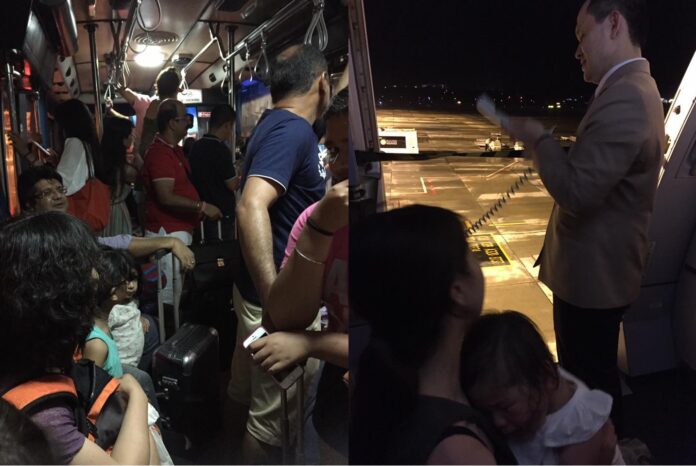 BANGKOK — Passengers complained they were left sitting two hours inside a Thai Airways jet after it aborted its flight from Phuket to Bangkok, prompting some to book new tickets as soon as they were allowed off the plane.
Thai Airways flight TG218 had just taken off with 260 passengers aboard when it asked Phuket International Airport for permission to land again at 7pm on Tuesday, the second such incident in three days. After that, passengers complained of the airline's communication and management because it held passengers on the plane for two hours while maintenance was conducted.
"What I saw was the captain didn't inform passengers about anything," wrote Facebook user Baitong Sydney, who said she ended up rebooking on Nok Air. "But he walked out and crawled to a woman sitting in first class, gave her a beautiful wai and talked for a while, but then never announced anything."

The airline finally allowed passengers off the plane to rest inside the terminal. The plane finally departed again at 10:27pm and completed the journey to Suvarnabhumi Airport without further incident.
Phuket Airport Director Monrudee Katephan said Thai Airways asked for permission to land because it found a technical problem but did not request further help.
Thai Airways on Wednesday morning dismissed rumors the plane was forced to land due to a fuel leak. It said in a statement that that while the plane was on taxiway, the pilot noticed a problem in the computer system controlling the fuel, which led him to return to the airport.
It was the second time in three days a Thai Airways flight was forced back to the ground by a technical problem. On Saturday, TG111 to Bangkok had to return to Chiang Mai International Airport.
Related stories:
Turbulence Injures 6 on Thai Airways Flight
Nok Air Dives Further With 61 Flights Abruptly Canceled
Transport Minister 'Confused' by Safety Downgrade for Thai Airlines