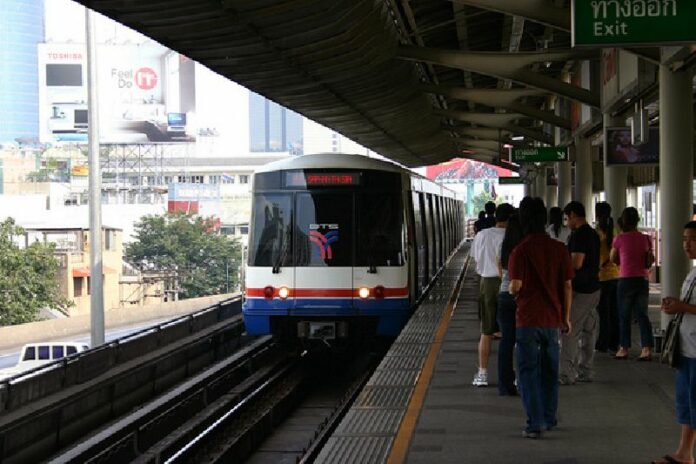 BANGKOK — Commuters are reacting unhappily to rumored fare increases coming to outlying BTS stations along the Silom and Sukhumvit lines.
Despite the usual complaints that Bangkok's Skytrain fares are expensive compared to the cost of living, a proposal reportedly submitted earlier this month seeking higher fares for stations past BTS Saphan Taksin and BTS On Nut has been met with disappointment.
"The farthest extension stations will someday reach 80-90 baht, right?" @Tumsoma tweeted to the official accounts of the BTS Skytrain and Bangkok Governor on Tuesday.
อีกหน่อยส่วนต่อขยายคงไปขึ้นกันเที่ยวนึง 80-90 บาทรัยงี้เนาะ @BTS_SkyTrain @Sukhumbhandp pic.twitter.com/qaORiTwkkF

— มะ (@tumsoma) July 12, 2016
The comments came in response to a source in Bangkok's Traffic and Transport Department who said new rates had been proposed earlier this month.
Under the proposed fares, passengers traveling past BTS On Nut or BTS Saphan Taksin would pay another 5 baht, or 10 baht if going to the last two stations on either line.
Currently passengers pay an additional 10 baht to travel those line extensions, which opened in 2009 and 2011.
A source from Bangkok's Traffic and Transport Department said fares need to be adjusted to be in accordance with the current economy.
Twitter user MrNonz said rate hikes didn't make sense in the face of declining service, especially with the public still waiting on a ticketing system linking all rail services.
"Is the quality of @BTS_SkyTrain good?" MrNonz tweeted. "No. And yet they will increase the fares. As for public benefit, how many years has the integrated ticket been postponed?"
https://twitter.com/MrNonz/status/752692740631044097
The fare difference along the extensions owes to the fact different segments are operated by different companies. Bangkok Mass Transit System PCL were granted a concession by City Hall to run the original BTS lines. By the time the extensions came online, City Hall wanted in on the action and created Krungthep Thanakom Co. Ltd., to manage them along with the BRT bus system. City Hall is the largest shareholder.
The increase in fares was said to come about to prevent municipal coffers from getting lighter by offsetting an expected loss in profits.
It was reported that Bangkok Gov. Sukhumbhand Paribatra has ordered a study of the right time to tell the public about the new rates and change ticketing systems before they come into effect.