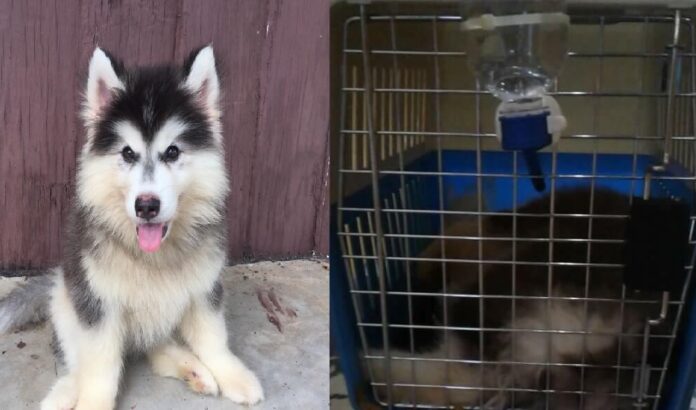 BANGKOK — Nok Air announced Tuesday it will no longer provide pet transport services after a Siberian Husky died during shipping.
The airline's announcement came in response to a viral Facebook post by Itsares Khumdee about Pojai, his Siberian Husky, who died after traveling aboard a July 12 Nok Air flight from Don Mueang International Airport to Trang.
In the post shared more than 4,000 times, Itsares speculated that Pojai died because she was kept in a hot cargo storage room for almost two hours before the flight took off or because the plane's cargo hold was not properly pressurized.
"Was the pressure adjusted, and was there enough air for a dog to breathe in the cargo compartment?" Itsares wrote. "Because it looks like she suffocated from atmospheric pressure."
Itsares said he asked airline staff to ensure Pojai was kept in an AC room during the two hour wait before the flight. When he went to inspect the security camera three days later, he found out after 15 minutes, his dog was moved to into a warm room without so much as a fan.
After waiting 14 days for the airline to respond, Itsares went public, spreading his story online after Nok Air refused to take responsibility or pay compensation.
According to conditions listed their website, Nok Air says it is not responsible for any death or injury or disorder that happens to animals during transport.
Nok Air CEO Patee Sarasin Tuesday morning posted on his Facebook that Nok Air would cease the service and compensate Itsares.
"In order to prevent same situation from happening again, we will no longer fly pets," Patee wrote.
The CEO could not be reached for further comment.
The airline Tuesday said the cancellation of the service is effective immediately, although guide dogs will still be allowed to travel with visually impaired passengers.
Related stories:
Nok Air Pilot 'Jokes' About Crashing Yingluck's Plan
Thailand Scrambles to Improve Aviation After FAA Downgrade
US Downgrades Thai Air Safety Rating
Thai Aviation Safety Downgrade 'May Affect Charter Flights'
Thailand to Miss UN Aviation Agency's Safety Deadline