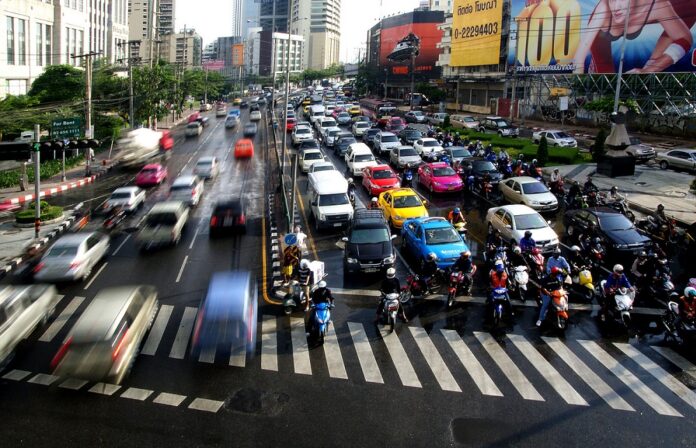 BANGKOK — Pay nothing while expanding your circle of friends with the first commercial carpooling service from Grab.
The popular taxi app launched its new GrabHitch service this week which lets drivers share their empty seats with commuters who want to travel similar routes. While drivers get some gas money, passengers get affordable travel at a fixed price of 50 baht, which drops to zero for now during launch.
"GrabHitch will help reduce density of people using public transportation, lessen traffic jams and lower costs for both passengers and car owners," Vee Charunansiri of Grab Thailand told Prachachat.
To try the beta version, enter the same information as when calling a GrabTaxi, including pick-up and drop-off locations as well as the date and time. The application then will match you with a driver and coordinate to confirm. Fares can be paid by both credit card or cash without additional service fees.
Grab Thailand said all drivers will be verified and monitored for safety. Unlike its previous motorcycle taxi service which was sort-of shut down under legal threat, the company said it was confident the carpooling service did not breach any laws.
During the introductory period, customers can enter promo-code "GHFREE" for unlimited free rides until Dec. 28.
Car owners who become GrabHitch drivers before Dec. 27 will receive 100 baht for each passenger they pick up to share a ride.
Related stories:
Did GrabBike Really Go Dark? These Motosai Say No.
Most of What You Heard About 'GoBike' Service is Wrong
UberMoto Goes Dark; New Moto App Coming From … Junta?
No Really, Govt Tells GrabBike and UberMoto, What You're Doing is Illegal
'You Wanna Fight?' Bangkok Moto Taxis Confront GrabBike
UberMoto Ignores Same Ban Ignored by GrabBike
GrabBike Responds to Govt Ban With Big Discount and Apathy