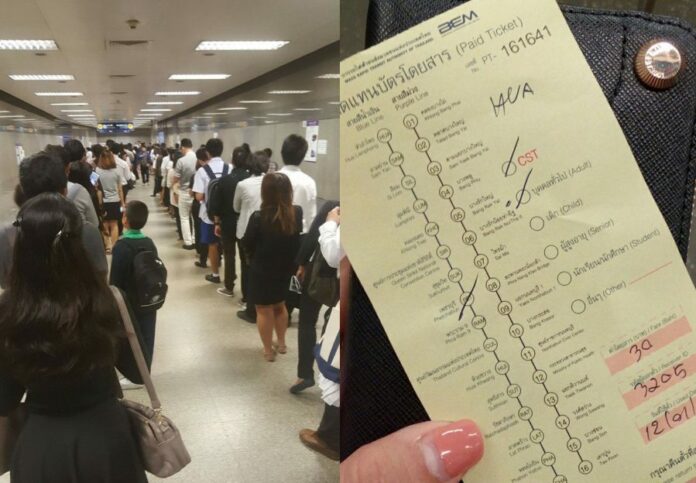 BANGKOK— Subway commuters were met with an unwelcome surprise early Thursday morning when the electronic entry systems crashed system-wide and they were unable to enter the platform.
Starting from 6:28am, commuters could not use their cards or tokens to enter the MRT subway system. Instead, they had to wait in long queues to purchase paper tickets with cash, then wait to hand those tickets to someone to descend to the platform.
System service at all 18 systems were up and running again at 8:55am, the subway operator announced. Bangkok Expressway and Metro Public Co. Ltd. gave no explanation for the downtime.
12/01/60 เวลา 08.55 น. รถไฟฟ้า MRTสายสีน้ำเงินทั้ง 18 สถานี ให้บริการได้ตามปกติ pic.twitter.com/XsM3zTdRsV

— MRT (@BEM_MRT) January 12, 2017
Some tweets from queuing commuters:
ความรถไฟฟ้าใต้ดินวันนี้ #mrt #รถไฟฟ้าใต้ดิน pic.twitter.com/9OsEkShQty

— AeffyCNP (@AeffyCNP) January 12, 2017
ระบบจัดเก็บค่าโดยสารของ MRT ขัดข้อง ต้องออกคูปอง คนต่อแถวรอซื้อเพียบค่ะ ตรงต้นแถวคือโค้งไปทางด้านซ้ายอีกยาวเหยียด #MRT @js100radio pic.twitter.com/U1TrQjWVq1

— What's on your mind? (@praerieternal) January 12, 2017
วุ่นแต่เช้า! ประตูอัตโนมัติ #MRT ขัดข้อง ต้องใช้คูปองแทนบัตรโดยสาร ผู้โดยสารโปรดเผื่อเวลาในการเดินทาง คาดว่าจะแก้ไขเสร็จในเวลา 08.00 น. pic.twitter.com/B16B7D80sR

— NoozUP (@NoozUP) January 12, 2017
#mrt rama9 direction #asok congested pic.twitter.com/K5r2H0CfgI

— Antonio (@kronosboy) January 12, 2017
07.20 วุ่นแต่เช้า! รถไฟใต้ดิน MRT สถานีจตุจักรประตูอัตโนมัติขัดข้องใช้บัตร-เหรียญโดยสารไม่ได้ ให้ซื้อคูปองแทน คนต่อแถวแน่น คาดเป็นทุกสถานี 😮 pic.twitter.com/uKIdGYapra

— AkaravutTV9 (@AkaravutTv9) January 12, 2017