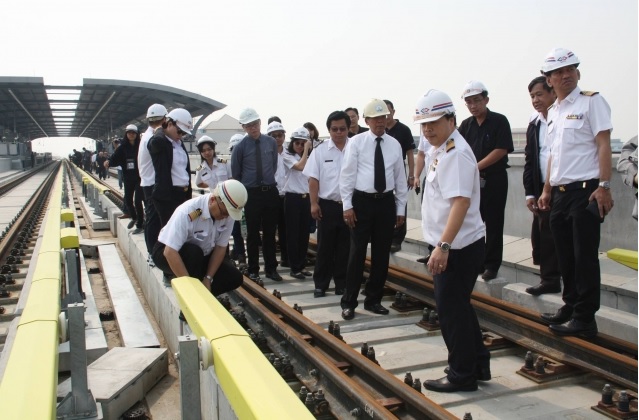 BANGKOK — The elevated Green Line extension from southern Bangkok to Samut Prakan province will not be ready for trial runs as promised, transit authorities said Monday.
Though the 13-kilometer skytrain route from BTS Bearing to Samut Prakan is structurally complete, the metro transit authority says there's still work to be done – and City Hall lacks the funds to take control of it.
City Hall is due to pay 3.5 billon baht of the project's 21 billion baht price tag by April to receive ownership of the project from the Mass Rapid Transit Authority of Thailand, or MRTA.
Bangkok Gov. Aswin Kwanmuang said in November that it would be impossible to meet the deadline, as City Hall did not have the funds. His team said it would negotiate payment after the service began operating and generating revenue.
But negotiations to get it running haven't been settled yet either. City Hall plans to hire the same company which operates the original BTS Skytrain to run the Green Line, the Bangkok Mass Transit System Co. Ltd.
If it confirms City Hall does not have the funds, the MRTA said it will seek the interim cabinet's opinion on how to move forward.
Then it will take at least three months to prepare and optimize the system for test runs, as electrical systems are still in the process of installation, the transit authority said. It expects the service to become operational by the end of 2018.
Another leg of the Green Line Extension, from Mo Chit to Saphan Mai and Kukot, remains under construction and expected to be finished by February 2019.
That route faces the same budgetary barrier and has yet to be given an exact opening date.