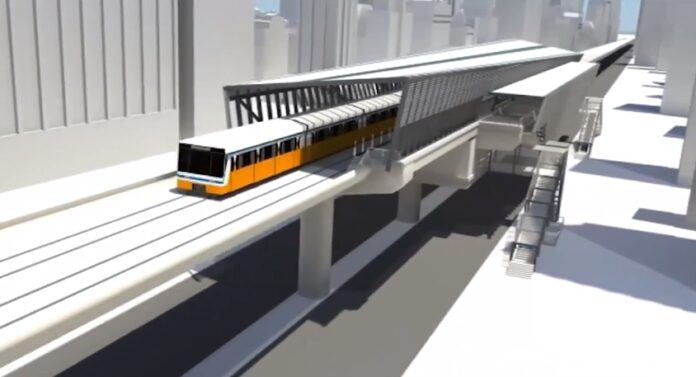 BANGKOK — The first pile will be driven into Ramkhamhaeng Road on Monday for the construction of the MRT Orange Line, expected to bridge eastern Bangkok to the rest of the city by 2023, Bangkok police and the project's contractors announced.
Only an inner lane on both sides of the road will be closed while the construction is underway near Ramkhamhaeng Soi 135 and 157, Police Maj. Gen. Chiraphat Phumchit, Deputy Chief of Bangkok Metropolitan Police said Monday, adding that traffic would not be affected, as two lanes will continue to operate and July 10 will mark a national holiday.
The pile is part of the construction process for the Orange Line extension on the MRT, from the Thailand Cultural Centre in Huai Khwang district to Min Buri, set to commence in November.
Read: 111 Billion Baht Skytrain Orange Line Approved
Chiraphat said the five-year construction is likely to affect Bangkok traffic as its 17 stations go through major routes already notorious for congestion.
Starting from the Thailand Cultural Centre off Ratchadapisek Road, the Orange Line will continue to Rama IX Road and go along Ramkhamhaeng Road to eventually end at an intersection with Suwinthawong Road.
Out of the 17 stations, the first 10 will be constructed underground. The rest will be elevated stations said.
Project's manager Pirat Prom-in said the four locations that could strongly affect traffic on Ramkhamhaeng Road are those in front of The Mall Ramkhamhaeng, Ramkhamhaeng University, the office of Sports Authority of Thailand and Alexander Hotel.
Chiraphat said police are considering shutting down the inbound lane of the elevated road – which currently serves as a shortcut from Ramkhamhaeng Road to Rama IX Road – for 45 months starting from November.
The construction of the 23-kilometer route consists of 6 contracts worth 79 million baht.
Successful bidders is CKST Joint Venture, co-invested by CH. Karnchang PCL and Sino-Thai Engineering & Construction PCL, who obtained three contracts. The other two companies who won the auction are Unique Engineering and Construction PCL and Italian-thai Development PCL.