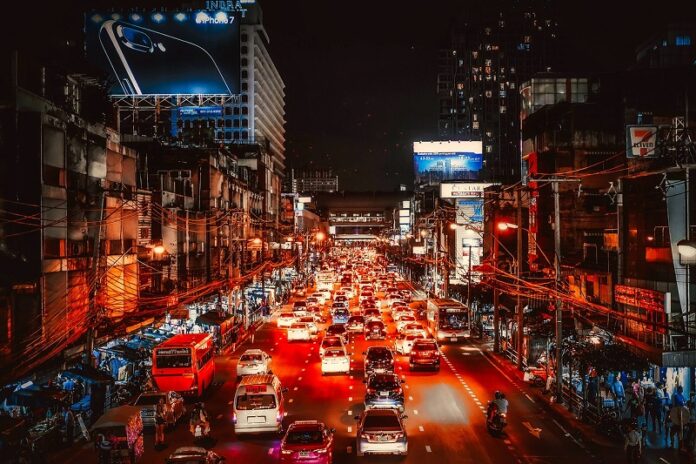 Just last month 19-year-old singer Suthida "Image" Chanachaisuwan took to the internet with a series of now deleted tweets expressing her displeasure with the public transportation network in Bangkok – no doubt a common frustration among commuters.
As someone who uses public transportation on an almost daily basis in Bangkok, I often marvel at the cleanliness, timeliness and convenience of the BTS and MRT. They are the gems of the capital's public transportation system.
However, my elation quickly falls off when I have to step away from the trains and take a bus to get around the city. Though the network of bus routes around Bangkok is extensive, they have to contend with the evil that most large cities are familiar with: traffic.
Among the unique challenges to Thailand's initiative to digitize its economy are those facing transportation infrastructure, and the role it will play in the future of the country.
As Bangkok is the capital – and where most digital workers will be concentrated as we get closer to what the government has dubbed Thailand 4.0 – let's focus on the City of Angels.
While the Department of Land Transportation and the Bangkok Metropolitan Administration, or BMA, are currently in the process of revamping the bus system in Thailand to optimize the routes, that won't change the fact that those buses still need to contend with traffic.
Obscene traffic on its own is bad, but it also compounds the issue of air pollution – which makes cities less desirable places in which to live. And much like traffic, Bangkok's air quality is by no means a clean lung utopia.
Those two issues by themselves might be enough to dissuade some individuals or even – companies from setting up shop in the country.
Luckily, traffic isn't a problem unique to the capital, so we can look at some of the ways in which other cities have gone about tackling this same problem and evaluate if a similar approach could possibly work in good ole' Bangkok.
Sticking with public transportation for the moment and looking at our regional neighbors over in Hong Kong we can take some inspiration from their Public Light Bus system. There are minibuses that supplement the demand for larger buses. They have a low capacity and run with greater frequency than the larger buses. Because of their smaller size they are generally able to navigate the city more quickly. While some of the minibuses have fixed routes, others do not, shifting their area of operation to meet demand.
Such a system could be beneficial to Bangkok, where it's common in some parts of the city for larger buses to not only run beyond capacity, but to be stuck in traffic for a long time. The smaller minibuses could, in theory, move more quickly through the traffic than their larger counterparts and also alleviate some of the overcrowding.
Another interesting approach that would not just reduce the amount of cars in the city but also encourage more people to take public transportation are the congestion tax models implemented in cities such as London, Stockholm and Paris. In Stockholm, drivers pay to enter the city center between 6:30am and 6:30pm on weekdays. There the scheme is credited with reducing traffic more than 25 percent and generating significant revenue for the city.
Such a scheme could reduce the overall traffic in Bangkok and would likely spur more use of public transportation. But at the same time, it would raise yet another issue.
I need to carry three separate payment cards – as well as cash – for my commutes. To be fair, I know the rumored Mangmoom card is meant to launch this year after many delays, but I'll believe it when it's in my hands.
Such a system would allow commuters to use a single method to pay for fares on all types of public transport. This would not only make it more convenient for the commuter but also a quicker, smoother process for everyone involved.
This last method, while one of my favorites, would require not just a significant change in commuter behavior but some significant infrastructure changes. One example are the bike-sharing initiatives deployed successfully in cities around China which have reduced some congestion and become, once again, a popular means of commuting.
A number of bike share companies have already begun operations in Thailand, Earlier this year at Techsauce Global Summit I spoke with Samantha Tng, Thailand's country manager for Ofo, an Alibaba-backed Chinese bike-sharing company expanding its operations into Bangkok.
I've ridden a bike in Bangkok – once, and it was no easy task. I never felt safe, as it felt very likely a car would just run me over. When I see people riding bikes through the city I often feel a little jealous – that is until I remember my own attempt.
When it comes down to how people travel through and interact in a city is largely dependant on its transportation infrastructure. If Thailand wants to attract more people to work in Bangkok and be part of the country's digital economy, then it needs to be able to deal with that impending influx of people.
Right now, there are times and locations where it seems as if Bangkok might be at full capacity. Finding a way to reduce road traffic while motivating people to find other ways of getting around the city would go a long way toward achieving that goal.