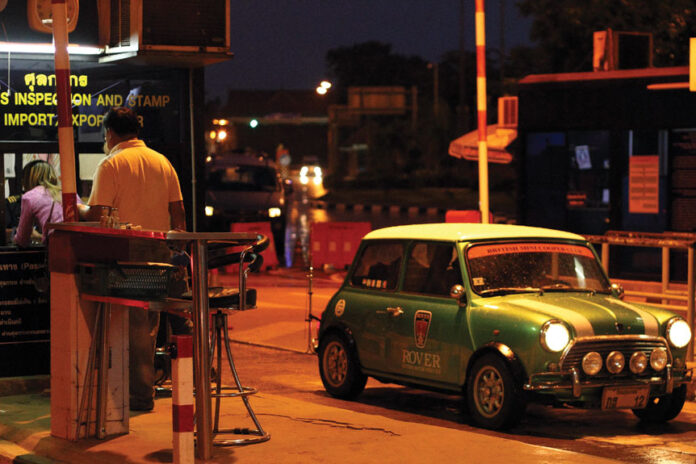 BANGKOK — Foreign drivers entering at border crossings will soon have to pay tolls and subject to GPS tracking while they are in the kingdom.
On Monday, the transportation officials proposed a plan to charge cars driving into the country in order to get funding for road maintenance.
"Thailand's central position on mainland ASEAN has great potential for us to be a commercial, transportation and logistical hub for our neighbors," said Wilairat Sirisophonsin, transport and traffic office deputy chief.
The proposed plan, which will go to the cabinet for approval in January, consists of three phases. At first, only regular cars and pickup trucks will be charged tolls, but the plan will be expanded to include GPS tracking of all vehicles.
Wilairat said the project will cost around 525 million baht and employ about 260 people. She said the project was "necessary because so many vehicles enter Thailand, so we have to bear higher costs for road maintenance and road accidents," a figure she put at roughly 15 billion baht annually.
More than 2.1 million vehicles crossed over the 28 border checkpoints in 2016. Malaysia and Singapore have already implemented similar tolls. Since June, entering Malaysia costs foreign drivers MYR20 (160 baht). Singapore entry became a SGD8 toll (193 baht) in October.
In the first three-year phase of the proposed plan, all foreign four-wheel cars crossing at 28 border checkpoints with Myanmar, Cambodia, Laos and Malaysia will pay 100 baht for an electronic smartcard that can be used to pass through for the next five years. Each crossing will cost 42 baht.
In the second phase, between the fourth and seventh years of implementation, Wilairat said a GPS system would be installed on foreign vehicles to track their locations and routes. The 42-baht toll would becomes distance-based, with a proposed fee of 1.5 baht per kilometer.
In year eight, the third phase would see all vehicles subjected to the same system. The number of checkpoints charging tolls would also increase as some are under construction.