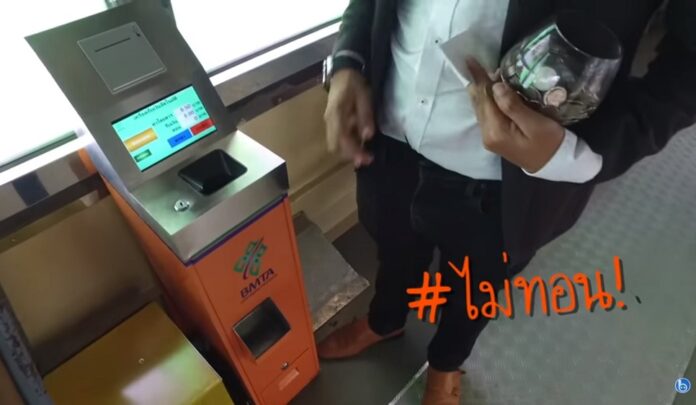 BANGKOK — A 1.6 billion baht plan to replace bus conductors with machines is in disarray because it simply isn't working out as planned, an official said Tuesday.
After installing 800 electronic ticket machines on Bangkok buses in October, officials encountered so many errors that are halting installation of the additional 1,800 needed to phase out human staff, according to the chairman of the Bangkok Mass Transit Authority.
"At first we intended to use the machines to replace all of the 2,600 staff members, or conductors," Nuttachat Charuchinda said in an interview. "But after we installed them, the cash boxes have problems. They are not stable yet. They are being fixed right now."
He continued, "So, we still cannot remove the staff at this point."
The cash machines are one of two new technologies finding their way on board Bangkok's many buses. In November, the first card readers for holders of newly issued welfare cards began to go out.
But the cash machines were met with criticism since they were first launched two months ago. Problems included not dispensing change and passenger confusion over how much to pay. Some devices just didn't work.
"I'd like to tell the people who came up with this idea that a majority of bus passengers want something simple – not complicated," user Nusara Saebe wrote in a Facebook thread, adding that the authority should instead add more buses.
Nuttachat also said the machines may cause a commuter crunch during rush hours. He said officials are working to fix the 800 machines that are already installed or scheduled to be put in buses by the end of the year.
The equipment wasn't purchased but leased on a five-year contract from a private company called Cho Thavee Co. Ltd., at a cost of 1.6 billion baht.
Since the bus authority will only install 800 of the 2,600 devices, officials are attempting to renegotiate the contract for only those machines and not the original number agreed to, Nuttachat said.
"I think we can reach some agreement," Nuttachat said. "We have already discussed this verbally."
Ultimately, they may not make a return at all, because the government plans to make all fares cashless by the next three years, Nuttachat said. He envisioned paying for bus fares through mobile phone QR code or other cash cards, like the Mangmoom pass, a card that's slated to cover all forms of public transports in Bangkok in the future.
"People might not be carrying around cash anymore by that time," he said.
In the meantime, bus conductors with their iconic clap-clap cylinders are here to stay. Nuttachat said he expects them to either retire or take up early retirement packages until all buses are equipped with cashless card readers.
Related stories:
Bangkok Buses to Finally Get Ticket Machines. Here's How They Work.
Machines Coming to Take Millions of Thai Jobs: Report