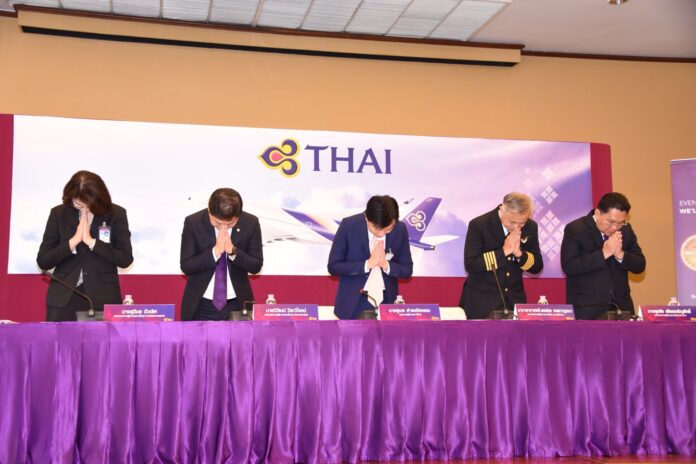 BANGKOK — Thai Airways on Monday released its findings about a much-debated episode in which a flight from Zurich was delayed hours by a dispute over first-class seats for two traveling pilots.
The airline said it found both pilots and Zurich airport ground staff responsible for "not prioritizing the passengers" in the incident aboard TG971, which was kept from taking off until two passengers gave up their first-class seats to the pilots, who were being flown to their next assignment.
Airline President Sumeth Damrongchaitham said the employees would be penalized "according to the company's codes," and all passengers compensated for the Oct. 11 flight, which was delayed over two hours.
"I acknowledge the mistake and would like to apologize for what happened," he said. "The company will improve service … to prevent this kind of problem from happening again."
Thai Airways is a popular punching bag, and the incident sparked debate over whether the pilots were being given special treatment or afforded necessary comfort given their duties.
Sumeth said that although the pilots and agent did not violate airline or airport rules, they failed to communicate effectively, causing the delay. He said they damaged the company's reputation by failing to follow the airline's ethical code by not prioritizing the passengers.
The drama broke out less than two weeks ago when a complaint letter against Thai Airways was leaked to the media. In it, a passenger later identified as a former permanent secretary of the Industry Ministry, said he and his wife gave up their first-class upgrades for two of the pilots after a delay of over two hours.
They were among four pilots flying "deadhead," an aviation term for crew being flown off-duty to another assignment. The flight's on-duty pilots, the letter said, refused to fly until their colleagues were seated in first class, which until recently had been policy.
"I was informed that if I refused to switch my seat with the deadhead pilots, the on-duty pilots wouldn't take off," the letter read. "If my wife and I hadn't given up our seats, the delay would've continued. We felt sorry for the other passengers who were also affected."
The issue metastasized on social media. Sumeth, who was recently appointed airline president, quickly apologized and promised to conduct an internal investigation.
An internal memo from Thai Airways titled "Request for seating guidelines for flight deck passive crew on B747/A380" indicates the flight had been changed from a Boeing 777-300 to a 747-400.
The older plane, the 747, doesn't have a crew quarters where the pilots normally would rest. Unlike the newer plane, it did have a first-class section with seats that can lie flat.
But those seats were filled up with upgraded business-class passengers when they became available in the system, according to the memo.
It said the Zurich ground staff put the pilots in business class, but the on-duty pilots in charge of the flight refused to let anymore passengers board unless all four deadheads were seated in first class.
The review of the pilots' actions triggered a small rally of support by about 50 Thai Airways pilots last week at the company's Bangkok headquarters.
There's no specific law regarding required seats for deadhead crew, but civil aviation rules bar pilots from flying more than 34 hours in seven days, and must rest for a time equivalent to how long they were last in the air.
The case divided opinions between those blaming the crew for taking passengers hostage for their own benefit and those asserting the importance of well-rested pilots.
Sanong Mingcharoen, who heads the Thai pilot association, said online shortly after the incident blew up in the media that the pilots had been accused unfairly.
He complained that the airline recently changed its contract terms to say deadhead pilots would only be entitled to the first-class seats if they were empty; otherwise, they would be seated in business class.
"If we back off too much, one day there will be no space left for us," he wrote.
His post was heavily criticized and later deleted. It later came out that the airline barred crew members involved from talking to the media.
Thai Airways union president Damrong Waikanee last week said the crew had the right to first-class seats and did nothing wrong under the guidelines. But, he said, they should have given priority to the passengers.
"If pilots are not on duty, they will be like other passengers and will be given seats in either first class or business class," he said. "But if they travel to be on duty, seats in first class will be assigned to them. It's the same practice at every airline, as pilots need to be fully rested to prepare for their next flight … or it will compromise passenger safety."
Still, they should have made the sacrifice, he added.
"The pilots weren't wrong because it's their right, but because they weren't conscientious," Damrong continued. "If I were them, I would have let the passengers take the seats or change my flight, because we get our salary and our wages from them picking our service."