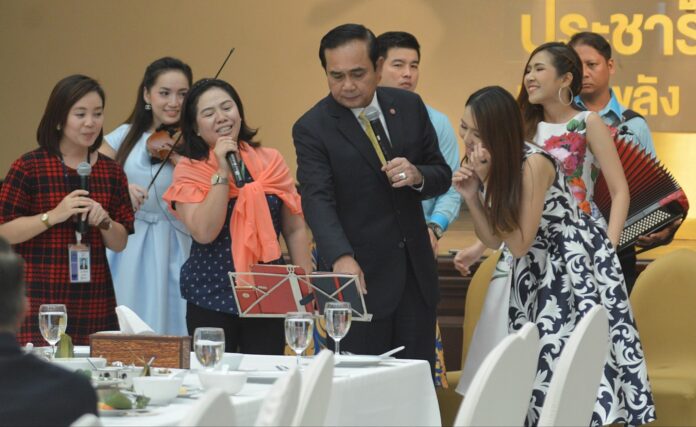 On Sept. 20 I was honored to be chosen to deliver the sixth annual [email protected] Lecture at Harvard's Kennedy School of Government.
The series started in 2011 with the launch of a Thai studies program in the university's Asia Center with seed money of USD$6 million, mostly raised from large Thai companies.
Part of my hour-long lecture, "Holding Governments and Journalists Accountable: Rights and Responsibilities of a Free Press in Thailand," touched on how the Thai press should be accountable to the public in the context of the continued militarization of society under the junta which staged the coup in 2014.
Following is a portion of the lecture:
The press cannot be truly accountable to the public if it does not try to analyze and question the current militarization of Thai society because a militarized society is antithetical to a democratic and pluralistic society.
We must try to hold the junta accountable even though it's very difficult, given the junta's absolute power.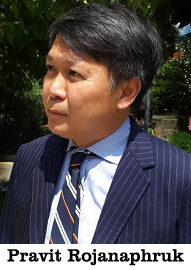 If media organizations refuse to question the militarization of Thai society and censorship, individual journalists who care about freedom and democracy should strive to do what they can on their own.
A militarized view is an attitude where those who think differently are seen as a threat that must be contained if not suppressed or even eliminated, not a source of social and political enrichment.
It is about national security over human security. A militarized society is where voices of millions of citizens are less important than that of one army general.
On a personal note, the arbitrary nature of unaccountable absolute power by the junta leader under Article 44 of the provisional charter is such that I decided not to announce that I am coming to Harvard on social media prior to the flight from Bangkok taking off, for fear that the junta would forbid me from being here today. This despite the junta lifting a ban on its critics travelling abroad in June. The question is: What will, in the long run, become of a society addicted if not jaded to the repeated use of unaccountable absolute power?
The military way is top-down command and about control – not a horizontal participatory decision making process through public debate and deliberation.
The military way sees those who disagree as disobeying, as a threat and potential enemy if not an enemy, instead of a source of diverse views enriching society. Without a genuine ability for the press and society to debate and deliberate, society can neither be democratic nor free. This is what, in my view, the Thai press must be responsible for at present.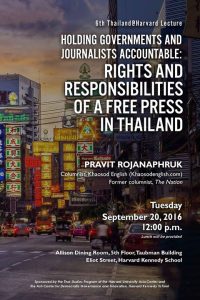 In a militarized society, obeying and not questioning unaccountable and illegitimate orders is a norm. It's the opposite of a democratic society where people can debate and deliberate freely on what is best for society.
The military expects citizens to behave like soldiers, holding unquestioning loyalty to the commander and obeying his command without second thought. This despite the fact that junta leader Gen. Prayuth Chan-ocha was never elected by the people and in fact robbed people of their electoral right when he staged the coup.
It is in such a context, which will at least last for another 15 months if not longer, that the Thai press must try to be responsible to the public and hold the military government accountable, no matter how daunting, by defending the little press freedom we still have left and continuing to resist the militarization of Thai society.
Allow me to be fair to Gen. Prayuth. He is not the worst of Thai military dictators.Thailand has seen worse. Military dictators like Field Marshal Sarit Thanarat, supported by America during the Cold War, ordered political opponents executed and threw journalists to rot in jail for years.
Prayuth holds absolute and arbitrary power like Sarit, however. But times have changed and along with it, people's expectations of what a military can and should not do.
The same can be said of the press, which has become accustomed to relative freedom (minus the lese majeste law which forbids any critical reporting or analysis about the monarchy, that is). The Thai press has accrued sufficient social and political capital to act as a relatively free press over the past few decades, and in the end, they are unlikely to totally surrender to Prayuth's dictum; a number continue to scrutinize and criticize the general.
Absolute power is no longer absolute, for the world is increasingly borderless, particularly when it comes to information flow, and social media increasingly bypass mainstream mass media's self-censorship and state censorship.
A good journalist is a permanent critic, ever inquisitive, skeptical and committed to unraveling the complexity that is truth, freedom and equality.
Journalists must speak truth to power or risk becoming irrelevant, and that includes speaking truth to not just political power but military power as well.
In societies under repression such as Thailand, the true calling of journalism is in not just reporting on what is happening but in playing a role in making society more free, reasonable and equal.
It falls upon committed journalists to not just call a spade a spade when it comes to the limits of press freedom but also to confront innate structural constraints of the press in presenting the complexity of reality.
The sixth [email protected] Lecture was delivered in the Allison Dining Room in the Taubman Building at the Harvard Kennedy School on Sept. 20. The writer would like to thank the Harvard Kennedy School, Harvard University Asia Center and its Thai Studies Program. The writer is also grateful to Prof. Jay Rosengard, chairman of the Thai Studies Program Committee and its program director, Prof. Michael Herzfeld.