With 2017 around the corner, Bangkok city is preparing to welcome the new year with something for everyone. Events will go off all over town, and you'll find something exciting to dance to in every corner of the city.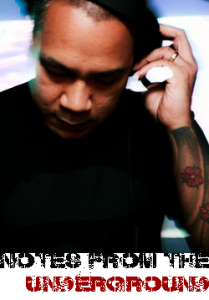 Before we break it down, let me just say the only thing Bangkok does differently from most cities on New Year's Eve is that club DJ lineups tend to be locals, so don't expect too many places with top international talent on deck.
Beside that, the other good news is that clubs are allowed – or tolerated – to stay open past the standard 2am closing time, with even the boys in brown giving a thumbs up and mai pen rai to all that's going on.
Be sure to use this time wisely, have fun and most of all, stay safe.
Being mindful of a little something for everyone, here are some of my picks.
NYE Party ft. Jonathan Ulysses (UK / Ibiza) – Maggie Choo's

Start the night off with drinks at famed Bangkok speakeasy Maggie Choo's. Warm things up before the countdown with the Sunny Trio, which starts the night with a mix of jazz, funk and soul. Afterward special guest and Ibiza house legend Jonathan Ulysses will supply the grooves with support from Bangkok's Funky Gangster and percussionist Dave Davini.
Free entry before 8pm and after 1am. The 800 baht entrance fee includes a glass of sparkling wine. Contact in advance for table reservations.
Maggie Choo's is in the basement of Novotel Fenix Silom hotel. It can be reached by taxi from BTS Surasak, BTS Sala Daeng or MRT Silom.
New Years No Rules Countdown Party – W Hotel Bangkok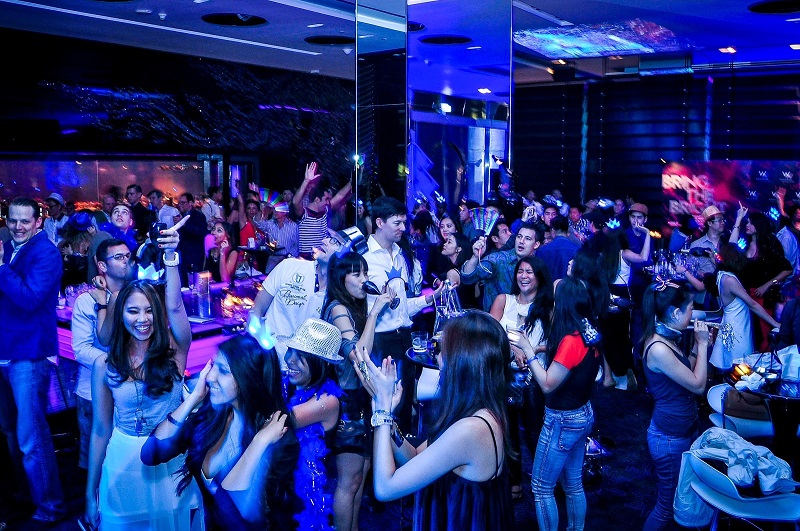 New Year's Eve at Bangkok's trendy W Hotel starts off at its restaurant The Kitchen Table, with buffet dining on king crab and prime ribs. Then it moves downstairs to the Woo Bar for cocktails mixed by the hotel's talented mixologists. The soundtrack for the night will be Drum 'n Bass, house, hip-hop and funk supplied by DJs Orawan, Toru and Jedi.
New Year's Eve dinner packages run from 3,500 baht for food only and 4,700 baht with all the booze from beer to bubbles. The party goes from 7pm to 2am and entry is free.
New Years Eve 2016/2017 at GOJA – Goja Gallery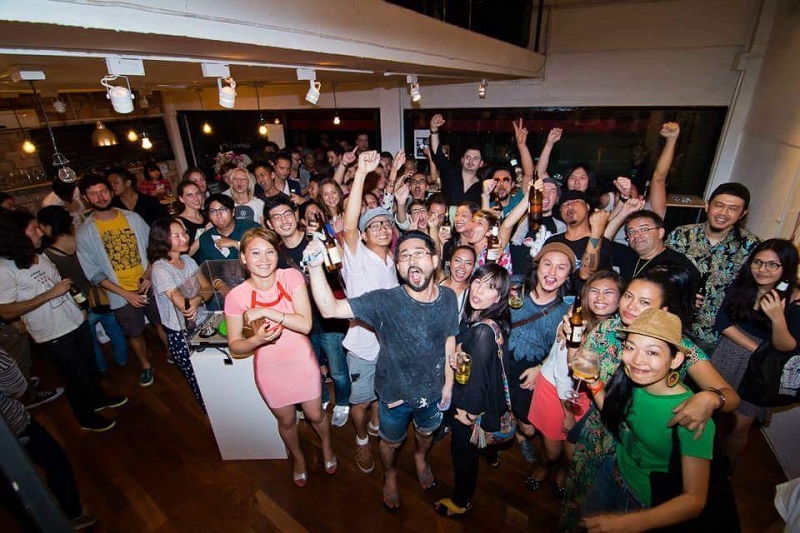 Through their hard work, gallery owners and DJs Toru and Bplar have turned this small cafe into a haven for artists and DJs. With exhibitions by some of Asia's coolest artists and visits from international DJs, the venue has earned the respect of the Bangkok underground. This New Year's Eve will see guests like Nanziee (Olympic Digger), DJ Tnt (Rap is Now), Target-C and DJ Dai taking control of the decks. No house or techno here, but expect rare groove, funk, hip-hop soul and disco.
Entry is free.
BEAM New Year's Eve with Joyce Muniz – Beam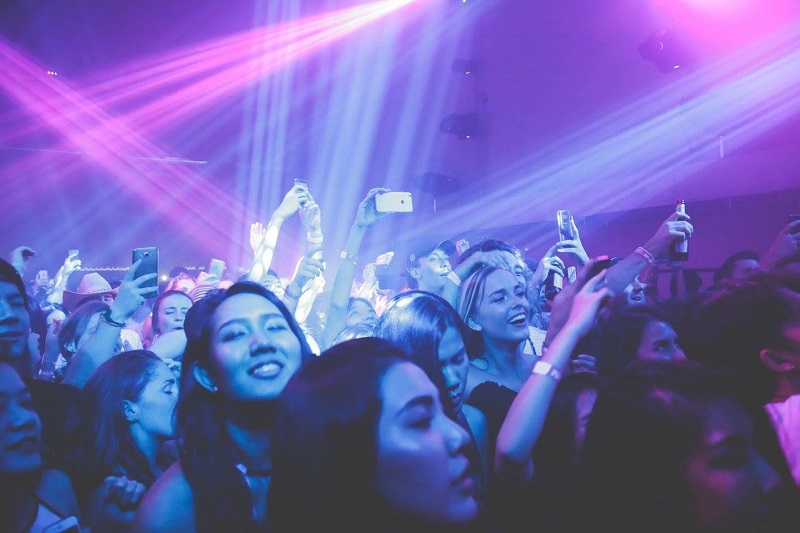 Despite its mainly Thonglor-heeled crowd, Beam proved a force in 2016. Earning street cred as one of the best clubs in Thailand due to its intelligent lighting, custom-built sound and weekly hosting of A-list DJs. This NYE expect some hands-in-the-air deep house and techno beats in the main room, and trap and hip-hop in the back. Scene leaders Marmosets, Bunnyman, Funky Gangster and newbie NT66 are set to take the crowd into full overdrive well past the wee hours, so make sure to rest your feet and ear drums for this one. Door is 800 baht.
Mela NYE  – Dark Bar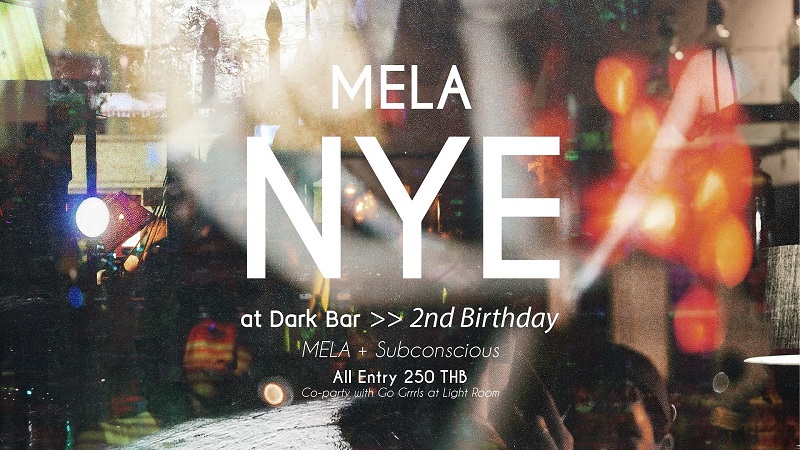 With its no-compromise music policy, Dark Bar has risen to become the underground crown holder in Bangkok, nurtured by the likes of Filthy Solid, Kontraband and Mela. DJ Krit Morton's Mela crew will be there to it count down to the new year and also celebrate the venue's second anniversary. Next door at sister venue Light Room, find Go Grrrls spin their blend of indie beats. If you haven't been there, keep in mind it is a tiny venue so expect the party to spill outside onto the Liberty One shopping mall's second floor. That's not a bad thing and part of the fun!
Tickets for both Dark Bar and Light Room are 250 baht.
Prince VS MJ at Whiteline NYE – Whiteline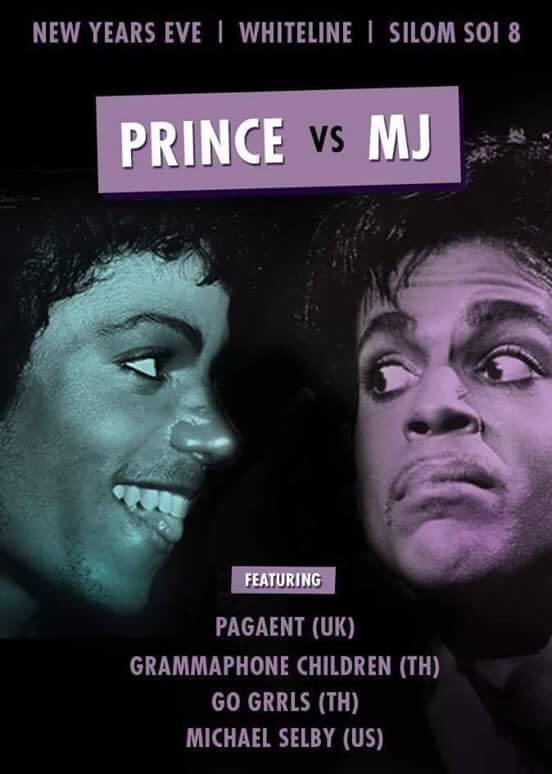 Whiteline is another venue that really made its mark on the scene this year. With events like the Bukruk after-party and Dope as Funk, crowds turned out to pack it to the rafters. It's smaller space Safe Room has also been a sanctuary for the late-night crowd. This New Year's Eve the venue will be taken over by East London's Pageant crew. Famed for their raucous parties, the crew pays homage to the Purple One and Michael Jackson. Confirmed in the lineup is Go Grrrls' DJ Dookie, Gramaphone Children and The Lowdowns' Mike Selby.
Entry is 200 baht before 11pm and goes up to 400 baht after.