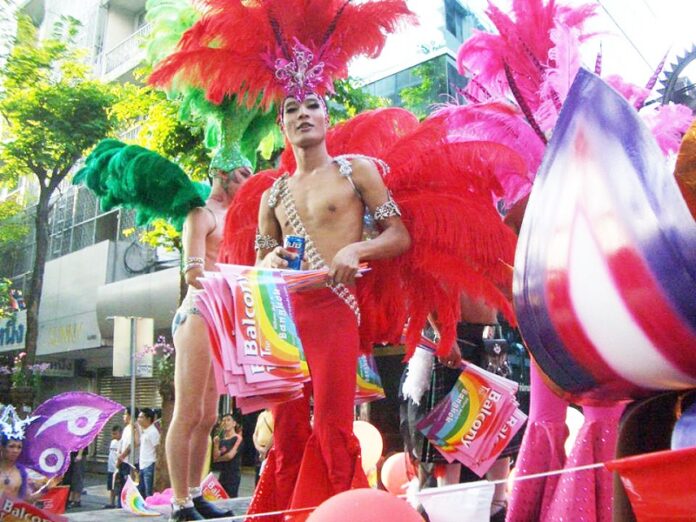 Advancement, or at a minimum, tolerance for LGBT rights would go a long way to advancing democracy. Tolerance, if not the full embrace of different gender identities, can foster political tolerance if not acceptance of differing views and ideologies.
There's a parallel between the two and, despite being under military rule for the past two and a half years, Thailand can still make progress in the areas. There are reasons to be optimistic. Late last year's appointment of Vitit Muntarbhorn as the United Nations' first ever expert on sexual orientation and gender identity was welcome news.
High-profile diplomats such as new British Ambassador to Thailand Brian Davidson and his American husband Scott Chang, whom I have both met, have engaged in an LGBT charm-offensive since they arrived in the latter part of last year. Many Thai media interviewed him on the issue, further normalizing acceptance if not tolerance.
LGBT leaders are now common fixtures at Western diplomatic receptions in Bangkok, and some print media devote regular space to the issue. Later this year, Bangkok will host a Pride Parade. All these, despite a repressive military junta in charge, are reasons to be hopeful.
To be fair, when I ran into Vitit recently at a diplomatic reception, the professor told me there was no sign that the Thai military government would invite him to do anything soon in his new capacity. Mind you, the UN experts, even those in Bangkok such as Vitit, cannot interfere with local issues if not invited by the host government. A same-sex marriage bill has been shelved for the meantime and can only be taken up again after the junta is gone.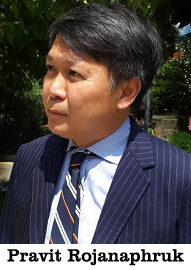 All this doesn't mean there's nothing we can do now to advance LGBT rights and thus democratic culture, however.
At the very heart of the ongoing struggle is the fight to reduce anti-LGBT hate speech and make it culturally and politically unacceptable.
Both sides of the political divide have their fair share of anti-gay and anti-LGBT elements. I am reminded of the Rak Chiang Mai 51 Redshirt group which in its hey day shamelessly suppressed an attempt to organize a pride parade back 2009. This was shameful and homophobic.
In a column I wrote for back in February 2009, I quoted the group's leader, Petchawat Wattanapongsiri, claiming to speak on behalf Chiang Mai residents:
"Chiang Mai people cannot accept this and will stop the parade by all means, even [with] violence."
It reveals how even a group claiming to be for democracy can be intolerant of diversity. If you cannot accept or tolerate different sexual and gender identities, it's hard to imagine seeing these people accept political diversity.
On another battlefront, those who follow me on Twitter know that over the years, I have often been accused of being gay and many anti-homosexual verbal abuses have been hurled at me by trolls who despise my political stance against the lese majeste law and the junta.
"A homosexual like you must have mental problems. Otherwise you must severely hate and fear the military (which is a symbol of manhood)," tweeted junta-supporter and ultra-royalist @Tawporn, in reply to my tweets last week saying I wouldn't buy Poppy flowers to help war veterans until the junta is out.
To these people, to be gay is to be abnormal, an abomination even. These people happen to also believe that to be against the lese majeste law – or critical of monarchy and military – is abnormal, wrong and despicable. In their logic, good and morally upright Thais must be heterosexual, revere the monarchy and support the "good people" of the junta. To deviate automatically marks one a deviant.
Vitit or no Vitit, military junta or no military junta, Thailand, despite its reputation as relatively LGBT-friendly, still has a long way to fight for genuine acceptance of those with divergent identities – gender, sexual or political.
Internet trolls keep "making fun" of me by accusing me of being gay. I am kosher with that. There's nothing wrong with being gay.
I say it's none of their business. I will not be bullied into answering whether I am gay, because everyone has to right to be different and think different – be it sex or politics.
Related stories:
Bangkok Pride Parade Postponed to End of 2017
Talking Out Loud: The Political Awakening of Thailand's LGBT Community
Was Kidnap-Murder of Lesbian in Love Triangle a Hate Crime?
Gay Rights Supporters Win Victory to Keep UN LGBT Expert
African Nations Seek to Get Rid of 1st UN LGBT Expert
Vigil Held For Orlando Shooting Victims, LGBT Victims of Violence (Photos)