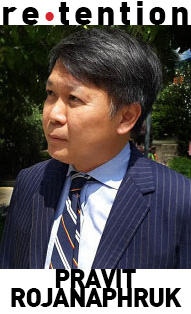 "Editor for Life" was what I used to think of The Nation co-founder Suthichai Yoon, a larger-than-life figure gifted in self-publicity.
At The Nation newspaper, where I worked 23 years until 2015, Suthichai was like a demigod, revered by many of his loyal staff for his abilities as a journalist.
Some years ago, I heard that top management were preparing The Nation and its sister publications and two digital TVs stations for a post-Suthichai era – a time after the passing of the 71-year-old editor and significant shareholder.
Suthichai is still alive and healthy today, but The Nation, founded four decades ago in 1971, is now without him after a hostile takeover by far-right news corp T News succeeded earlier this month.
Although I was never a big fan of Suthichai, and no one could be too surprised by a takeover three years in the making, I can't help but feel disturbed by the latest development.
I know many would say The Nation has over the past decade morphed from a progressive newspapers into a coup-apologist cheerleader for military intervention, but there has always been a liberal acceptance for political differences among its staff. At least until I was asked to resign in September 2015, one day after being released from three days' of junta detention without charge for "attitude adjustment" for a second time.
Long after I left, some of the minority progressives such as Supalak Ganjanakhundee continued to have space to express critical views toward the military regime.
One of the most important missions for the press in a society lacking tolerance for differing opinions is to foster tolerance and maintain a diverse stable of views.
The media can play an instrumental role in fostering a culture of tolerance by putting it into practice as a platform.
Unfortunately, what we have seen over the past decade has been the deepening of the mass media's political polarization.
With the taking over of The Nation by right-wing, conservative media with an agenda, it can only be expected that there will be even less space for dissenting and diverse views within The Nation.
It's feared the with-us-or-against-us mentality is growing. That the simplistic view there's only one right view and those who think differently are not just wrong but evil continues to take root in Thai society. Much of the Thai press are partly responsible for spreading such a worldview.
Say what you may about The Nation newspaper under Suthichai and his younger brother, Thepchai Yong, who is also leaving, The Nation, at least during its heyday over a decade ago, was a bastion of committed journalism and tolerance. It even counted one of the founders of Malaysiakini.com, my ex-colleague Steven Gan, who was in charge of The Nation's editorial page a few years prior to setting up of the famous Malaysian news website in 1999.
French political cartoonist Peray "Stephff" Stephane continues to offer his unique take on Thai politics, critical of both the military junta and Thaksin-Yingluck Shinawatra.
Change is coming to The Nation, and whatever you may think of it, the paper is unlikely to be the same. It's unfortunate that so much of what was The Nation was based on the Suthichai personality cult – and to a lesser extent that of Thepchai – to the point that, without the two, the paper will unlikely maintain its identity, because too much of The Nation's DNA belongs to them.