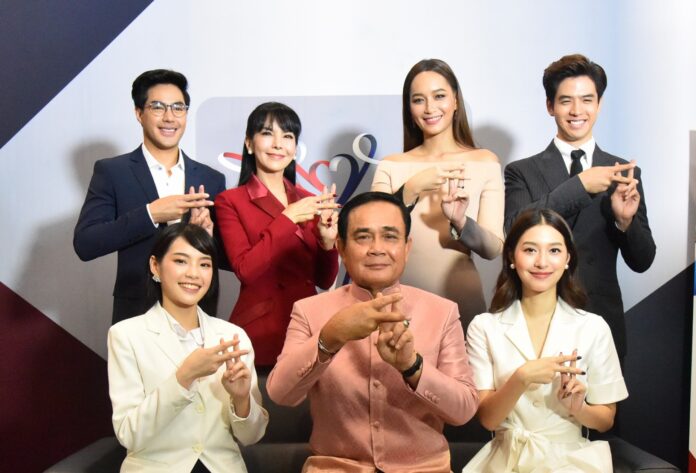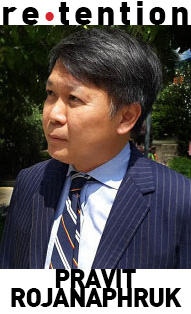 In its latest bid to appear popular – or at least less unpopular – the ruling junta this week enlisted a handful of A-listers to its cause.
On Tuesday, junta leader Gen. Prayuth Chan-ocha, who is prime minister, made strange hand signs with half a dozen celebrities including soap star Nittha "Mew" Jirayungyurn and BNK48 frontwoman Cherprang Areekul. They smiled alongside Prayuth to promote a government TV program pushing for "more reform."
The junta must be hoping these celebs will draw viewers to its otherwise unpopular propaganda programs, and initial signs indicated that it paid off. When TV heartthrob Nadech Kugimiya went on all free TV stations on Aug. 11 as a guest host to promote the regime's efforts to solve loan shark problems, ratings show that as many as 5.5 million viewers tuned in. Meanwhile Mew, appeared on air Aug. 25 to promote tourism in the north while as many as 6 million watched.
Celebrity endorsements are nothing new. Luxury watchmakers, cosmetic brands and shoe companies employ them in the hope consumers will associate products with their favorite stars and be tempted to emulate them.
In Juntaland, the "good and services" are neither new, nor have they been tested by market forces. The junta's "products and services" are propaganda shoveled down the throat of Thai voters for four and a half years.
In a dictatorship such as our's, the people have no choice between brands, so it's not accurate to think of these junta-supporting TV stars as the same kinds of brand ambassadors.
Depending on one's political point of view, everyone knows how good or bad the junta is, and I do not think there is a room to change those views. Those who oppose dictatorship will not be smitten by Prayuth surrounding himself with stars. In fact, the backlash has been swift, with people turning to social media to ask why these celebs can't stand for freedom and democracy instead.
It's hard to say if, deep down, these celebrities are pro- or anti-democratic. It's likely they came under immense pressure to cooperate with the junta, and their job is to "act" for a living. The safest alternative very likely was to cooperate with the regime. (In the olden days, religious leaders were coopted in support of the state but people are no longer that religious today, especially the young.)
By doing so they further normalize the junta and encourage people to see it as likable and popular. This is the other side of censorship under military rule, where anything critical goes unseen and replaced by forced propaganda TV programs at 6pm every work day and every Friday at 8pm, on all free channels.
More likely, since it's hard if not impossible to convert those who are against the junta, the military regime is looking to win the hearts and minds of young people who are just becoming politically aware or people who have so far been apolitical. That read of it was bolstered this week by junta appeals for young voters to get engaged and choose "good" politicians.
On the other hand, it could also be read as a desperate attempt by the junta to appear popular. Were they truly popular, they wouldn't need help to begin with. They need these stars to help make military rule, or military repression, glamorous if not popular. I say good luck with that!
No matter how hard they try to repackage themselves with the help of these actors, military rule is still military rule. This is just more authoritarian pantomiming of democracy, but this time with professional help.
In a way, they belong together, for they both make a living out of acting. If the West wants to hear the junta being pro-democracy, it will say it is for democracy, even 99.9 percent democracy.
If you want to hear professional actors and actresses say they are for the military rule, they will do just that and give Prayuth the Siamese smile.