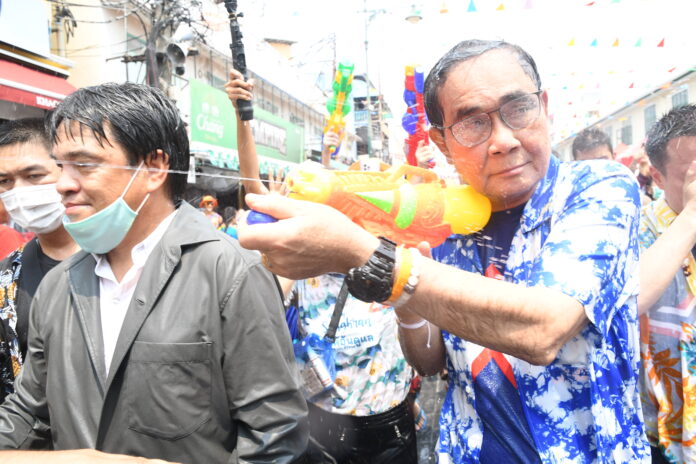 While I definitely have no crystal ball as to who will become the 30th PM of Thailand, I think it is time to consider the leading candidates and what kind of PM they might become if the person wins.
PM Gen. Prayut Chan-o-cha (again): Do I really need to elaborate on what PM Prayut will be like after these eight years? The moody former coup leader has shown us more than enough. Expect more of the same, mediocre economic management, friendly to Burmese junta, clueless on how to tackle PM2.5 micro dust particles and more – but not quite.
Not quite because PM Prayut will only have two years left to "serve" under the current junta-sponsored constitution. This means Prayut could be thinking about his legacy, not wanting to be remembered most as a coup leader and more of a statesman. Or the moody former dictator could become reckless during this last ride in power.
Already, the party which supports him as PM candidate suggests they will launch a harsh crackdown on anti-monarchists.
United Thai Nation Party leader Pirapan Salirathavibhaga said at a recent campaign rally in Bangkok.
"Go live elsewhere if you don't like [Thailand and the monarchy]… But Thailand must remain as it is forever. If the United Thai Nation forms the next government, we will harshly deal with those who hate [their own] country and are anti-monarchists," Pirapan said on April 8. That sounds like a policy to freeze Thailand into conservatism.
Will PM Prayut see through a major crackdown on anti-monarchists and risk even more reactions by the young monarchy-reform movement? Well, under him, hundreds have already been charged over the past few years and ultra-royalists may support him as the most 'credible' PM candidate to go very hard on anti-monarchists.
The next PM Prayut will likely have to rely on coalition partners, however, as the conservative pro-army party has split into Phalang Pracharath and the United Thai Nation. He will have to rely on most of his 250-appointed senators to vote for him to become PM again and that is not guaranteed. Even if he made it, this could weaken Prayut's ability to take any executive decisions as the next PM considerably.
PM Gen. Prawit Wongsuwan: The former deputy junta leader and caretaker deputy PM is the leader of the ruling Phalang Pracharath Party and he can count on the support of the 250-junta-appointed senators to help him becomes PM.
He is very eager to become the next PM to the point where earlier this week, he told the press his went through a medical checkup and declared physically fit and mentally sharp, despite him have been often quoted by the press as saying "I don't know" when asked about various political and public issues over the years.
The party vows to transcend the protracted political divide plaguing Thailand over the past two decades and it means we can probably hope that PM Prawit will be less of a hardline leader than Prayut.
PM Paetongtarn Shinawatra: Expect more ousted and fugitive former premier Thaksin Shinawatra if the 36-year-old daughter of Thaksin becomes PM. Paetongtarn has exhibited a common touch with the grassroots while campaigning contrary to the aloof image of past PMs like Abhisit Vejjajiva or even Prayut.
The fact that she is the next PM means the risk of another widespread anti-Thaksin, anti-Shinawatra, street protests cannot be ruled out as a good sector of the Thai population suffer from prolonged severe allergy to anything Shinawatra. It will be a challenge for her to win the middle ground in order to focus on the economy, something the Pheu Thai Party has a proven track record.
While Paetongtarn is an unknown quality and could be too young and inexperienced to the eyes of some, the Pheu Thai's second PM candidate, Srettha Thavisin, is widely rumoured to be the real PM candidate for the party.
PM Srettha Thavisin: The 60-year-old former real-estate tycoon is expected to be the business-friendly face of the Pheu Thai Party. With no past political beef, PM Srettha will be much more palatable to anti-Thaksinites and able to focus on the economy – at least at the very beginning of his time.
It is not clear to what extent Thaksin can direct Srettha if the latter becomes PM, but a good sector of the old elites will find Srettha more palatable than Paetongtarn. Caveat: Watch out for a possible dissolution due to its controversial policy to handout 10,000-baht worth of digital money to everyone 16 and older, however.
PM Anutin Charnveerakul: This is a wildcard, but a conservative poll called Super Poll, suggested after asking over 6,000 respondents between April 5 and 13 and Anutin's Bhumjai Thai Party came second behind Pheu Thai with 121 MP seats out of 500 total seats. This means both Phalang Pracharath and United Thai Nation parties will need Anutin who can work with both sides, and he may become PM.
More marijuana trade and promotion can be expected as it was Anutin's signature policy to "successfully" decriminalized marijuana for medical purposes which led to de facto recreational use. Just chill and see what business friendly PM Anutin means to Thailand.
PM Pita Limjaroenrat: Pita is another unknown quantity as PM as the man who should have represent the party as PM candidate should have been Thanathorn Juangrungruangkit but through a political accident (or political assassination plot), Thanathorn was banned from politics for 10 years after the 2019 elections for loaning money to his own Future Forward Party.
The party was dissolved due to that act and became the Move Forward Party led by Pita. The Harvard-educated politician is young at 42 and seems to be a moderate with no history of opposing the 2014 coup when he was a businessman, but the party's progressive stance against the lese majeste law, its pledge to reform the controversial law as well as to reform the armed forces means PM Pita and his government will be automatically be regarded as the mortal enemy of the army and the deep state.
Some are already saying this is the PM and a Move Forward-led government will pose the highest risk of seeing yet another military coup and it is ironic because it is this very party which pledge to send the generals back to the barracks and create civilian supremacy over the military.
Though unlikely to become PM because polls suggest the party will win much less seats than Pheu Thai, a possible PM Pita will make for a period of wild political experimentation.