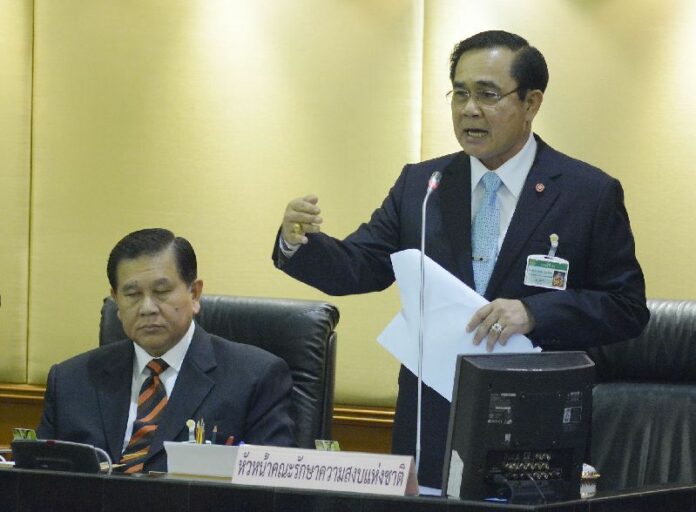 BANGKOK — A Thai activist has filed a complaint to the Office of Ombudsman urging Gen. Prayuth Chan-ocha to resign from his position as chairman of the military junta now that he has been selected as the interim government's Prime Minister.
Srisuwan Janya, leader of Defence of Thai Constitution Association, argued Gen. Prayuth is violating the separation of powers principle by holding on to both positions.
Gen. Prayuth was unanimously voted as Prime Minister last Thursday by members of the National Legislative Assembly (NLA), a lawmaking body whose members Gen. Prayuth and other junta leaders handpicked earlier this month.
"The NCPO chooses the NLA, and NLA chooses NCPO leader to the Prime Minister," Mr. Srisuwan said as he filed his official complaint to the Office of Ombudsman yesterday, using the acronym of the junta's National Council for Peace and Order. "This is like scratching each other's back."
Mr. Srisuwan alleged that Gen. Prayuth's acceptance of the premiership reveals his true intention behind staging a military coup on 22 May.
"He just wanted the seat as Prime Minister," the activist said.
Mr. Srisuwan continued, "My association hereby petitions the Ombudsman to send the case to the Constitutional Court to deliberate on the issue. I will only withdraw my complaint when Gen. Prayuth resigns as the chairman of the NCPO."
Mr. Srisuwan also urged other NCPO members to similarly resign from their seats in the junta if they are appointed as Cabinet members.
Chalermsak Chantim, secretary of the Office of Ombudsman, said the agency will "urgently" process Mr. Srisuwan's complaint, but admitted that officials will have to carefully study the issue as the case has no precedent.
"We also have to take into the account the fact that the goal of the current constitution is different to previous ones," Mr. Chalermsak said.
The activist's complaint is the first legal challenge against Gen. Prayuth's rise to the premiership, a move that is widely seen as an effort to consolidate his post-coup power in an absolutist fashion. In addition to the top jobs as leader of the national government and the NCPO, Gen. Prayuth is currently commander of the Royal Thai Army, though he is scheduled to retire from the position on 30 September.
Gen. Prayuth is also the chairman of numerous committees and agencies, such as the Board of Investment (BOI), the National Energy Policy Committee, the Special Economic Zone Development Committee, and Army United football club.
Related Article:
Prayuth Chan-ocha: Army Chief, Junta Leader, Prime Minister
For comments, or corrections to this article please contact: [email protected]
You can also find Khaosod English on Twitter and Facebook
http://twitter.com/KhaosodEnglish
http://www.facebook.com/KhaosodEnglish