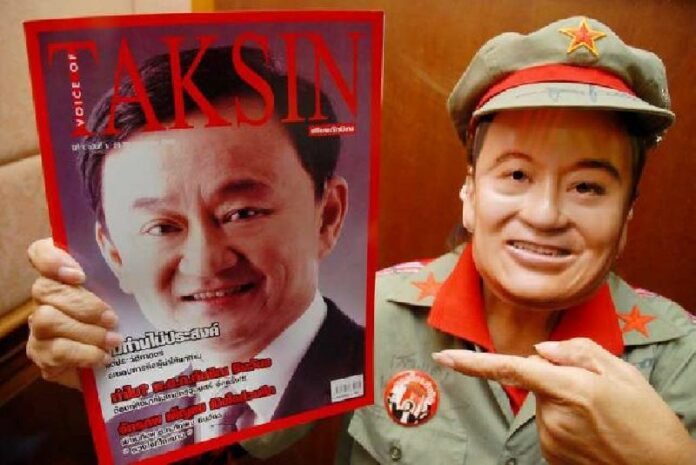 BANGKOK — A Court of Appeals has upheld the ten year jail sentence handed down to Somyot Prueksakasemsuk, the former editor of a pro-Redshirt magazine who has been accused of insulting the monarchy.
Somyot Prueksakasemsuk was found guilty of committing lese majeste by a criminal court in January 2013 for several articles published in the now-defunct Voice of Thaksin magazine in 2010. The court claimed the articles edited by Mr. Somyot defamed the monarchy, a criminal offence in Thailand that can be punished with  up to 15 years in prison.
Mr. Somyot, who turns 54 tomorrow, contested the verdict, arguing that he did not write the articles or have knowledge of their libelous nature.
But today, a Court of Appeals ruled that Mr. Somyot could not deny responsibility for articles published under his oversight, citing the 2007 Publishing Act. The judges also rejected Mr. Somyot's argument that the articles did not refer specifically to the monarchy, as all of the prosecutor's witnesses said the articles were clearly offensive towards the royal family.
"The witnesses did not personally know or have any dispute with the defendant," the verdict reads.
The court then sentenced Mr. Somyot to ten years in prison, upholding the previous ruling.
Mr. Somyot, a labour activist who later became a core leader of the pro-democracy movement following the 19 September coup in 2006, has been in prison since he was arrested in April 2011. The court has repeatedly denied his request for release on bail.
After hearing the verdict, Mr. Somyot told reporters that he would contest the ruling in Supreme Court. He was later escorted back to prison. It is unclear whether the Supreme Court will accept his appeal.
Thailand's draconian lese majeste law is considered to be one of the toughest in the world. Although the law theoretically covers only the King, Queen, Regent, and Heir-Apparent, in practice it is used to punish any discussion of the monarchy.
Under the law, any member of the public can file a lese majeste complaint.
Gen. Prayuth Chan-ocha, who staged a coup on 22 May and is now the country's Prime Minister, has vowed to crackdown on lese majeste offenders, who may now be tried in military courts. Since the coup, at least 16 people have been arrested in connection with charges of lese majeste.
Read more:
UN Raises Alarm Over Post-Coup Lese Majeste Cases
Prayuth Vows Tougher Crackdown On Anti-Monarchists