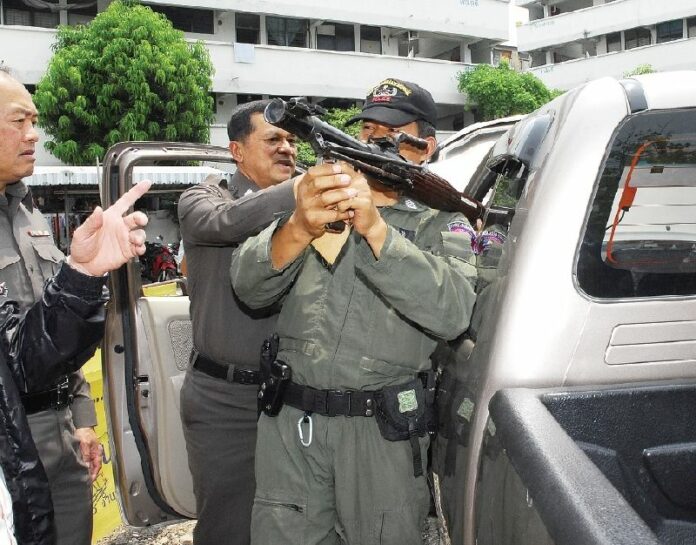 BANGKOK — A Democrat Party politician has demanded the Division of Special Investigation (DSI) launch a fresh investigation into a rocket attack near the Grand Palace in Bangkok in 2010.
The attack took place on the night of 20 March 2010, while tens of thousands of Redshirt demonstrators were occupying nearby Ratchadamnoen Avenue to demand the Democrat-led government call a new election.
Police say a rocket propelled grenade (RPG) was fired at the Temple of Emerald Buddha, a sacred site located in the same compound as the Grand Palace, but missed and slammed into an electric pole next to the Ministry of Defense instead. No one was injured in the attack.
Bundit Sitthithum, a Redshirt supporter and former police officer, was arrested and accused of firing the rocket. He was found guilty and sentenced to 38 years in prison in December 2011, but later acquitted in a court of appeals, which cited insufficient evidence and contradictory testimony from witnesses.
Wachara Petchthong, a former Democrat Party MP, urged the DSI to re-open the case duing a press conference at the Democrat Party's headquarters in Bangkok today. Wachara also specifically criticized former DSI chief Tharit Pengdith for dropping charges against a police colonel who he believes was the mastermind of the attack.
Wachara also asked the DSI to investigate Arisman Pongruangrong, a prominent Redshirt activist who urged Redshirt protesters in January 2010 to bring gasoline to the next mass rally in Bangkok. He also warned in the speech that if the military attempts to disperse the protests, Redshirts will turn the capital city "into a sea of fire."
Five months after the speech, arson attacks broke out across Bangkok during the military crackdown on Redshirt protests on 19 May 2010. Democrat Party politicians have accused Arisman and other Redshirt leaders of engineering the attacks.
Wachara said he will personally submit his demands to Gen. Paiboon Khumchaya, Minister of Justice, on 14 May.