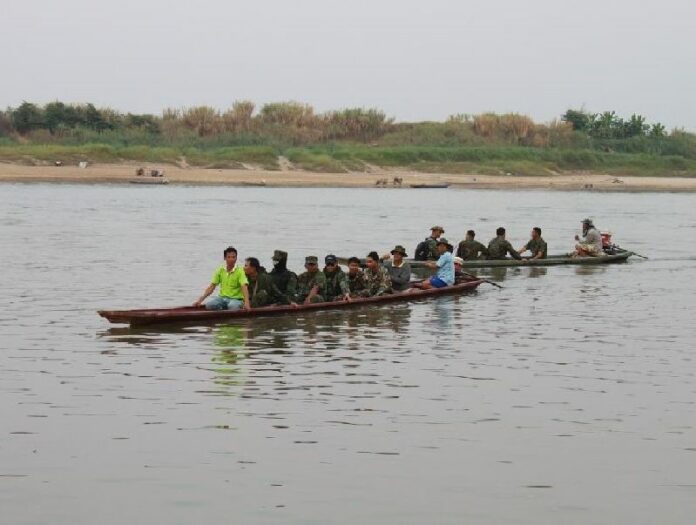 NONG KHAI — Thai security forces last night intercepted seven North Koreans attempting to enter Thailand illegally from Laos via a boat on the Mekong River.
The seven refugees – four men and three women – were apprehended when security officers intercepted their boat in Nong Khai province at around 7.45pm last night, police said. The group, presumed to be seeking refuge in South Korea, will be later allowed to make that request.
"I think they fled to Thailand so that they can ask South Korean embassy in Thailand to help them relocate to South Korea," said Col. Panya Puinukroa, head of police station where the seven are detained.
The seven did not carry any documents but identified themselves as North Koreans through a police interpreter, Panya said, adding that the man operating the boat successfully evaded police by diving into the river and swimming away.
"This is not the first case. There have been many similar cases in the past," Panya said. "The Immigration Police will coordinate with the embassy."
In the meantime, the seven suspects will be taken to court and charged with entering the country illegally before being transferred to Immigration Police custody, he said.
Typically such cases involving North Korean refugees are resolved with small fines and deportation onward to South Korea.
An official at the Republic of Korea's Embassy in Bangkok confirmed the seven North Koreans are eligible to apply for relocation to South Korea.
"Under South Korean law, the government recognizes North Koreans as fellow Korean citizens, and must assist them when they are in a difficult situation," said the official, who declined to give her name because she was not authorized to speak to the media.
According to the official, the embassy will reach out to the defectors after they arrive to the central immigration detention facility in Bangkok to find out if they wish to go to South Korea.
The official declined to comment on how many such refugees are granted travel to South Korea, citing confidentiality.
The North Korean state, officially known as the Democratic People's Republic of Korea, is well known for brutal suppression on its citizens, many of whom live in poverty. The harsh conditions lead many to flee, or "defect," to South Korea via China and other countries.
Around 2,000 North Korean defectors arrived in Thailand in 2014, media reports say.
Their fate in Thailand is somewhat more fortunate than refugees from other countries who enter the kingdom illegally.
Police typically deport immigrants from neighboring nations such as Myanmar, Laos and Cambodia almost the same day that they are apprehended without proper travel documents. Human rights activists have slammed Thai authorities for deporting anti-government activists and ethnic Uighurs back to China, despite concerns about their safety.
Thailand does not recognise the status of refugees and asylum seekers, as it has not signed the 1951 Refugee Convention
Just yesterday the United Nations refugee agency condemned Thailand for sending two Chinese dissidents and registered refugees back to China. Jiang Yefei and Dong Guangping were arrested by Thai authorities on Oct. 28 for not having valid visas.
"This action by Thailand is clearly a serious disappointment and underscores the longstanding gap in Thai domestic law concerning ensuring appropriate treatment of persons with international protection needs," the United Nations High Commissioner for Refugees said in a statement.
To reach us about this article or another matter, please contact us by e-mail at: [email protected].
Follow Khaosod English on
and
Twitter
for news, politics and more from Thailand.