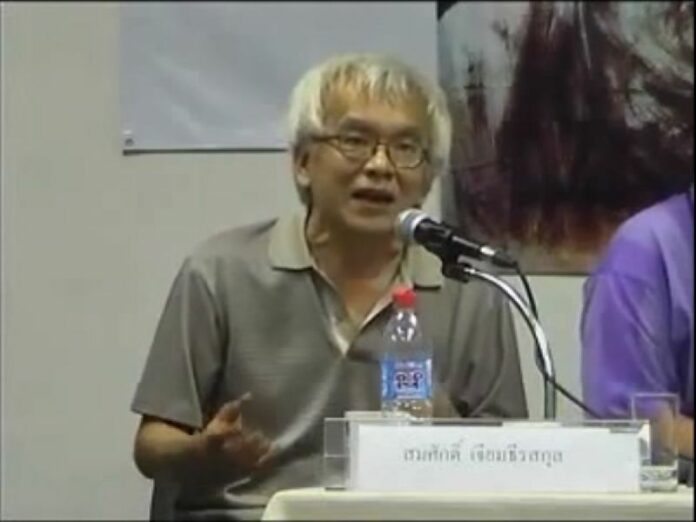 BANGKOK — A fugitive academic and outspoken critic of the monarchy who sued Thammasat University for expelling him has received support from the head judge hearing his suit.
The unidentified judge said at a hearing today there were "extraordinary reasons" that prevented historian Somsak Jeamteerasakul tending a proper resignation to Thammasat University in 2014, when he fled for France in the wake of the military takeover.
"The plaintiff has extraordinary reasons," said the judge, who by court custom was not identified.
His declaration of support for Somsak was strictly the opinion of the head judge. The formal verdict on Somsak's suit will be reached jointly by other judges seated on the tribunal and delivered March 8.
In February 2015, Thammasat University expelled Somsak on the grounds that he failed to show up for work. Somsak had fled Thailand shortly after the royalist junta seized power in May 2014, apparently to avoid legal repercussions from the military for his frequent criticism of the monarchy.
---
Thammasat Students Protest Dismissal of Exiled Professor
---
Although the administrators acknowledged that Somsak did eventually submit a letter of resignation in December 2014, it must have been filed 15 days prior to his departure to be valid under university regulations.
The university's decision to fire Somsak instead of accepting his letter of resignation meant he would be denied a pension and other benefits despite having taught there for more than 20 years. Somsak soon appointed a lawyer and filed a lawsuit against Thammasat, alleging he was dismissed unfairly.
His lawyer, Pavinee Chumsri, told the court Tuesday that Somsak fled because he feared for his life; she recounted a drive-by shooting incident at his residence in February 2014 as an example.
"The reason for him not coming to teach his class is not a personal one, but one that is caused by external factors," Pavinee said. She added that Somsak still wishes to return to his teaching post at Thammasat one day, because he felt a bond with the university that he had worked at for more than two decades.
The head judge said he accepted Somsak's argument and believes the expulsion order against him should be repealed.
"I believe the tribunal should consider repealing the order of Thammasat University that expelled Mr. Somsak," the judge said.
Somsak declined to comment on the lawsuit.
A former leftist student activist turned historian, Somsak is well known for his prolific commentary on the monarchy and its influence in politics. His frank discussion about the Royal Family is exceptional in Thailand, where criticism of the monarchy is strictly forbidden under the royal defamation law, which carries a maximum penalty of 15 years in jail.
On the eve of Bastille Day 2015, the Thai military government asked the French ambassador in Bangkok to extradite Somsak and other critics of the monarchy living in France to face charges on Thai soil. The request did not appear to go anywhere.
Related Stories:
Renowned Critic of Thai Monarchy Re-Emerges
Eight Students Arrested For Celebrating Historian's 'Return to Facebook'
Junta Accuses Exiled Historian of 'Distorting Facts' About Lese Majeste
Monarchy Critic Faces Charge for 2013 Interview
Teeranai Charuvastra can be reached at[email protected] and @Teeranai_C.