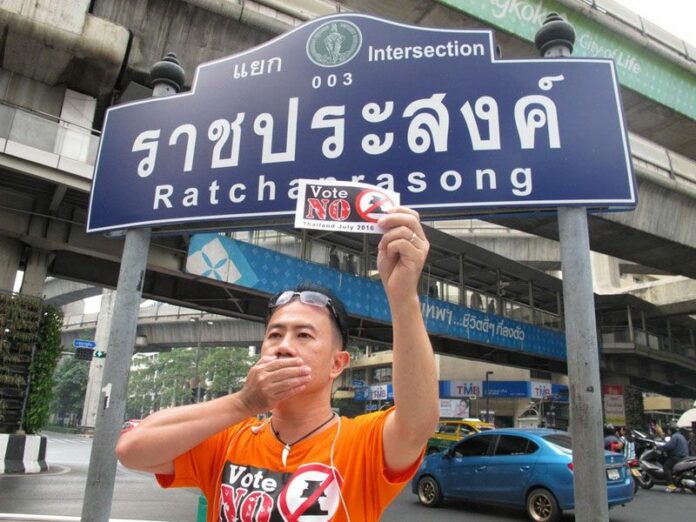 By Pravit Rojanaphruk
Senior Staff Writer
BANGKOK — At a time when the rules separating legal from illegal political acts are redrawn arbitrarily by the junta, Anurak Jeantawanich's protests are an exercise in precision.
Gatherings of five or more people risk violating the ban on assembly: Anurak only allows two or three others to join. No red shirts, lest one is accused of instigating a Redshirt uprising: Anurak and friends wear orange. No holding placards: They display small stickers. And don't linger too long: Fifteen minutes is the norm Should police or military officers show up, just tell them you need "a little more time" to express yourself.
"I've prepared myself well," said Anurak, who has been making news in recent weeks with his symbolic protests against the proposed constitution authored at the direction of the military government, which goes before voters in three months.
For each of the past four Sundays, 48-year-old Anurak has strictly observed his own rules when conducting his brief protests at locations around Bangkok, but that still didn't stop police from taking him last Sunday into the Phaya Thai Police Station to record his personal information before freeing him without charge.


Anurak Jeantawanich, second from right, protests on a recent Sunday with three others at the Democracy Monument in Bangkok. Photo: Anurak Jeantawanich / Facebook
Anurak's involvement in politics began in 2010, when he was one of those to join the massive, protracted Redshirt protests as an "observer" and ended up being pulled into the politics and became a redshirt after the bloody crackdown which ended with more than 100 dead.
Seeing fellow protesters shot to death while hearing the administration of former Prime Minister Abhisit Vejjajiva tell the public only rubber bullets were used changed the man and made Anurak question what sort of political system Thailand is truly under.
Fast forward to life after the 2014 coup, when Anurak was detained for five days for taking part in an early protest. He was sentenced by a military tribunal to three months when he quickly confessed to disagreeing with the junta's ban on political gathering of five or more. His quick confession earned a suspension to his sentence and after paying a 5,000 baht fine, Anurak went off the radar for year.
Recently he returned to the public protest – this time in a more savvy and legal fashion.
Anurak, a Lampang province native from a fairly well-to-do former hotelier family, said he's taking the risk on behalf of other citizens who may fear the junta, which calls itself the National Council for Peace and Order, or NCPO.
"I come out as a citizen… To show to society that although the National Council for Peace and Order wants to keep people's heads down, there are still those who do not fear and dare to express what kind of charter they want," said Anurak, better known by his alias "Ford Red Path."
His Red Path group has about 15 members, some of whom join his Sunday protests.
"They are drafting the charter draft, a common contract. Then there are people who want to express themselves peacefully and in a very public way and yet still are forbidden and taken to police stations. So what are we really doing? Are we drafting a constitution that will shut the ears and eyes of the people? The four 'Vote No' events I staged showed that those in power do not want the public to know [the other side of the debate]. They sent military students to campaign for people to endorse the draft but we can't. This is a double standard."
Anurak's past life in the tourism industry seems far away. The Bangkok University graduate who completed a master's program in hospitality and tourism at Schiller International University in the United Kingdom now seems entirely engrossed in politics, even asking a reporter if there will be a general elections next year as promised.

Anurak Jeantanaich is searched by a police officer on a recent Sunday afternoon in Bangkok.
While not protesting, he now spends most of his time printing political T-shirts and raising funds to help political prisoners and lese majeste convicts.
Anurak, who lives in southeast metro Bangkok's Samut Prakan, said he is closely following whether the Election Commission passes any new restrictions on publicly opposing the junta-sponsored charter draft.
If they do, Anurak said he will look for loopholes to legally and publicly challenge the charter draft in a bid to secure a better and more democratic future for his three children and society every Sunday until the July 31 vote.
Parrotting the same language of election commissioners and charter drafters, Anurak urges people to scrutinize the draft before casting their vote. The final draft will be revealed in two weeks.
Anurak said a soldier asked him why didn't he wait until the final draft was out first before protesting.
He replied that it was in some small hope of influencing what that final draft says by convincing the charter drafters, all appointed by the junta, to amend it to be more democratic.
The man said he couldn't imagine himself campaigning in support of the junta-sponsored draft charter no matter what final form it takes, however.
Pravit Rojanaphruk can be reached at [email protected] and @PravitR.
Follow Khaosod English on Facebook and Twitter for news, politics and more from Thailand. To reach Khaosod English about this article or another matter, please contact us by e-mail at [email protected].