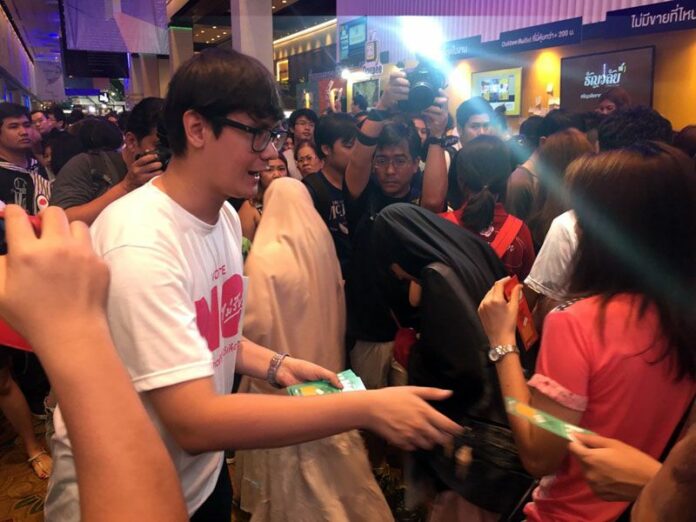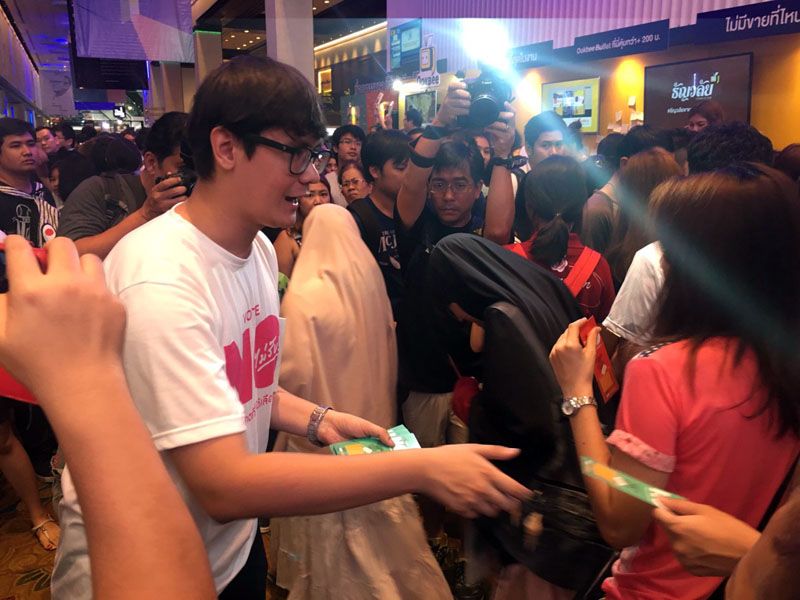 BANGKOK — Student activist group New Democracy Movement chose a crowded public event on a national holiday today in the capital to open their campaign urging the public to reject the draft charter.
The group chose the popular National Book Fair held at the Queen Sirikit National Convention Center, which was packed with visitors Wednesday on Chakri Day, to kick off their "Vote No, Don't Accept an Unchosen Future" campaign, which will continue until the referendum is held.
"The constitution is the law that everyone in the country will be committed to for a long time. Fundamentally everyone should have the right to express opinions about it," said 23-year-old activist Chanoknan Ruamsap. "If the junta prohibits us to talk, that means they did not fulfill their own promise."
Chanoknan said they designed a special bookmark for the book fair featuring famous writers and thinkers weighing in on the charter written by a group of junta appointees.

Bookmarks created by members of the New Democracy Movement to distribute Wednesday at the National Book Fair in Bangkok. Graphic: New Democracy Movement / Facebook
The group highlighted what they see as seven flaws of the charter in literature they distributed: permitting a non-MP prime minister, an appointed senate, ongoing use of the junta's absolute power, reduced social benefits, an unelected committee empowered to seize control from a civilian government, placing civil servants above citizens and a less representative district MP election process.
Members of the junta-appointed Constitution Drafting Committee have said the proposed constitution was written to end decades of cyclical violence and root out corruption. Its civilian critics from both side of that political divide say it is anti-democratic and deepens the military's hold on power.
Dissent and debate have effectively been quashed outside of state-sanctioned, controlled televised forums to be held some time before the vote, which is currently expected to go forward Aug. 7
Prime Minister Prayuth Chan-ocha said Tuesday he would order an investigation into who is supporting groups campaigning against the charter after three separate groups of student activists interrupted head of constitution drafter Meechai Ruchupan while he spoke at Thammast University's Rangsit campus.
"There must be someone [behind the students]. Everyone knows, why do you want me to answer who they are?" he said in indirect reference to former Prime Minister Thaksin Shinawatra, whose political dynasty the military has attempted to dismantle.
Deputy Prime Minister Prawit Wongsuwan Wednesday morning stressed all public actions regarding the draft constitution, whether in support or opposition, were strictly prohibited.
During the New Democracy Movement's hour-long march around the book fair, they were briefly interrupted and told to stop campaigning by venue staff. The activists explained their intentions and continued.
They insisted they will continue their campaign to raise awareness about the draft charter so people can make informed decisions.
"If we accept it, we have to live with it for a long time," Chanoknan said.

Student activists and members of the New Democracy Movement announce their campaign to oppose the draft charter on Wednesday at the Queen Sirikit Convention Center in Bangkok

Related stories:
Public Can Register for Right to Speak Out on Draft Charter
Charter Draft First Look: When Will the Junta be Really Gone? (Analysis)
Junta Bans Bookstore Talk on Draft Charter
'Vote No' Campaigners Stopped by Pattaya Police
Student Protesters Crash Speech of Head Charter Drafter