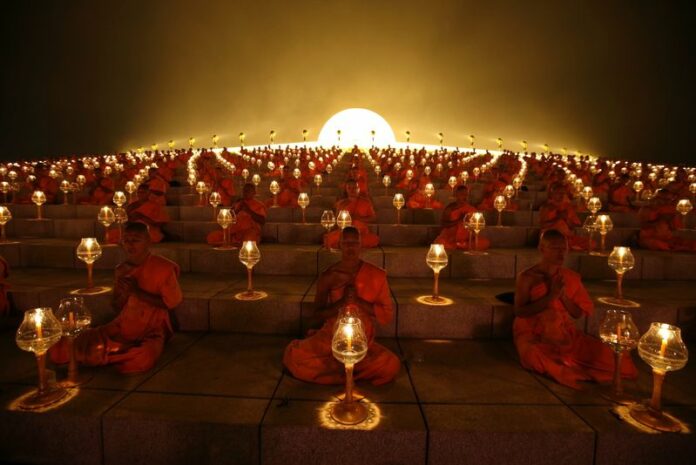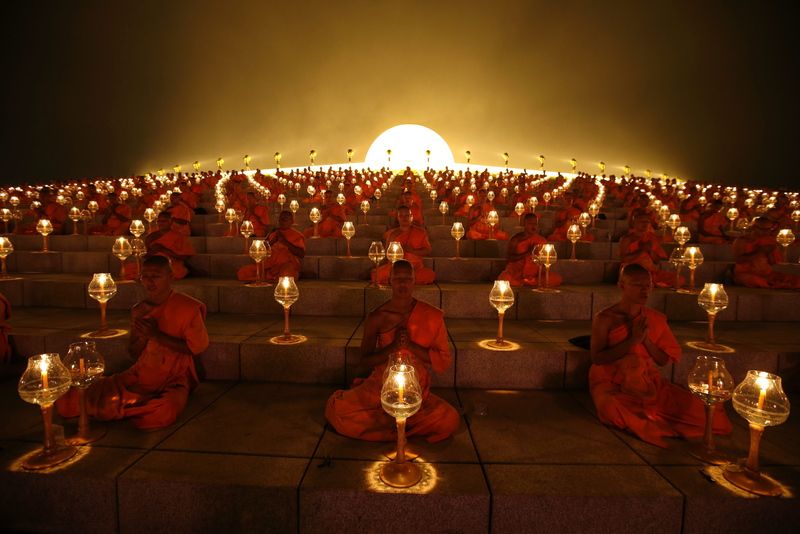 BANGKOK — In recent weeks, Redshirt Noppakow Kongsuwan watched people hurl abuse at the influential Dhammakaya Buddhist sect for what they see as its alignment with the pre-coup political order.
A staunch Redshirt who has followed the order for 18 of his 25 years, Noppakow thought of not speaking out and tried separating religion from politics, but he couldn't keep things to himself as the invective piled up against the order and its powerful abbot, now a fugitive from justice.
"Those with bias try to link the [embezzlement charge] issue to politics. Such attempts have been around for a long time though. In reality, the temple is a place for everyone because anyone could come and meditate," said Noppakow, who is best known today as one of the Facebook 8 charged with sedition for running a page satirizing the junta's chief.
To many junta supporters, the sect – particularly abbot Dhammachayo – doesn't just stand for all that is corrupt within Buddhism, but it an extension of the political narrative for its links to fugitive former Prime Minister Thaksin Shinawatra.
More than another scandal involving monks and money laundering, the Dhammakaya drama has become a proxy war for those backing the junta which deposed his sister's government and has tried to dismantle his legacy 10 years after Thaksin himself was deposed in a coup.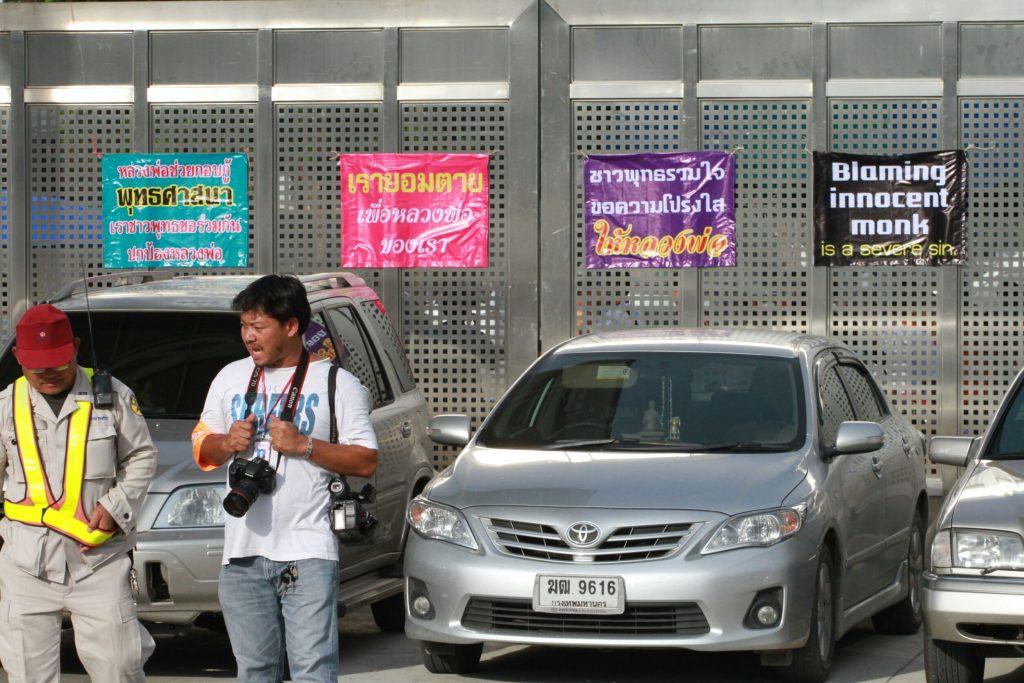 Social media has been flooded with pro- and anti-Dhammakaya messages for weeks. Almost without exception, they defend Dhammakaya if they are for Thaksin or against the junta, and they attack the sect if they oppose Thaksin or support military rule.
Dhammachayo, 72, is accused by the Department of Special Investigation of receiving funds stolen from a credit union whose former chairman is now serving a prison term for massive embezzlement.
With Dhammachayo rejecting legal summons to appear and hear embezzlement charges stemming from envelopes of stolen money sent to him by the convicted head of the now shuttered Khlongchan Credit Union, pro-junta newspapers such as Thai Post have upped their ante.
Recently, the newspaper has repeatedly suggested the sect is part of the "Thaksin Order" of society and a threat to Thailand. Its Tuesday front page dubbed Dhammakaya worshipers "followers of the flying saucer," a reference to the main meditation area's resemblance to a golden UFO.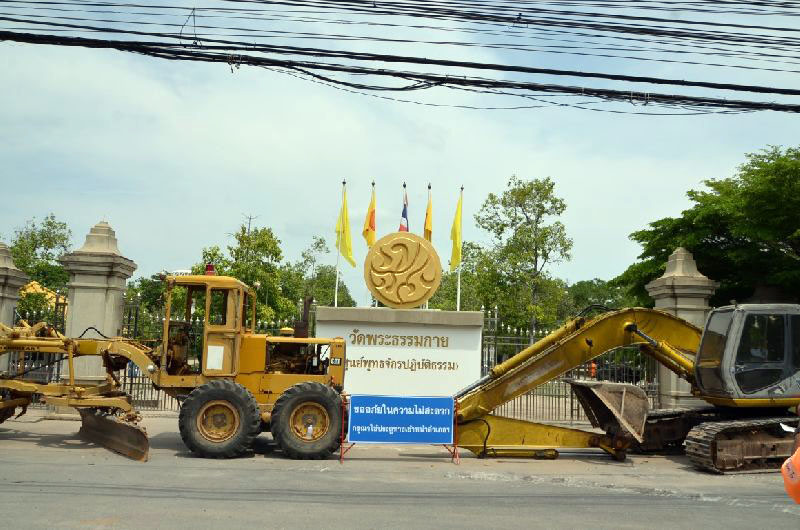 Its Thursday editorial cast doubt on the junta's resolve to do more after the deadline for the abbot to hear charges lapsed May 26 with him still cloistered within his sprawling temple compound north of Bangkok, which can accommodate half a million worshipers. The sect, known for its mass ordinations, has 18 branches abroad plus Dhamma and meditation programs broadcast around the clock globally.
"The temple has been transformed into a den of goons," Editor Plew Seengern wrote in his Tuesday column.
Thaksin opponents, such as Buddhist scholar Sulak Sivaraksa, are also impatient with junta leader Gen. Prayuth Chan-ocha's lack of "leadership"on the case.
"Thaksin is clearly on the side of Dhammakaya. The political dimension is definitely there," Sulak said.
The authorities have said a raid on the heavily guarded temple, where disciples have said they would die to protect Dhammachayo,  could turn into a bloodbath. Sulak called on the junta to use its "just, dictatorial powers" immediately.
The growing conflict has led human rights lawyer Sarawut Pratoonraj to describe it as a proxy war.
"It's becoming a problem," said Sarawut, a Catholic. "Dhammakaya is representative of the Redshirts over the years, and Thaksin supports Dhammakaya. That's why there's an operation to destroy Dhammakaya."
Tales of what is wrong with Dhammakaya spread on social media range from excessive pressure on disciples and worshipers to donate all money possible to allegations Dhammachayo has boasted of meeting and conversing with the Buddha.
Sarawut said he has heard of the latter claims.
"It is a severe violation for Buddhists," he said.
Sarawut compares the sect's appetite for donations to the U.S. Church of Latter Day Saints, while others have drawn parallels with the Scientology movement for its spirituality-light populism and sci-fi, cultish trappings.
The net result, Sarawut said, is the very thing wrong with Thai political culture: Both sides defending their positions without budging or considering any merit to the other.
Noppakow, the online dissident, said the public is free to doubt Dhammakaya and its abbot, but should not mix it up with the secular political divide.
"I don't think this is fair," he said. Although many Redshirts are followers, he said, there are others he knows who definitely don't support Thaksin or the Redshirt movement.
"It's like we have a common understanding that once we enter the temple, we leave color-coded politics outside," he said, arguing that the sect, founded in 1970s, predated the decade-old political divide. "It's pointless (to argue) if you already have bias, however."
Multi-Hued Robes
Today, Dhammakaya draws on the Bangkok middle class for its power base, including many influential politicians, businesspeople and law enforcement officials.
Soraj Hongladarom, a philosophy professor at Chulalongkorn University, said a good number of Dhammakaya followers lecture at his university, considered a bastion for political conservatism and the establishment.
"There're a substantial number of Yellowshirts who worship at the Dhammakaya Temple, and some are lecturers here. They don't know how to react now," said Soraj, who is also director of the college's Center for Ethics of Sciences and Technology.
The order has always had many wealthy and well-educated followers drawn from the establishment who don't support Thaksin, he said. But now they're lying low as the conflict heats up.
"Now the establishment has alienated them [by prosecuting the sect] although they always regarded themselves as part of the establishment. The situation is a mess. The dust is all over the place," Siroj said.
Correction: An earlier version of this story incorrectly identified Dhammakhaya abbot Dhammachayo as the order's founder. He was in fact a disciple to founder Phramongkolthepmuni.