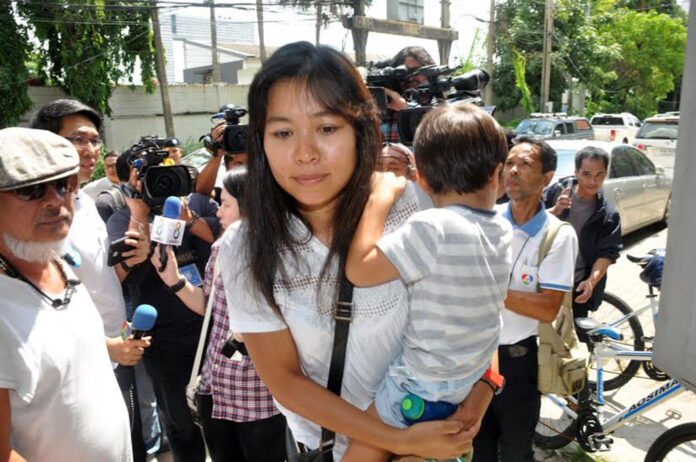 Update: Marshall posted just after 3pm on Friday that his wife Noppawan Bunluesilp had been released but he remained "very concerned."
BANGKOK — Police raided the Bangkok home of a well-known British author and monarchy critic's Thai family Friday morning, taking away his wife, 3-year-old son and father-in-law along with computers and other materials.
The raid took place about 7am at the home of the parents of Noppawan Bunluesilp, the 38-year-old wife of former Reuters reporter Andrew MacGregor Marshall, author of a banned book critical of the monarchy, one day after he shared images from foreign media on Facebook that were unflattering to a member of the royal family.
Marshall and his wife have not lived in Thailand since 2011, but she was visiting with their young son when the raid took place on the Thonburi side of Bangkok. Marshall continues to frequently post comments critical of the institution on social media.
Twenty officers holding a court-approved search warrant took away a MacBook computer, iPad, Iphone, seven passports and other documents inside nine transparent sealed bags, according to a friend of Noppawan's present at the scene this morning.
"Her face was in fright, but later she manage to compose herself," said Vee, who asked that his full name not be published for fear of reprisal by authorities.
Noppawan, their 3-year-old son Charlie and Noppawan's father were taken to the Crime Suppression Division in Bangkok's Lat Phrao district.
Human rights lawyer Weeranan Huadsri said that as of noon, police had refused to let him speak to Noppawan, saying it was because she was not yet charged with any crime.
"Police want to know if she sent some lese majeste content or pictures to her husband or not," he added.
Weeranan said police were looking for anything on Noppawan's computer, iPad or iPhone deemed defamatory to the royal family.
Police said the images, published Thursday by a German tabloid and later shared by Marshall were doctored by the 45-year-old Briton. He denied the claim.
Weeranan said he was concerned that without any witness or lawyer present, evidence might be tampered with.
Chatting online from Hong Kong, Marshall this said his 39-year-old wife, who used to work for Reuters and NBC, was okay earlier.
"She is okay, dealing with the situation as best she can. Some friends and lawyers are at the house," he said.
Marshall said he believed the raid had to do with his work.
On Thursday he brought attention on social media to stories in foreign media about a member of the royal family.
"The police raid appears connected to my work on Thailand. She has done nothing wrong. If Thai authorities believe I broke the law they should seek to extradite me, not harass my family."
Ed. note: Certain details of this story have been withheld due to the legal ramifications of discussing the royal family.
Related stories: