BANGKOK — It came as little surprise Friday when junta chairman Prayuth Chan-ocha announced he will vote for the constitution drafted under his military regime when it's put to vote Sunday.
But the sight of the former army chief in a crisp army uniform for first time since he retired from the military nearly two years ago did raise eyebrows, and one academic believes Prayuth was seeking to dispel any doubts the armed forces are still in charge.
Prayuth made his remarks at a ceremony marking the 129th anniversary of his alma mater, the Chulachomklao Royal Military Academy, Friday north of the capital in Nakhon Nayok province. He was flanked by ministers also wearing military uniforms.
"I will participate in the referendum as a citizen, and I will endorse the constitution draft, and the extra question," Gen. Prayuth said, referring to the second ballot item which asks voters whether they will allow for five years the Senate, which will be mostly comprised of junta appointees, to select an unelected prime minister.
Prayuth, who heads the junta, aka the National Council for Peace and Order, cast Sunday's vote as a choice between stability and uncertainty, and the best way to put Thailand on track to promised elections next year.
"I am not painting a scary picture, but I want to raise awareness of how we are going to live in the future," Prayuth said. "What's about to happen in the next two days will be the future of the country … I don't want anyone to use the same problems to cause a new round of conflict, because today, everything's better already."
Who's the Boss
Prayuth's Vote Yes position is unlikely to surprise anyone. The charter's drafters were handpicked by the NCPO, and the government pulled out all the stops in a PR drive touting the new draft constitution's features.
Chulalongkorn University lecturer Pitch Pongsawat said the speech wasn't the real message Prayuth was sending – but one of sartorial authority in his choice of clothes.
"I don't care much about what he said. The point is, he wants to show that he's still in charge of the NCPO, and the NCPO remains the political wing of the army," said Pitch, a political scientist who's written about coups and the military. "Today he not only revealed his stance but also stressed it beyond all clarity that the military is in charge of the country."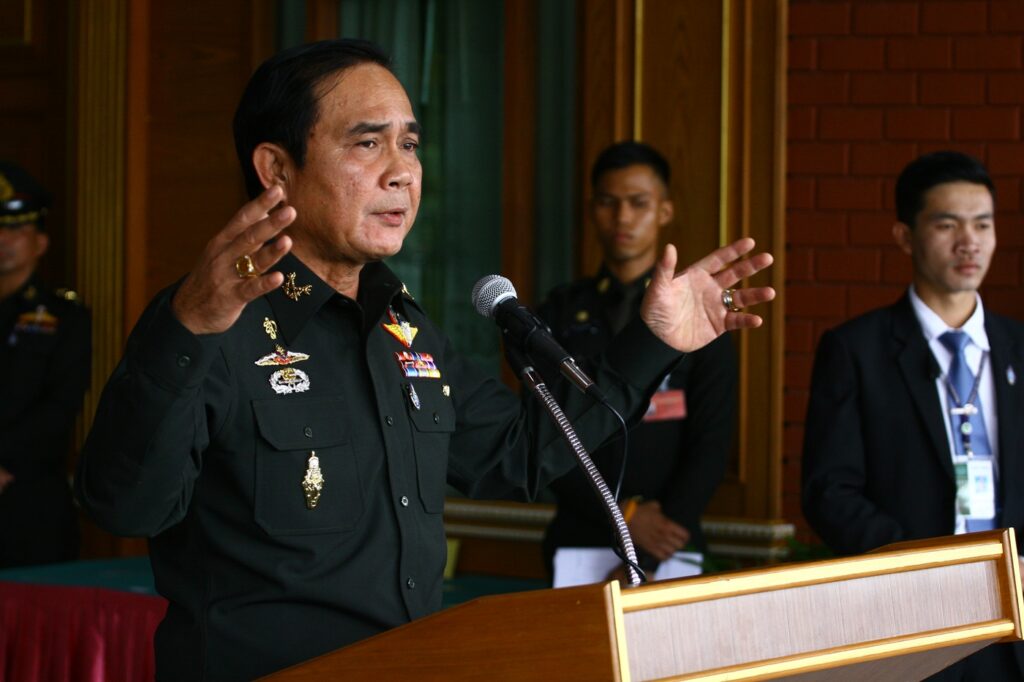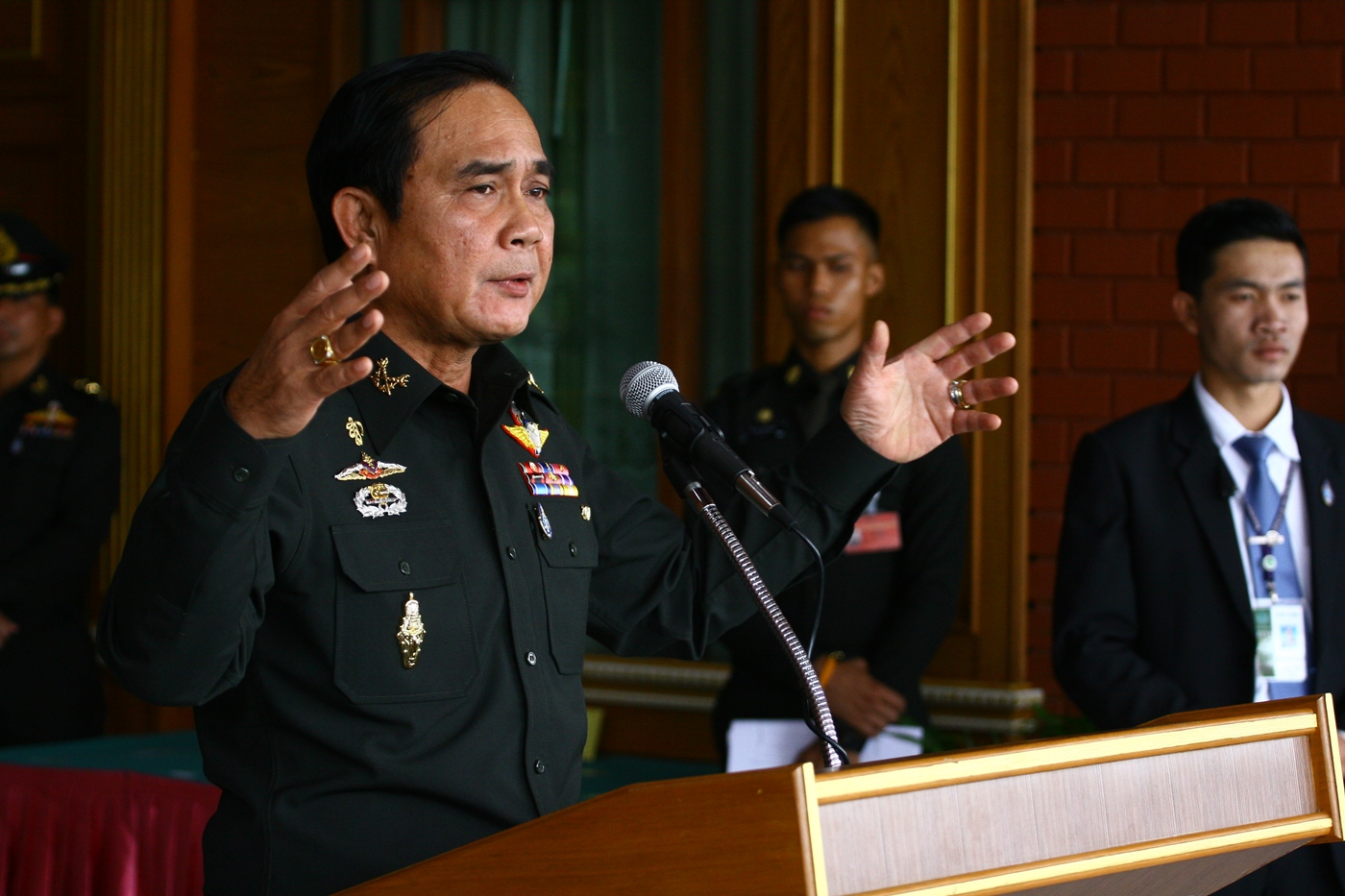 There really was no more direct way to make the point, Pitch added.
"This is the clearest signal one can ever give before the referendum: That the army still has political power in this country," he said.
The last time Prayuth donned his uniform in public was for the September 2014 military parade honoring his retirement from the army he led at the time. Since then, Prayuth has tried to strike an appearance of civilian authority, dressed in either in Western suits, traditional silk suits or civil servant khakis.
Nothing to See Here
However, a historian disagreed, saying that instead of strategy, Prayuth was simply expressing his natural bravado.
"There's no signal. He's a retired military officer, so he has the right to wear a uniform," said Suthachai Yimprasert, who teaches political history at Chulalongkorn University. "He didn't mean to imply anything. He went to an event, and he said whatever he felt like saying, as usual."
Suthachai contrasted Prayuth with Prem Tinsulanonda, the former prime minister and retired military commander who abruptly donned an army uniform in the midst of the 2006 political crisis to tell army officers their loyalty lay with the monarchy and not the elected government. Some analysts said Prem's speech helped pave the way for the royalist coup that ousted then-Prime Minister Thaksin Shinawatra two months later.
"It was totally a different context. Prem was a very quiet man. He thought a lot before saying anything, so he made a big surprise … but Prayuth talks every day," Suthachai said.
The historian also believes Prayuth's martial gesture today won't have any impact on whether people vote yes or no.
"There won't be any impact. Even for the army, there won't be any impact," Suthachai said. "That's because the current army chief is more important than a former army chief."
Pitch agreed it was unlikely to sway opinion.
"I think everyone's already made up their mind, but they won't say it in public," Pitch said.