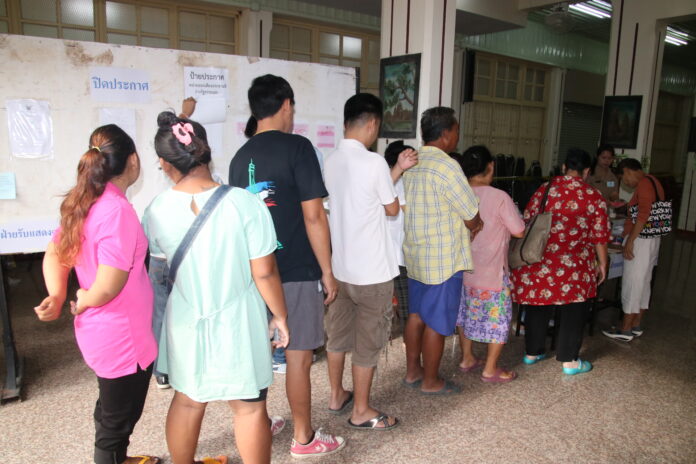 BANGKOK — Millions of voters will decide today whether they will accept or reject a new constitution drafted under the military regime that took power in the coup two years ago.
The referendum is seen as crucial popularity test for the junta, as voters are largely divided into two camps that correspond to their attitude toward the regime. Those in support of the military government have urged their supporters to accept the charter, while those critical have campaigned against it.
Read: How Referendum Sunday is Supposed to Go Down, Step-by-Step
Polls opened across the country at 8am and will close at 4pm. Preliminary results are expected to be known by 7pm, though Election Commissioner sec-gen Boonyakiat Rakchartcharoen said they could be delayed as late as 9pm if the counting encounters any technical errors such as server failure.
Some key political figures from both sides have already cast their ballots, including the Vote Yes camp's Suthep Thaugsuban and Vote No's leading activist Rangsiman Rome.
Prime Minister and junta chairman Prayuth Chan-ocha, whose regime is responsible for drafting the charter, was scheduled to arrive at a polling station later in the morning.
Voters are asked two questions in the poll: whether they will accept the new constitution, and whether they will allow the Senate to appoint an unelected prime minister to head a national "reform" effort in the next five years.
The junta had promised an election by 2017 if the new charter is accepted. If not, the process of writing a new draft will be restarted.
The months leading up to the vote have also been marked by a harsh repression of dissidents of the charter draft, with dozens of critics and activists arrested and charged with violation of referendum law.