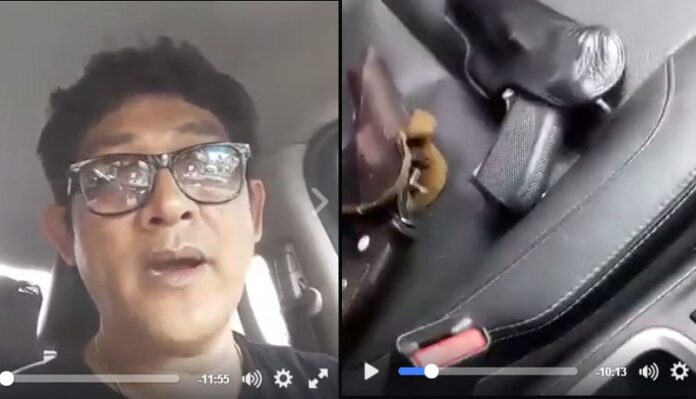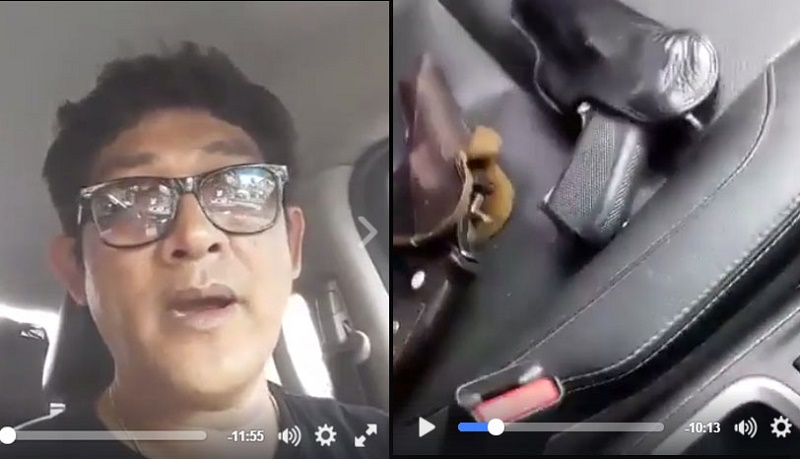 BANGKOK — Police on Thursday were looking for an armed man who filmed himself driving around southwest metro Bangkok alternately crying and threatening to kill anyone caught defaming His Majesty the Late King.
In a 12-minute video clip posted Wednesday night to Facebook, a man clad in black and identifying himself as Suchaet Muangsamut of Samut Sakhon province appears distraught and disturbed as he drives around making repeated threats while displaying two handguns on the seat next to him.
"Police are now trying to find the man. They will first try to verify if the guns are real and whether or not he has a license. There must be more than circumstantial evidence to determine whether the man intends to kill someone," Lt. Col. Pongsiri Kengnok said.
Coming amid a spate of vigilantism by crowds and individuals against those they deemed to have disrespected the King Bhumibol, who died Thursday, the man in the clip begins talking about his love for the King before threatening violence.
"The King is gone, why are you still full of these [criticisms]? If you don't love the King, I don't mind, but I love him… Look at my face, Suchaet Muangsamut, this my Facebook name. I still have His Majesty's portrait in my car and I want all Thais to love each other," he says in the clip, before panning the camera to show a framed portrait of the late King Bhumibol and Her Majesty the Queen in his back seat.
He then laments that there are people exploiting the King's death by auctioning special commemorative 70 baht bank notes for 200 baht to 300 baht before returning to those who have insulted the Late King.
"Why defame the King? … I feel like crying. If I see these foul-mouthed people, I will shoot em all. Damn!" he says.
The man continues swearing and making threats, pointing the camera at two handguns on the seat beside him.
"Why don't you love him, love the royal father? What the fuck is wrong with you people?" he says, crying.
He says he will spend the day driving around looking for people to shoot in Samut Sakhon's Mahachai district.
"I'd like to end here. But if I hear or see you. You die! Thank you very much,." Suchaet says before the video stops.
The original video was deleted but has since been reposted and widely shared.