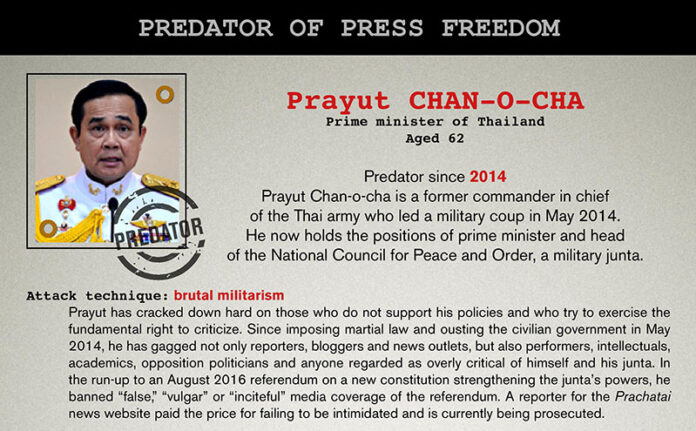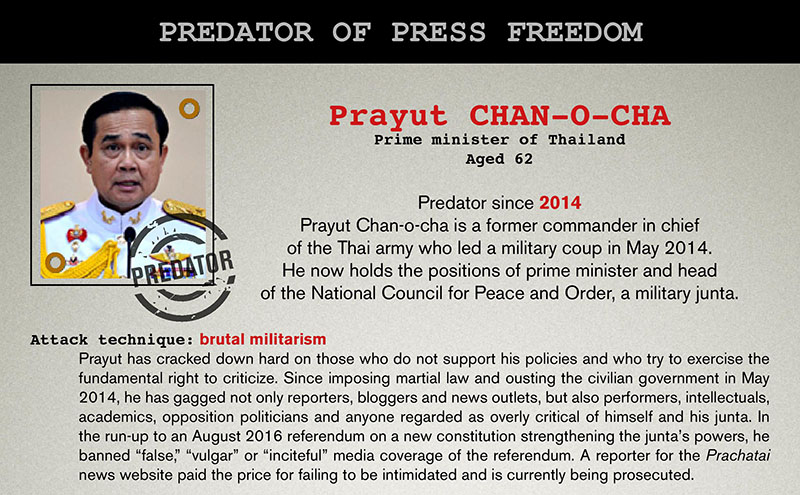 BANGKOK — Junta leader Gen. Prayuth Chan-ocha was named a "press freedom predator" for a second year by Paris-based Reporters Without Borders on Wednesday, largely for suppressing media coverage and expression in the run-up to August's charter referendum.
Prayuth, who also installed himself as prime minister, was listed in the report along with 34 world leaders and dictators such as Turkish President Recep Tayyip Erdogan for seizing control of that nation's media, Egypt coup leader-turned-president Abdel Fattah Al-Sisi, North Korean dictator Kim Jong-un and Singaporean Prime Minister Lee Hsian Loong.
"Prayuth Chan-ocha, Thailand's junta chief and prime minister, has been gagging not only journalists, media outlets and bloggers, but also performers, intellectuals, academics and his political opponents ever since he introduced martial law in May 2014," the group said in a statement.
Read: 'Reporters Without Borders' Bashes Junta on Press Freedom
Ratcheting up its salty rhetoric, the nonprofit mocked up a "hunting permit" for Prayuth and the others named in its list.
A junta spokesman said he had no comment on the matter.
The group's critique of Prayuth referenced arrests of journalists and restrictions imposed on the media and society at large earlier this year as the junta sought public support for a new, less democratic constitution written under its supervision.
"In the run-up to an August 2016 referendum on a new constitution strengthening the junta's powers, he banned 'false', 'vulgar' or 'inciteful' media coverage of the referendum," the faux hunting permit reads. "A reporter for the Prachatai news website paid the price for failing to be intimidated and is currently being prosecuted."
Prachatai journalist Taweesak Kerdpoka was charged earlier this year under an April law which criminalized the "dissemination of false information" when he was found traveling inside an anti-charter activist's car which contained materials opposed to its adoption.
The report also noted Thailand has plummeted in the group's World Press Freedom Index from 59 in 2004 to 136 out of 180 countries in 2016.
Reached for comment Wednesday, junta spokesman Col. Winthai Suvari said he had no comment of the matter and wished to focus instead on other matters.
"I don't have an opinion because we don't have details. I would rather focus on domestic affairs. It would be too much to focus on the many [foreign] organizations, so I wish to refrain from commenting," Winthai said.
The list released Wednesday was part of Reporters Without Borders' recognition of the United Nation's International Day to End Impunity for Crimes Against Journalists. It noted three Thai journalists who have been charged under the lese majeste law: Somsak Pakdeedech of Thai E-News arrested November 2014, Kathawut Boonpitak of Kon-thai.net arrested in June 2015, and prior to the coup, Voice of Taksin editor Somyos Prueksakasemsuk's arrest in April 2011.
Related stories:
'Watch Yourself,' Prayuth Tells Reporter on World Press Freedom Day (Video)