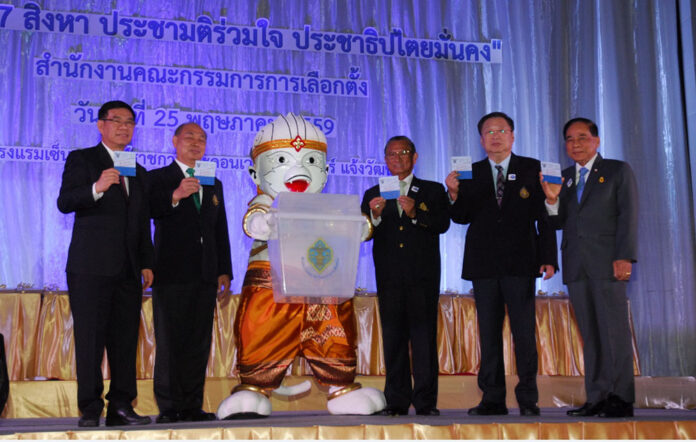 BANGKOK — Politicians and activists have denounced any deferment of general elections and warned of a backlash if it happens.
Representatives from both political parties decried the possibility after two members of the interim legislature said Sunday that necessary legislation would not be passed in time this year.
Nipit Intrasombat, deputy leader of the Democrat Party, lashed out against the legislators and accused them of planning a filibuster to buy more time for the military government by delaying four so-called organic laws, including the elections law needed to stage a vote.
"They should just admit it frankly. Otherwise they end up becoming big deceivers," Nipit said Tuesday.
Read: No Elections For Thailand This Year, NLA Says
On the first day of 2017, Surachai Liengboonlertchai, vice president of the National Legislative Assembly, and fellow assembly member Gen. Somjet Boontanom said there may not be adequate time because many bills need to be deliberated and passed; therefore, elections may be postponed another year.
Nipit accused the junta-appointed lawmakers of making an excuse for the junta to hang on to power beyond this year despite junta leader Gen. Prayuth Chan-ocha's frequent promises elections would happen in 2017.
"Power is addictive. And they think they can control it," Nipit said.
Pheu Thai former MP Weng Tojirakarn meanwhile warned of possible negative consequences if the junta does not keep its word.
"There will be more political pressure, particularly if the economy is in shambles," Weng said. "But whether they will be end up in ruin or not is not for me to predict, because I am not a fortune teller."
The former MP, who's also a Redshirt leader, said he has no doubt these key NLA members are acting on behalf of the junta. Weng added that the interim assembly is usually extremely fast when it comes to passing bills.
Junta spokesman Col. Winthai Suvari could not be reached for comment.
Weng's comments came after Pheu Thai Party caretaker spokesman Anusorn Iamsa-ard warned Monday that people both inside and outside Thailand will demand the junta keeps its word if it tries to further delay the promised elections.
Pansak Srithep of the pro-democracy Resistant Citizen group said he believes the junta will not allow elections this year. Pansak offered a different reason, however, saying the junta wants to be in charge throughout the funerary rites for His Majesty the Late King Bhumibol Adulyadej, which is expected to conclude in October if not later. Pansak added that the coronation of Rama X, which will proceed only after the cremation, is also another major event the junta wants to be around for.
"They want everything to be still and under control. This is the military mentality," said Pansak, adding that there would surely be negative repercussions if they try to delay elections past 2018. "If there's no elections after the cremation and coronation, then we must make our voices heard," Pansak stressed.
Others, such as Khon Kaen-based former Redshirt radio host Sabina Shah, is also resigned to the possibility elections will be postponed again. She warned that the economy may not be as sympathetic to the junta, however.
Watching closely from an undisclosed neighboring country is political and lese majeste fugitive Nitiwat Wannasiri, who fled Thailand right after the 2014 coup. Nitiwat predicted the junta will take as much time as it likes to ensure it remains powerful after elections. He added that the junta will seek to ensure it can continue pulling the strings like a shadow government before allowing elections.