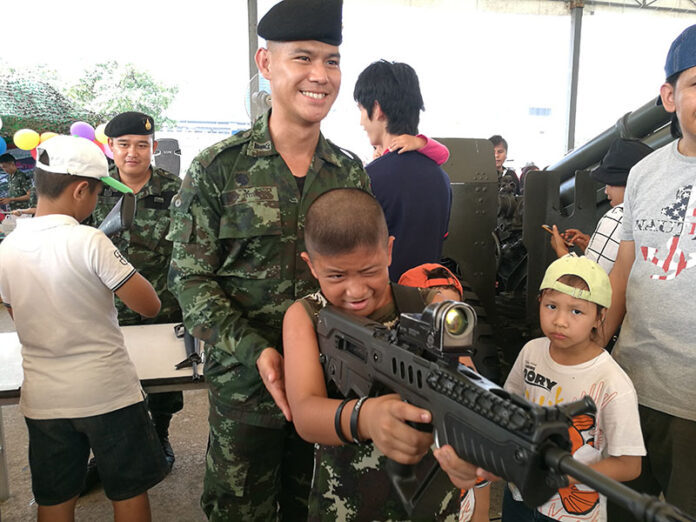 BANGKOK — Guarding his M60A3 tank with pride and a sense of mission is Master Sgt. 1st Class Techasit Yoophagdee.
Techasit, 53, is not at war, but insisted Saturday from beside his tank at the 2nd Cavalry Division King's Guard on Phaholyothin Road, where children played on and with heavy weapons, that his annual mission on National Children's Day is just as important.
"What we're doing is familiarizing them with soldiers and weaponry. By familiarizing them, they learn to love soldiers and even become soldiers," he said as children as young as 3 take turns crawling atop beloved tank and smiling for their parents' photos.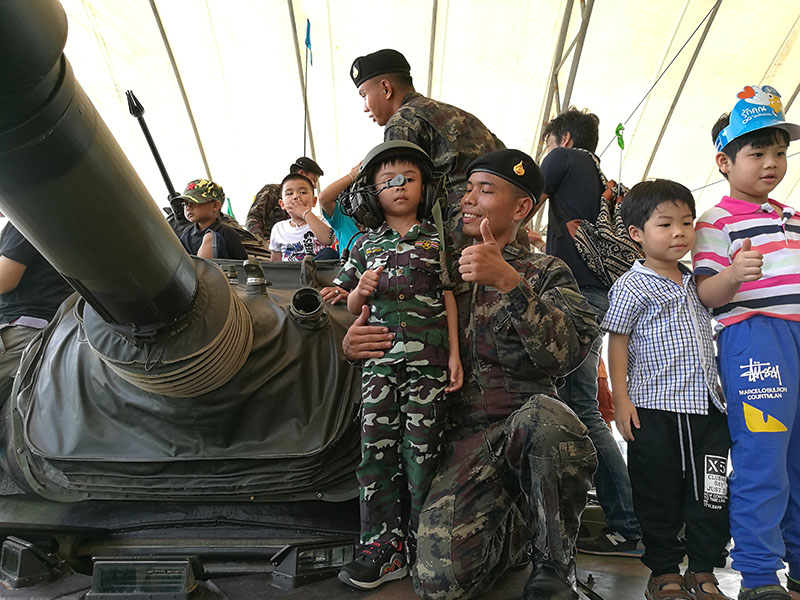 Arrayed around them a veritable playground for making war: more tanks, artillery, armored vehicles, machine guns, even a Black Hawk helicopter for the children. It's noisy as many parents take photos of their young children climbing the tanks or holding M16 or Israeli-made TAR-21 Tavor assault rifles.
Techasit, who is based just north of the capital in Saraburi province, said he himself is a product of such conditioning. His late father, also an army officer, took him to see the guns and tanks on Children's Day after he turned 10.
By the time he turned 17 he knew he wanted to be a soldier. His mission for the day, once a year now, is to leave a lasting positive impression on the hundreds of children visiting the place, and his tank in particular.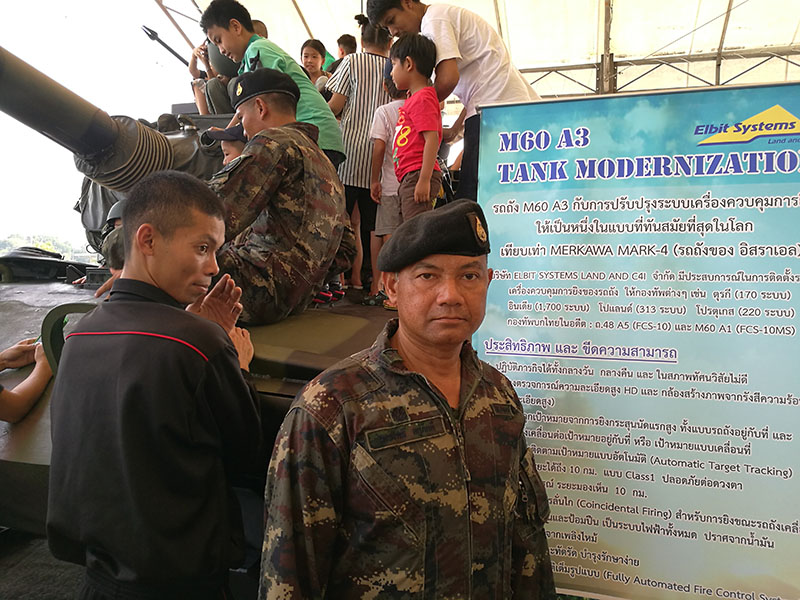 "We convince them that these are the things used to defend our country, and they must be studious so they can protect our nation."
Admittedly, the sergeant said most children brought today were simply too young to learn much of anything
"They should be at least older than 7 or 8 to really be able to learn," he said, pointing out that most of the little ones getting excited by their exposure to weapon systems were 5 or even younger. "Their parents at least take photos and let their children look at it when they grow up, so they will have a good impression. If 100 showed up and 10 became soldiers when they grew up, then that's worth it."
The sergeant was right. Two mothers with 5 year olds said it was their decision to take their sons to see tanks instead of toys on Children's Day. The children didn't really say anything.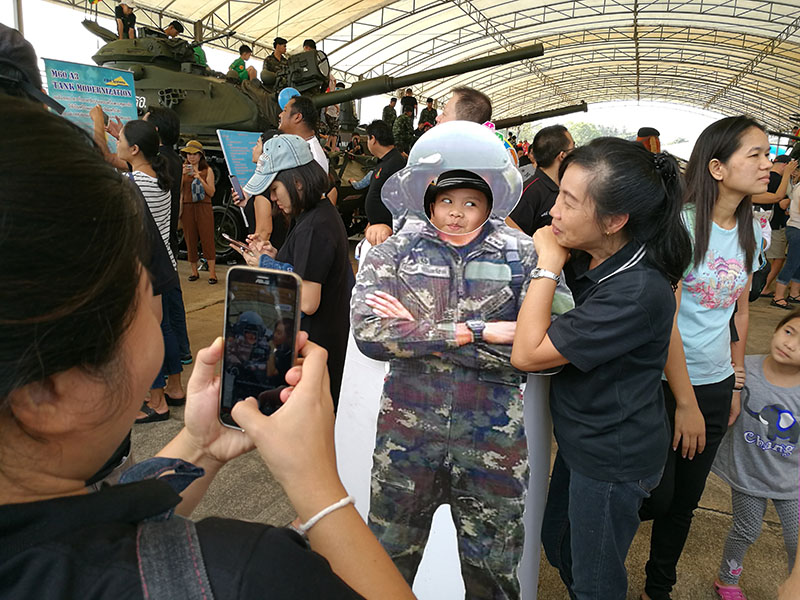 "We will just visit this place for the day," Pimpa Srathongthong who dressed her 5-year-old son in fatigues. "My son just wanted to climb up tanks."
When asked whether he liked coming, the child, Nitaphat, smiled but didn't elaborate.
The whole business of displaying military weapons for children to touch, fondle and fantasize about is controversial, however, as Thailand is now under years-long military rule following the least of its dozen "successful" military coups in eight decades.
Parit Chiwarak, 18, a well-known student activist said exposing children to weapons of war inculcates them to a militarized, autocratic and violent culture.
"So when the military rules the country, we are used to it, actually, since our childhoods," Parit said.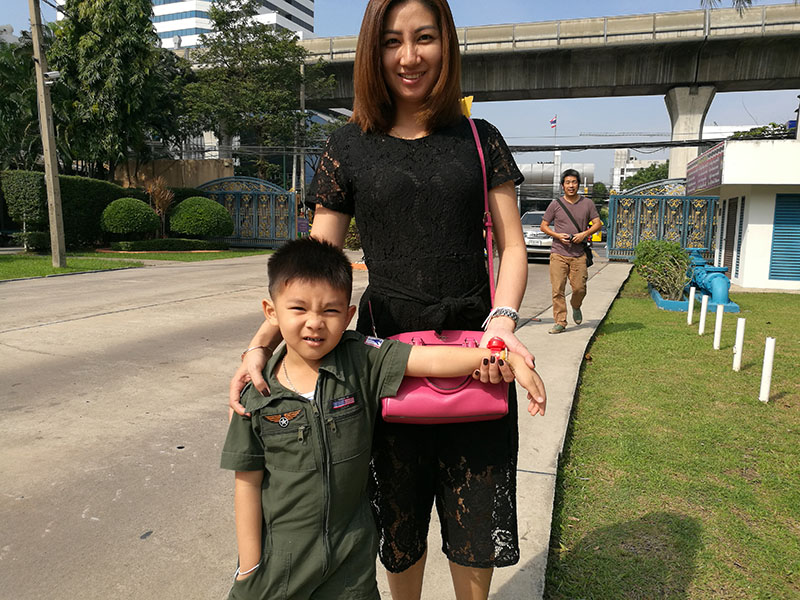 Back to Techasit, the master sergeant said that between 8am and noon, only one child asked him some details about his tank. He was about 10.
"He asked me what kind of engine the tank uses. He wore eyeglasses and looked rather nerdy," he said.
The sergeant looked eager to proselytize to more children, but most were simply too young to understand that it was equipped with automatic target tracking, a laser rangefinder and thermal body detector camera, all upgrades made last year to his U.S.-made battle tank last year by an Israeli firm.
His old tank, Serial No. 31701, was one of the first five to be retrofitted.
How much did those upgrades made under the military regime cost the taxpayer?
"I won't answer. It's not my duty to answer. It's a matter for the big officers," he said. "I have no duty to answer the question."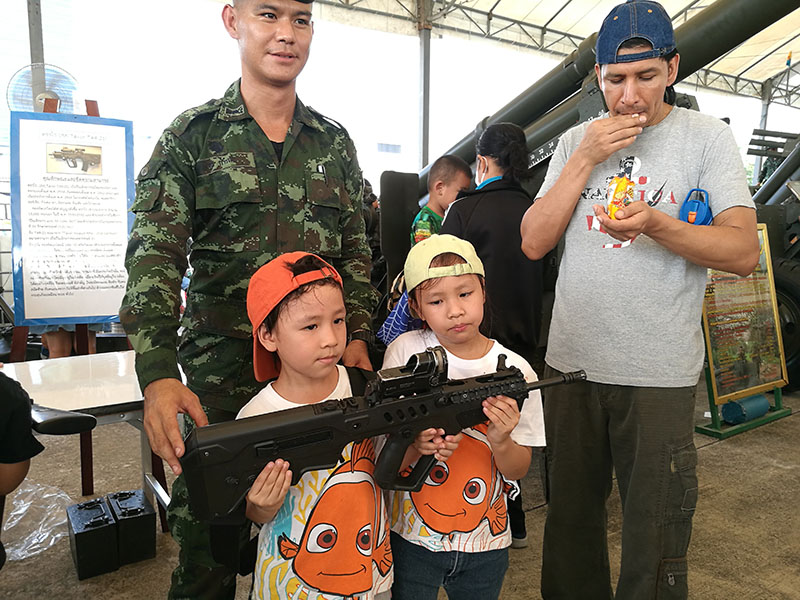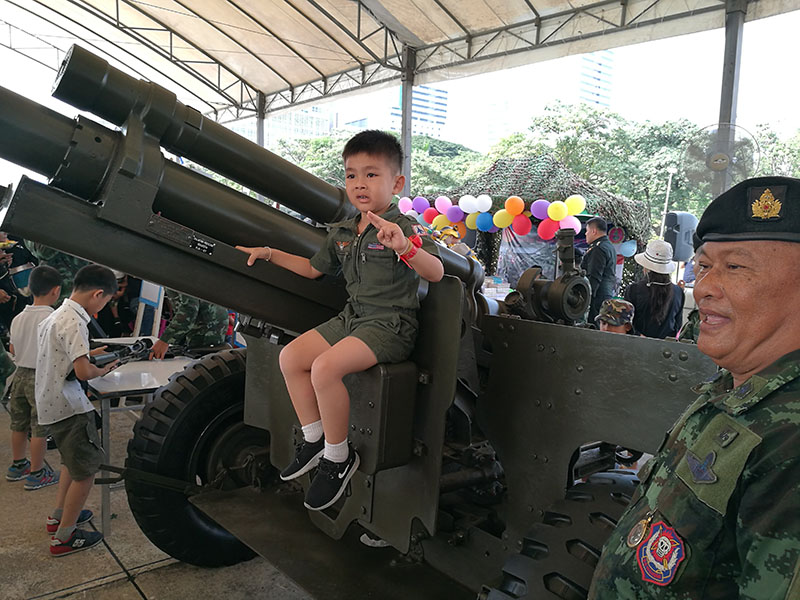 Related stories:
Gripen Fighter Jet Crashes at Hat Yai Air Show, Pilot Killed