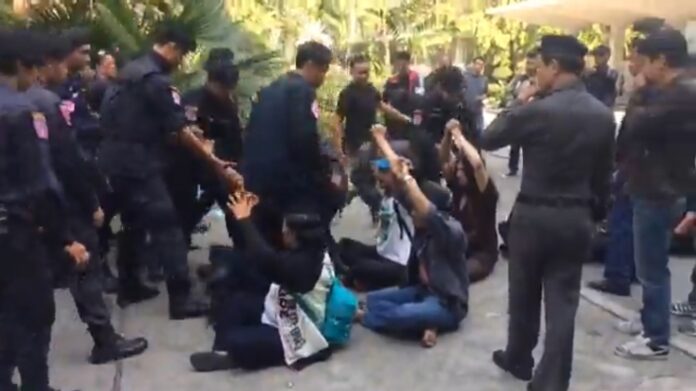 BANGKOK — Police on Saturday apprehended three activists who led an overnight protest in front of the Government House against the regime's plan to build a coal power plant in the south.
In a rare act of civil disobedience in more than two years since the ruling junta came to power, more than 100 protesters from Krabi province demanded the government scrap the project, citing fears of environmental and health damages, only to be told by junta chairman Prayuth Chan-ocha on Friday the construction will go ahead as planned.
After a night of rallying in front of the government's seat of power, police at about 10am moved in and arrested three protest leaders and took them into custody. The arrested were Prasitthichai Nunual, Akaradej Chakjinda and mom luang Rungguna Kitiyakara.
Read: Gov't Gives Green Light to Krabi Coal Plant, Activists Vow Resistance (Photos)
The rest of the protesters were being blockaded by scores of police officers. The protesters said they were willing to be arrested for their causes.
Junta chairman Prayuth said Friday there will be consequences for those who openly oppose the project; all acts of political protest have been banned since he took power in May 2014.
"I urge them not to enter Bangkok," the general said. "Otherwise it will be illegal, and they will be prosecuted. As everyone knows, we prohibit this kind of movement."
Protesters and environment groups say building a coal plant in the coastal province of Krabi would both affect the health of residents there and permanently damage ecology systems, but the government insisted one must be built in order to satisfy the nation's energy needs.
Democrat leader Abhisit Vejjajiva, whose party commands a strong support in the south, also spoke out against the coal plant on Friday.
He told reporters the government should look for other alternative energy sources that are friendly to the environment and health instead of sticking to coal.
Related stories: