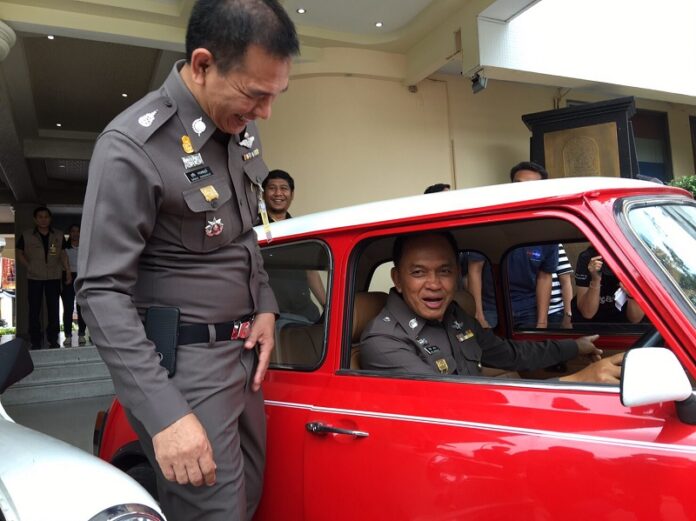 BANGKOK — The state watchdog on Monday rejected the Bangkok police chief's denials about monthly payments from the biggest alcohol producer, saying it had obtained his original financial disclosure document and found it certified with his signature.
The Office of the Ombudsman said it had collected all the necessary documents in its review and planned to discuss Tuesday whether Lt. Gen. Sanit Mahathavorn broke ethics rules by accepting a 50,000 baht monthly allowance as an adviser to ThaiBev.
"We're mainly considering only the ethical aspects of the case," Secretary-General Raksagecha Chaechai said.
The controversy has swirled around Sanit since it was brought to light in December by an investigative news outlet. Isranews Agency published the detailed financial information Sanit submitted to the National Anti-Corruption Committee, or NACC, upon his appointment by the junta to serve on its interim parliament.
Sanit and ThaiBev have since denied any financial relationship. The Bangkok police chief said information about the 50,000 baht salary was added mistakenly to the document and blamed the people who helped prepare it.
Raksagecha said Monday the Ombudsman's Office finally received the original document Sanit filed with the NACC, and that it bore his signature, meaning he acknowledged and must be responsible for it.
By wearing two hats, Sanit will have to be reviewed under two ethical standards, that of the state authorities and that of the legislature.
Raksagecha however played down expectations for what would be announced tomorrow, saying the timing of a final outcome would depend on other administrative processes.
Unexplained is how the ThaiBev salary did not appear on the version of Sanit's financial disclosure statement posted online by the NACC.
It did state that he holds 93 million baht worth of property and collected monthly remuneration of 1.43 million baht prior to taking a seat on the parliament, for which he is now paid an additional 113,560 baht per month.

Related stories:
Top-Cop Says ThaiBev Salary Disclosure Was a Mistake
Top Cop Defies Order to Clarify Salary From Brewery