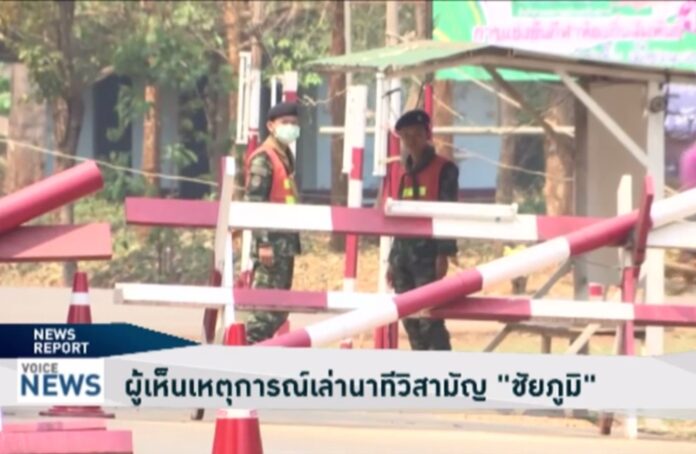 BANGKOK — Two media associations on Tuesday called upon state broadcast regulators to reconsider the week-long blackout of a television station for its criticism toward the military government.
Departing from its tendency to accommodate the authorities, the Thai Journalist and Thai Broadcasting Journalist associations warned in a joint statement that ordering Voice TV off the air, because of complaints by the junta, is tantamount to breaching constitutional guarantees of media freedom.
Read: Govt Orders Voice TV Off Air Starting Midnight
"This verdict by the [regulator] is an exercise of power that contradicts the fundamental principles of rights and liberties of the public and the media, and it affects the public's right to information," the statement read. "Clauses in current and previous constitutions dictate that 'one cannot order shutdown of newspaper or other media outlets.'"
On Monday, the National Broadcasting and Telecommunication Commission, or NBTC, ordered Voice TV, a station founded by a son of former PM Thaksin Shinawatra, be taken off the air for seven days on the grounds it violated regulations by airing a number of allegedly biased news programs critical of the military government.
The episodes in question included an eyewitness account of the killing of a Lahu activist by soldiers in Chiang Mai province and a critical report that casts doubt on the junta's claim that it discovered a cache of arms amassed by Redshirt underground groups.
The commission said such reports were biased and could cause damage to the government. Voice TV is known for its editorial stance critical of the military rule.
The two media groups said if the regulators believe Voice TV violates the laws, it should have taken action against individual shows instead of shutting down the entire station.
They also raised the alarm that the commission cited a complaint by the ruling junta as the source of its harsh measure. Such intimate relationship between the authorities and media regulators could spell a dangerous slippery slope, they said.
"It affects all media organizations under direct regulation of the [NBTC] and destroys credibility of the [NBTC] itself," the statement read. "And it will worsen the independence of media organizations under NBTC even further."
It concluded by urging the commission to immediately reconsider Monday's decision.