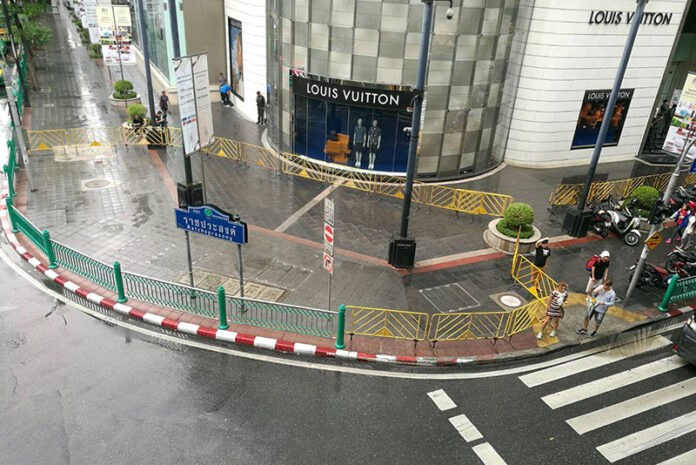 BANGKOK — Police cordoned off public spaces at Ratchaprasong Intersection on Friday, the seventh anniversary of a crackdown which ended two months of street unrest that left nearly 100 head, mostly civilians.
No public observance was planned for Friday, and the barriers seemed erected to prevent any public memorial or protest at the site, which served as the rallying point for protests organized by the United Front of Democracy Against Dictatorship, a Redshirt umbrella organization also known as the UDD, against appointed Prime Minister Abhisit Vejjajiva's government.
After attempts to clear protesters from Ratchadamnoen Avenue left 24 dead in clashes between the army and a paramilitary force on April 10, 2010, protesters, many of whom traveled from the rice basket provinces, relocated to occupy streets in the commercial heart of the capital.
On May 19, 2010, Abhisit ordered then-army chief Gen. Anupong Paochinda to clear out remaining protesters. Forty-one more civilians died that day, and one soldier was killed by friendly fire.
Four years later on May 22, 2014, his successor, Prayuth Chan-ocha staged a coup to seize power from the elected government and installed himself as prime minister.