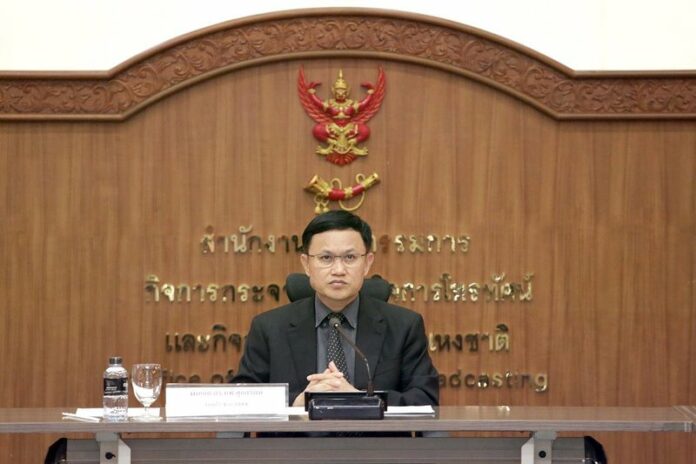 BANGKOK — Telecommunications regulators said Wednesday they decided to drop an ultimatum given to top foreign online platforms after finding flaws in their own enforcement.
Not only has the July 22 registration deadline for YouTube, Facebook and Netflix been dropped, the National Broadcasting and Telecommunications Commission, or NBTC, said the program – already joined by 11 online platforms – would be voided because its weak legal basis could lead to litigation.
The regulator's top executive, Takorn Tantasith, said they would draft new specific regulations to support the goal of bringing online providers into the regulatory fold and will hold a public hearing before issuing the measures within three months, Matichon reported.
Read: Advertisers Squeezed by Govt Ultimatum to Facebook, YouTube, Netflix
The NBTC's previous call referred to the 2010 law for the allocation of radio and television frequencies and regulation of broadcasts and telecommunications. Under its interpretation, online platforms that transmit video online are broadcasters and must register to be regulated as "over-the-top" media.
Companies that fall under that category such as Iflix, TrueVisions Anywhere, AIS Play and Line TV already complied, but the top three platforms – Facebook, YouTube and Netflix – have not done so.
Authorities pressured them by threatening top ad-buyers with prosecution if they continued to advertise with them after July 22.
The Asia Internet Coalition – a trade association which counts Facebook among its members – issued a statement last week saying it was deeply concerned about the policy. It urged the NBTC to draft the new regulations transparently and openly in consultation with the public.
The chairman of the NBTC's regulatory committee in charge of this program, Nathee Sukonrat, responded the next day by saying his committee does not have to listen to the association.
"I don't need to reply to their statement because they are just lobbyists. I don't value them," he said.
Another top executive admitted today they need new detailed regulations to prevent them from being sued, and that the committee headed by Nathee would have to draft them.
"Companies deemed to be OTT media in Thailand must register in 90 days after the new law comes into effect," Takorn said Wednesday.
In May, this same government organization threatened legal action against Facebook for not removing content it deemed illegal. They later learned the social media company had not done so because the NBTC had failed to furnish necessary court warrants.
Following the aggressive move by regulator last week, internet freedom advocates expressed concerns by saying that the regulation of online media is against the principle of the NBTC and the law it cited.
Arthit Suriyawongkul, of the Thai Netizen Network, said both were created to help allocate limited public resources such as radio and television frequencies. This logic does not apply to the internet, he said.
Even if the NBTC broadens the definition of media under the new law it plans to draft, Arthit said, "We need to question how justified it is for the organic law to stretch the power of the original act."
Related stories:
Reform Committee Floats Registering Facebook with ID No.
Advertisers Squeezed by Govt Ultimatum to Facebook, YouTube, Netflix
Controversial Coverage of 'Murder Babes' Raises Press Freedom Stakes
Fingerprints for Mobile Users in Places Plagued by Cellphone Bombs
Facebook Threatened on Belief Govt Had Warrants it Didn't
Facebook Stands by Policy as Govt Ultimatum Passes