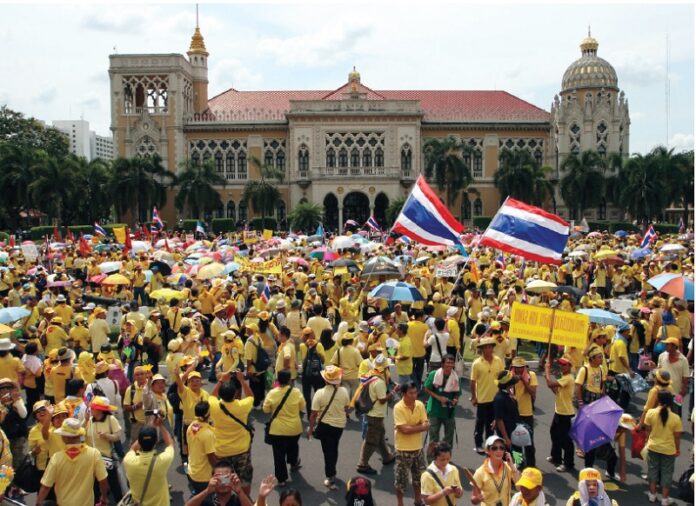 BANGKOK — The Appeals Court on Monday reduced jail terms given to six Yellowshirt leaders convicted for occupying the Government House during political unrest nine years ago.
Sentences for the six, who led supporters of the People's Alliance for Democracy, or PAD, to seize the prime minister's seat of power for over three months, were lowered to eight months from the two years they originally received two years ago. In its ruling, the court said their actions were not intended to serve their interests or that of any certain group.
Read: Yellowshirt Leaders Convicted for 2008 Govt House Occupation
Formed at the time as a coalition against Prime Minister Thaksin Shinawatra, the group moved on to challenging his political successors.
On Aug. 26, 2008, thousands of PAD protesters broke into the Government House to pressure then-Prime Minister Samak Sundaravej to resign. They remained camped within to obstruct the succeeding government of Prime Minister Somchai Wongsawat from using the building. The siege lasted over three months before it ended Dec. 3, 2008.
After a legal process long faulted for its long delays, the six Yellowshirt leaders found guilty in 2015 of intruding into a state agency and damaging public property were Chamlong Srimuang, Sondhi Limthongkul, Pipob Thongchai, Somkiat Pongpaiboon, Somsak Kosaisuk and Suriyasai Katasila.
The Criminal Court sentenced them to three years in jail but lowered it to two years because they provided useful testimony during their trial.
Apart from Sondhi, who is serving a 20-year jail term on a fraud conviction, the other five have avoided jail time while their case is being appealed. That process will now move up to the Supreme Court.
PAD lawyer Suwat Apaipak won court approval today for the five to remain free on bail.
Related stories:
Yellowshirt Leader Sondhi Jailed 20 Years for Fraud
Yellowshirt Leaders Convicted for 2008 Govt House Occupation