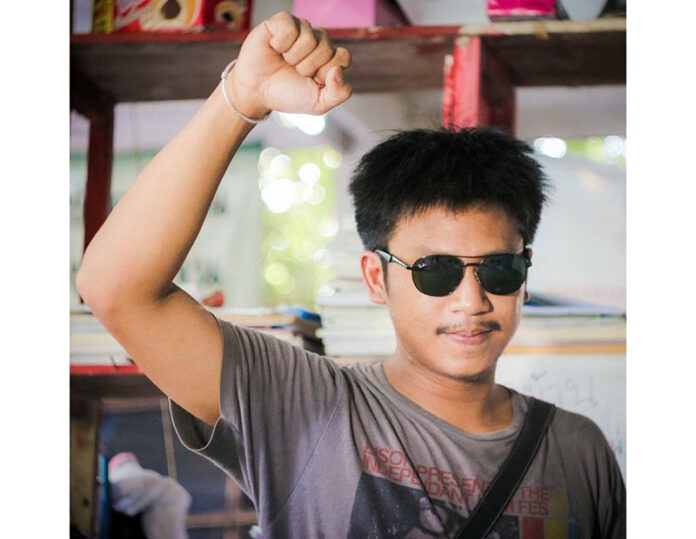 KHON KAEN — A well-known anti-junta student activist charged with lese majeste for sharing a controversial biography of King Vajiralongkorn on social media will confess to the charges, his lawyer said Tuesday.
Jatupat Boonpattaraksa, 26, or "Pai Dao Din," who shared the biography produced by BBC Thai last October, reportedly decided to enter a guilty plea after meeting with his parents Tuesday morning at the Khon Kaen Provincial Court, his lawyer Pawinee Chumsri said by phone.
Pawinee, a member of Thai Lawyers for Human Rights, said Jatupat's parents told her the sentence would be light, referring to the draconian lese majeste law which carries a maximum imprisonment term of 15 years. The minimum penalty is three years in jail.
Jatupat, who was arrested in December of last year, has been in prison for nine months.
The court hearing is expected to take place at 2pm on Tuesday.
Jatupat was indicted Feb. 10 on counts of lese majeste and violating the Computer Crime Act, to which he pleaded not guilty. He has remained behind bars and has repeatedly been denied release on bail. The court's proceedings are being conducted in secret.
The news caught a leading campaigner for Jatupat's release off guard. Nutta Mahattana said Tuesday she had also just learnt about the matter. She criticized the repeated denial of bail and said the secret trial is tantamount to forcing Jatupat into confessing.
Note: Some details have been omitted from this story due to fear of prosecution under the lese majeste law.
Correction: An earlier version of this article mistakenly said Jatupat was arrested for sharing the article in October. In fact, it was Dec. 3. It also said the minimum imprisonment term for lese mejeste is two years. In fact, it is three years.
Related stories:
Trial of 'Pai Dao Din' for Facebook Share Opens in Khon Kaen
Activists Calling for Pai Dao Din's Freedom Charged With Contempt of Court
Cavity Searches and Pending Graduation Worry Jatupat Friends
Jatupat Singled Out to Scare Others, Supporters Say