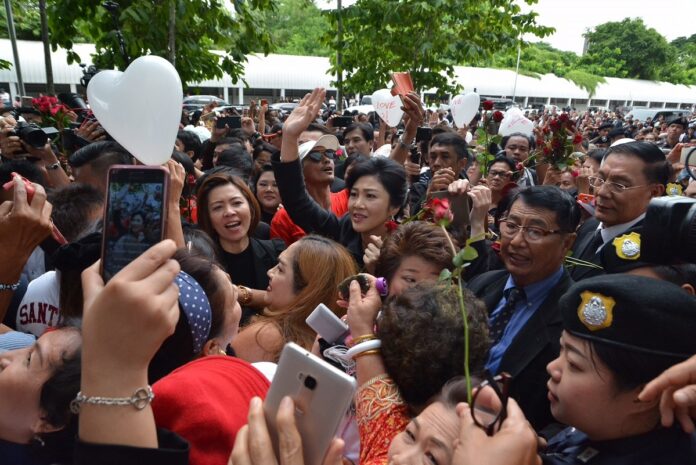 BANGKOK — No supporters or gatherings of any kind will be allowed outside the court where former prime minister Yingluck Shinawatra is due to hear the verdict in her malfeasance trial Friday.
Although supporters have gathered in large numbers in front of the Supreme Court for previous court hearings, a police officer said Monday those rights would be revoked the day judges deliver their verdict on the 50-year-old former leader.
"We will not let anyone in, for the sake of safety, because it will be too close to the building," said Col. Atthawit Saisueb, an officer in charge of monitoring the expected gatherings. An exception will be made for Yingluck's motorcade, he added.
Read: Asking for Justice, Yingluck Tells Court She is Victim of 'Political Game'
On Friday, police will erect barricades and signs informing supporters that the space around the supreme court's office has been declared under the court's authority, meaning no protest or any symbolic acts will be allowed under threat of prosecution, according to Atthawit.
The colonel said the order came from court officials. He added that anyone who defies the order may be charged with contempt of court.
Although the criminal code describes contempt of the court as efforts to disrupt or delay court proceedings, the charge has been more broadly interpreted and regularly employed to prosecute behavior including a group of students "dabbing" in a photo to support a jailed classmate.
Thousands of people are expected to converge on the court Friday to show their support for Yingluck, who remains hugely popular among her voters despite her ousting three years ago.
Meanwhile the authorities have been engaged in a well-organized effort to suppress that turnout, from prosecuting van drivers for operating out of their designated areas, erecting checkpoints on roads into Bangkok and deploying army units on what are described as exercises in sympathetic regions.
A diagram of the prohibited zone first appeared online Sunday in a post by activist Nuttaa Mahattana. Nuttaa, who has urged Yingluck's supporters to show up in force on Friday, said a police officer sent her the photo so she could tell the crowds where to go and not to go.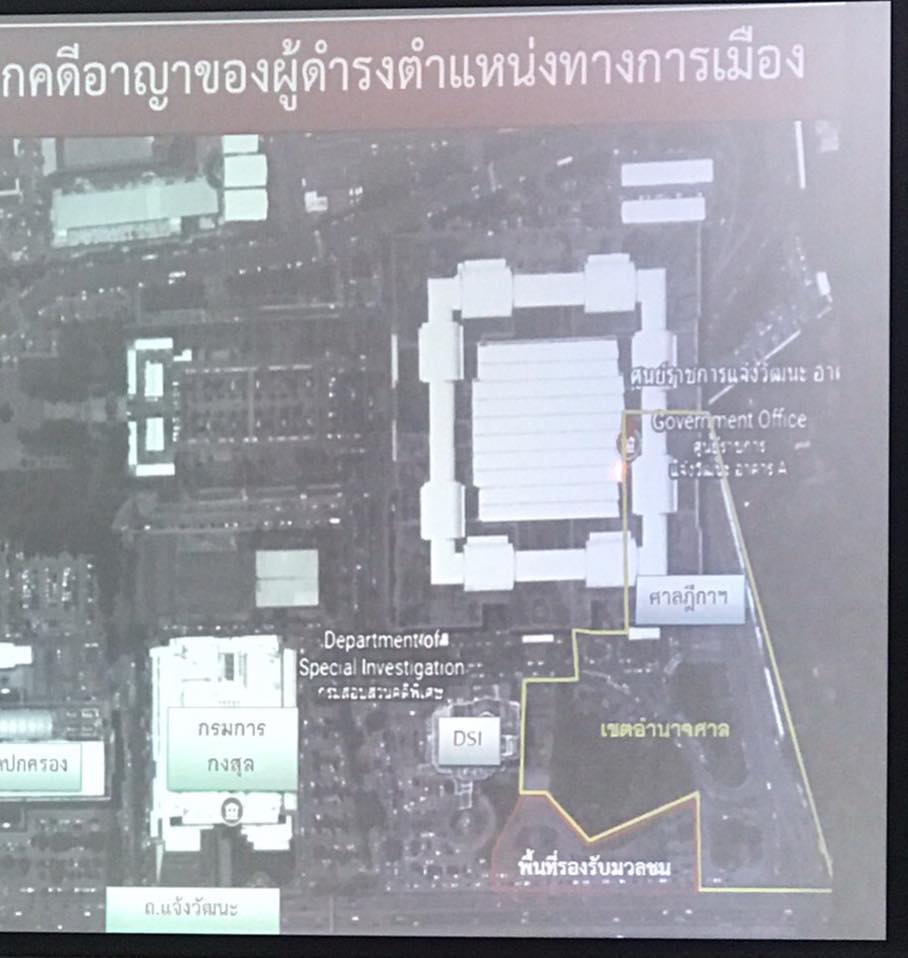 "The police asked me to publicize it. They're afraid people will get caught by surprise on that day," she said Monday.
Noting that previous pro-Yingluck gatherings took place "right next to the court building," Nuttaa questioned how the court could extend its authority over such a large area around its building, whereas the law only describes court authority as limited to the courtrooms.
"At past [gatherings], police never informed us we were violating the court authority," she said.
While Nuttaa said she respects the police order, she can't guarantee the crowds won't push through barriers and enter the prohibited zone.
Yingluck, a sister of the influential former leader Thaksin Shinawatra, is accused of negligence that led to massive financial losses in a rice subsidy program that was a central policy of her administration.
Prosecutors said Yingluck refused to respond to warnings of corruption and fraud, which ended up costing the state billions of baht. The former prime minister denies the allegations, presenting evidence she did everything in her power to enforce transparency and combat corruption in the program.
If found guilty, she faces up to 10 years in prison.
Nuttaa, the activist, also raised concerns that the military regime might send agent provocateurs to instigate violence at Friday's gatherings to pave the way for a crackdown on their Redshirt political opponents.
But Col. Atthawit said police will film the entirety of what transpires for prosecution of anyone who incites unrest or breaks the law.