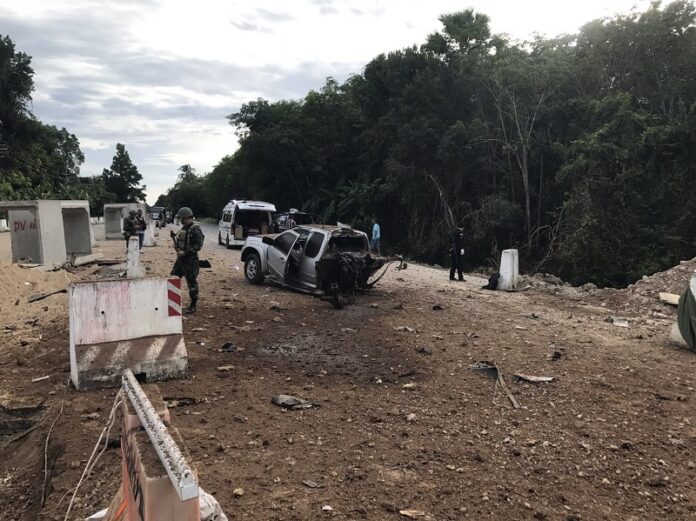 PATTANI — Military and police said Friday one suspect had confessed to planting a roadside bomb that killed four army rangers in the Deep South last week.
Wearing a balaclava to conceal his face, Mayuzo Mayadeng (transcribed from Thai) was brought to a joint news conference by the Pattani Task Force and police to publicly confess to being one of six people behind the Sai Buri district attack. The Sept. 22 explosion instantly killed four rangers and injured six people.
Mayuzo was arrested under martial law authority and taken for questioning Tuesday at a military base. He reportedly confessed the next day that he and five others planned the attack for a week, said Maj.Gen.Chatuporn Klumpasoot of the Pattani Task Force.
Read: Roadside Bomb Kills 4, Injures 6 in Pattani
A team of rangers was patrolling the Pattani road when their pickup truck blown in half, killing the rangers riding in back. At least one civilian, a woman, was injured in the explosion.
The other five suspects were still being held on a military base under martial law provisions which allows the military to detain suspects without charge for seven days.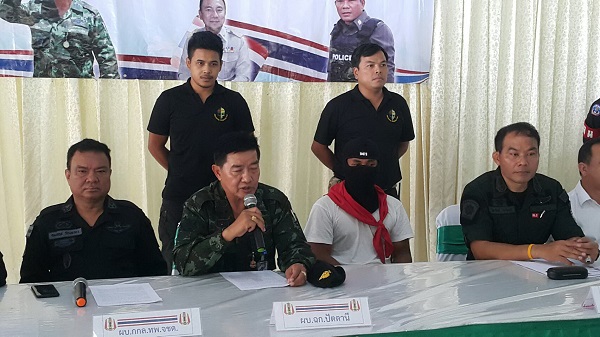 Before the press conference, relatives of two other men, Koha Waji and Sukri Arwaekaji (transcribed from Thai), complained to the National Human Rights Commission's regional office that they were seized without charge and possibly forced to confess.
"I saw the abnormality of my husband. He had a fever and walked oddly," Mareeyanee Makae said of her visit to meet her husband Sukri at the military base. "He told me he had to confess to doing it because he did not want to be hurt."
The two were not among six suspects in the attack identified at today's press briefing.
The insurgency in southernmost provinces has killed more than 7,400 people in the past 13 years.
Talks between a Thai government delegation and the insurgency group MARA Patani, originally scheduled this past Wednesday in Kuala Lumpur, were postponed indefinitely, Isranews reported Thursday.
In a recent interview with BBC Thai, the Patani independence movement Barisan Revolusi Nasional, or BRN, said it would not halt its military operation unless the Thai government negotiated directly with it instead of MARA Patani.